Snowflake is poised to open sharply higher after exciting results and has long been one of my favourite shares. These guys sit at the sharp end of a global data boom that looks set to run and run.
Snowflake has just reported its Q2 2023 results and they are just totally wow!
Product revenue grew 83pc year on year to $466m. Remaining performance obligations grew 78pc year on year to $2.7bn. And in the quarter, we added 12 Global 2000 customers.

Our net revenue retention rate exceeded 170pc, and Snowflake leads the industry with a Net Promoter Score of 72. Snowflake is delivering high growth and operating leverage. Non-GAAP product gross margin exceeded 75pc, and we continue to generate non-GAAP operating income and free cash flow.

Q2 2023 24 August 2022
A net revenue retention rate of 170pc is almost unbelievable. It means that its customer base at the start of the 12 month period spent 70pc more underpinning the explosive growth being delivered by this company. This is what I found when I googled a net promoter score of 72.
If your NPS is higher than 30 that would indicate that your company is doing great and has far more happy customers than unhappy ones. An NPS over 70 means your customers love you and your company is generating a lot of positive word-of-mouth from their referrals.

18 April 2022
The growth of this business has been stratospheric and remains explosive.
I don't want to get bogged down in what Snowflake does. They call it data collaboration.
Snowflake's founders started from scratch and built a solution that would harness the immense power available in the public cloud. They created the Data Cloud — a global network where thousands of organizations mobilize data with near-unlimited scale, concurrency, and performance. Inside the Data Cloud, organizations unite their siloed data, easily discover and securely share governed data, and execute diverse analytic workloads. Wherever data or users live, Snowflake delivers a single and seamless experience across multiple public clouds. Snowflake's platform is the engine that powers and provides access to the Data Cloud, creating a solution for data warehousing, data lakes, data engineering, data science, data application development, and data sharing. Snowflake's vision is a world with unlimited access to governed data, so every organization can tackle the challenges and opportunities of today and reveal the possibilities of tomorrow.

Snowflake investor relations
They way I understand it is that they apply data science to help organisations manage, use and share their data more effectively and that this leads to dramatic gains in productivity. They cite the example of an unnamed company which after becoming a Snowflake customer achieved annual savings of $800m or real money as Snowflake CEO, Frank Slootman put it.
Unlike many business to business technology companies Snowflake doesn't charge subscriptions but charges by usage so the company's revenue is like a royalty on the data explosion. How exciting is that as a business model.
Like any super successful B2B (business to business) company the more revenue the company generates the more it can spend on research and development and sales and marketing. In the latest three months to 31 July 2022 the company generated revenue of $497m and spent a combined $458m on r&d and s&m, up sharply from a year earlier. If Snowflake was a Formula One racing car the driver would have the accelerator pedal pressed firmly to the floor.
Snowflake has explosive fundamentals and is addressing an immense market opportunity. They are growing so fast because they are still at the low hanging fruit stage. Data management across the world is way short of optimum and the companies and organisations that do get with the programme rapidly steal huge competitive advantages over rivals.
Slootman says better use of data could speed up the time to market of new pharmaceutical drugs by three years. Drug companies typically take 12 years to develop a new drug and bring it to market. This leaves them eight years to commercialise their product given a typical patent length of 20 years. If they could cut the development time to nine years the commercial impact would be huge and also the benefits to patients who would have earlier access to new drugs.
Almost any activity you can think of would be helped by better use of data in a digital world which means that Snowflake has the potential to become a very large company indeed.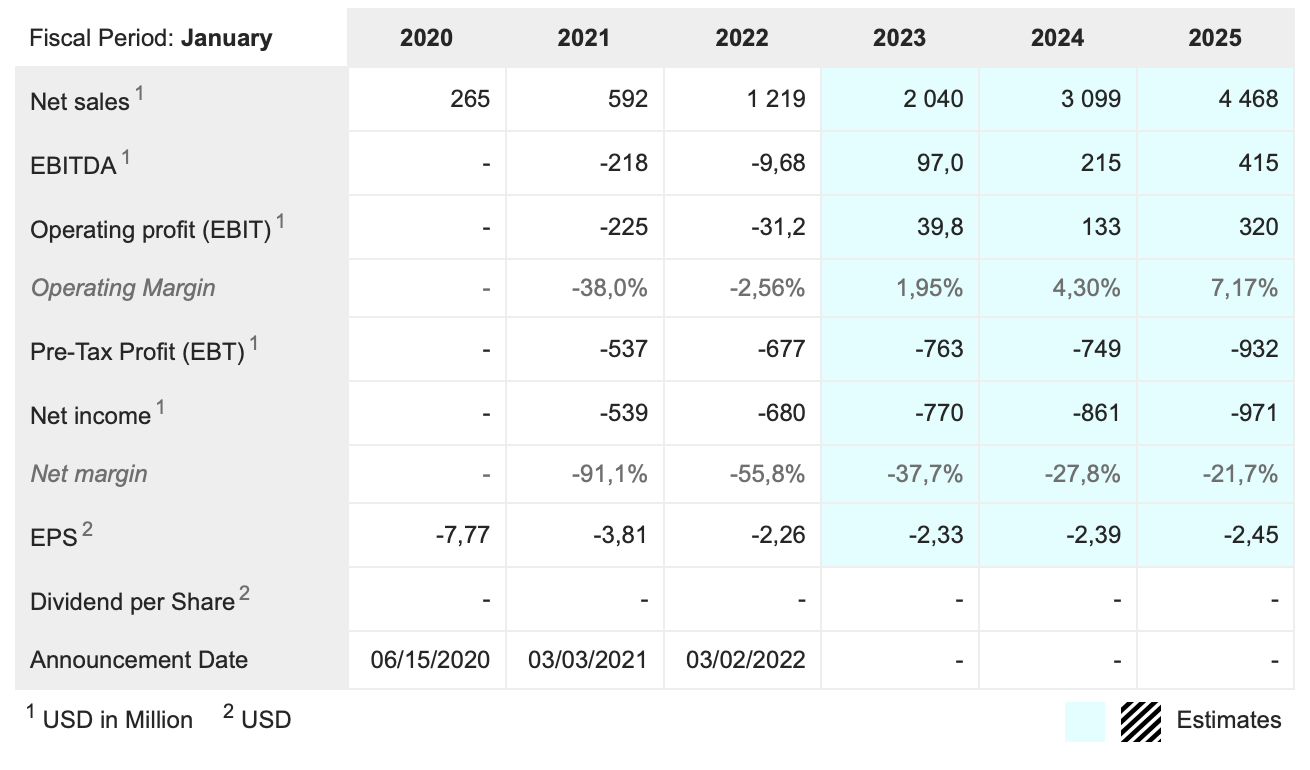 Strategy
I have been a bull of Snowflake for a long time which so far has been an expensive thing to be as the shares fell from a 2020 peak of $427 to a recent low point of $109. Shares like Snowflake are sitting ducks in a bear market. Because they are growing so fast they are losing massive amounts of money, $223m or approaching half turnover in the latest quarter, and most of their value lies in a future which may not turn out as exciting as they expect.
But what if it does. At some point these shares are going to be a screaming buy. Maybe they were when they fell to $109. The business is firing on all cylinders and the opportunity looks as spectacular as ever.
The latest sharp rise seems likely to translate into a 2B buying opportunity for the shares, golden cross plus trend line break. The shares have been trading for two years so we have the first Coppock indicator data point and it is minus 55 so it is negative which bodes well for the next buy signal.
Let us step back and take a look at the chart. The shares have traded broadly sideways for some 18 months, dropped sharply and begun to recover. If the shares recover above $400 and keep climbing we would have what chartists called an extended-V reversal which is a very bullish pattern. It hasn't happened but I believe that is exactly what is coming.
The minute that Coppock indicator starts climbing these shares are going to look like a spectacular buying opportunity.
I guess you are thinking what are we waiting for. If everything looks that great why don't we just buy some shares now and I would agree – why not. Buy some now and when we get that Coppock buy signal buy some more.
My problem is that when I buy I put in x amount of money and then buy 5x in my spread betting account so I need the shares to be in rising mode when I buy. If you don't have that worry you don't need to be so cautious.
I also feel a bit cautious because I have been burned by these shares before; that is the danger of explosively exciting fundamentals. They draw you in and then the market chops your head off but if you are in for the long haul then go for it.