Six sensationally exciting businesses – Afterpay, Li Auto, MongoDB, Nio, Pinduoduo and The Trade Desk
November 13, 2020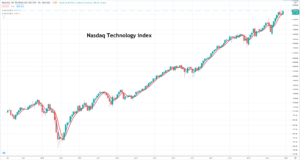 This chart of the Nasdaq Technology Sector index paints a picture of technology shares in a strong secular uptrend driven by the ongoing technology revolution. This revolution is not dependent on lock down. The trend is much bigger than that and will continue even as normal life resumes.
Afterpay/ APT Buy @ A$101.85  MV: A$27.3bn Next figures: 3 March 2021  Number of times recommended: 7 First recommended: A$54.52
Afterpay is an Australian based financial technology platform, which offers buy now pay later services, hence the name. No interest is charged but merchants pay a fee to Afterpay to compensate them for the credit they are providing and the sales they make by offering Afterpay credit facilities. One of the two founders is still only 30 years old  and their is an energy and innovativeness about the group that makes me think they are going to be major winners in a competitive field. They have already expanded into the USA, the UK and Canada and are at an early stage of expanding into Europe and Asia. They have also made their first move, in Australia, in partnership with an Australian bank, into offering other types of banking services. The business is doubling in size annually and is on track to become a very large multinational operation. There has been considerable scepticism about the shares in Australia, led by the Australian Financial Review, which shares with the US Barron's magazine a bit of an Eeyore-ish streak about fast-growing, highly valued companies.  The shares have been volatile but understandably so given the speed of the rise. The shares have risen 37-fold since dealings began. The company was founded in 2015 and floated in 2017, when it was barely more than a twinkle in the eye. I featured the shares on 9 July 2020 alongside Nio, another fast-growing, highly valued, exciting operation (see below). They are very different businesses but have common features, charismatic founders, explosive growth and huge opportunity.
Li Auto  Buy @ US$31.78 MV: $16.4bn  Next figures: 2 December  New entry.
Li Auto is a relatively newly floated, explosively growing Chinese manufacturer of electric vehicles. It currently has one product, an electric SUV, the Li One, named after the founder Ziang Li, who is a serial entrepreneur, who was offered but declined the chance to be a co-founder of Nio, although he did invest $15m. "Born in 1981, Li is a serial entrepreneur. Besides Li Auto, he also has another listed company already under his belt—Autohome an online platform for automobile-related sales. Li Auto, his newest project, is the first EV maker in China to specialize in extended-range electric vehicles (EREVs), namely, hybrid cars that can be operated using either electricity or gasoline. Hybrid cars, which were pioneered by Toyota and are popular in Japan and the US, are less popular in China due to a previous government push for purely electric vehicles. This is set to change as regulators shift their stance to embrace hybrids. Li's interest in electric vehicles partially arose from Tesla's entry into China, with Li being among China's first generation of Tesla owners. Li is also a fan of Musk himself. "Although Musk can be a little irascible other American entrepreneurs cannot match up to his ability to perform for the company at key points.'". I am not even going to attempt to put a value on Li Auto. The key points are that it is growing fast in a potentially huge market and has already achieved what looks like critical mass. Vehicle sales are on a strong growth path. Latest Q3 sales were 8.660 vehicles v 6,604 for the previous quarter and cumulative deliveries of 21,862. In Q4 the group expects to sell 11,000 to 12,000 vehicles and new models will be introduced in the future. Li is famous for his belief in very tight cost controls and gross margins in Q3 climbed to 19.8pc from 13.3pc the previous quarter. The shares are speculative but exciting. It is obvious that coming years are going to see such very large businesses emerge in the 21st century. Li Auto could be one. It has already built an important partnership with US semiconductor giant, Nvidia, to add autonomous driving functionality to its vehicles.
MongoDB  MDB  Buy @ $250  MV: 14.8bn  Next figures: 8 December  Number of times recommended: 8  First recommended: $74
MongoDB is the leading modern, general purpose data platform, designed to unleash the power of software and data for developers and the applications they build. Headquartered in New York, MongoDB has more than 20,200 customers in over 100 countries. The MongoDB database platform has been downloaded over 125m times and there have been more than 1m MongoDB University registrations. MongoDB offers databases as a service, payable on a subscription model. This has many advantages and the company has grown strongly as a result. Sales are projected to rise from $155m for the year to 31 January 2018 to $921m for the year to January 2023 although the group is not expected to become profitable over that time scale. Latest results for Q2 20221 were strong. "Looking quickly at our second-quarter financial results, we generated revenue of $138.3 m or 39pc year-over-year increase and above the high end of our guidance. We grew subscription revenue 41pc year over year. Atlas revenue grew 66pc year over year and now represents 44pc of revenue, and we had another strong quarter of customer growth, ending the quarter with over 20,200 customers. These would be strong results in any environment but are particularly notable during the global health and economic crisis."  The company is very excited about what it is doing. " Since our inception 13 years ago, we put the developer at the center of our universe, and we introduced a new class of database based on the document model or JSON. JSON is a data format that's easy for developers to read and right and machines to parse. We have always believed that JSON is the best way to work with data. As tech-savvy companies around the world adopted the document model, the industry took note. First, Microsoft then AWS [Amazon Web Services], and most recently, Oracle tried to emulate what we have done. Oracle recently made public statements that acknowledge that JSON has become the main data model for new applications and that developers love JSON because it provides support for dynamic schemas consequently making it easy to make changes. I believe it's noteworthy that the industry now agrees with our fundamental premise, the document model is simply the best way to work with data. Our mission continues to make it stunningly easy for software developers to work with data wherever it resides to drive innovation and create value….While the macroeconomic environment remains challenging, we are executing well and remain focused on the enormous opportunity that lies ahead."
Nio  NIO  Buy @$48.30  MV: $46.6bn  Next figures: 17 November Number of times recommended: 4  First recommended: $11.50
Nio shares have exploded since they first featured in Quentinvest at $11.50 on 7 July 2020 ans then again at greater length on 9 July. The shares have been so strong because of a phenomenon I call the rubbish theory of value. Less than a year ago people thought Nio was going to go bust. Now vehicles sale are growing rapidly and the company is launching initiatives on multiple fronts from charging and battery swopping technology to autonomous driving. Again, like Tesla, they have clearly achieved critical mass and the future looks very exciting. Sales are forecast to grow almost 10-fold between 2018 and 2022. October sales doubled on a year earlier to 5,055 and brokers expect the recently launched EC6 vehicle to expand the addressable market. Sales figures are still minute but investors clearly see this companies transforming out of all recognition in coming years. Again the verdict has to be speculative but exciting with strong news flow likely.
Pindudoduo  PDD Buy @ $134  Next figures: 17 March 2021  Number of times recommended: 7 First recommended: $49.57
Pinduoduo is an incredibly fast growing Chinese e-commerce business, which has strong social features – the more buyers you team up with the cheaper the goods and also a marked emphasis on agriculture. By cutting out the middle man the group can offer a great deal to consumers while generating a dramatic improvement in sale prices for farmers and producers. The group has begun investing heavily to completely reinvent the agricultural supply chain, where it says the existing infrastructure is hopelessly inadequate and very old-fashioned. Clearly if Pinduoduo becomes the go-to platform for fresh farm produce it will do a great deal of non-agricultural business as well. Latest results were sensational. "Pinduoduo turned five years last month, reaching another milestone on this incredible journey. This year, we continue to deliver strong user growth and build trust and engagement with consumers. We are facilitating more sales every day with the support of our users, merchants and business partners. For the 12 months ended September 30, 2020, Pinduoduo's revenue yield of 731m active buyers and generated nearly RMB1.5 trillion GMV [gross merchandise volume]. During our fifth anniversary campaign early October, the peak daily order volume surpassed 100m, driven by increased demand for agricultural products. Strong consumer activities continue into Q4. We expect this growth to our continued focus on user experience. And so, better engagement metrics as we offer more selection, more compelling value and more fun and interactive features. In Q3, we observed increase in the frequency of visits, the number of categories visited and average daily time spent, which  contributed to our average annual spending per user increasing from RMB1,857 in Q2 to RMB1,993 in Q3, despite a net add of another 48m active buyers." The business is on fire.
The Trade Desk  TTD  Buy @ $739  MV: $34.5bn  Next figures: 25 February 2021  Number of times recommended: 13 First recommended: $127.98
Although much smaller The Trade Desk is a rival to Google [Alphabet} and Facebook, which it describes as walled gardens because of the way they control access by advertisers to their content. TTD says they have another problem because so much of their content is user generated, which makes it hard to control and not always acceptable to advertisers. The Trade Desk is the king of data driven advertising placed with online media such as connected TV. Founder, Jeff Greene, sees a huge long-term opportunity for the business. It suffered at first from lock down as panicky advertisers, locked into their traditional TV advertisjng schedules, which are typically booked well in advance, found it easier to close down their programmatic ad spend. However this adverse effect did not last long ad spending has subsequently been picking up strongly. "Despite the headwinds of a global pandemic, we had healthy growth in the third quarter, up 32pc year over year, far surpassing our own expectations." Green is not a downbeat guy but his optimism is strong than ever. "But while we are a long way from being completely out of the woods, I do believe that in 2020, so far, we have gained more market share or said another way, grabbed more land than at any point in our company's history. We've accomplished this because advertisers have become more deliberate, and we are a part of the solution that helps them manage uncertainty and chart a path to growth. Our rate of grabbing land in Q3 might be the biggest bullish indicator we produced as a publicly traded company. Market share gains in 2020 is a testament to the strength of our value proposition and our customer relationships.That's what makes me more proud of our performance in the third quarter than any other quarter in The Trade Desk's history. Our team navigated uncertainty and helped the most sophisticated advertisers fuel their recovery with new approaches to channels such as CTV [connected TV]. I'll come back to CTV in a few minutes. Before I do that, I want to give color about the third quarter because I think it will give insight as to why I'm so bullish on our future." You can read the results to get that colour because Green, as always has much to say but the company really does look to be "a) addressing a massive opportunity to take a meaningful chunk of the global ad market and (b) is executing briliantly.