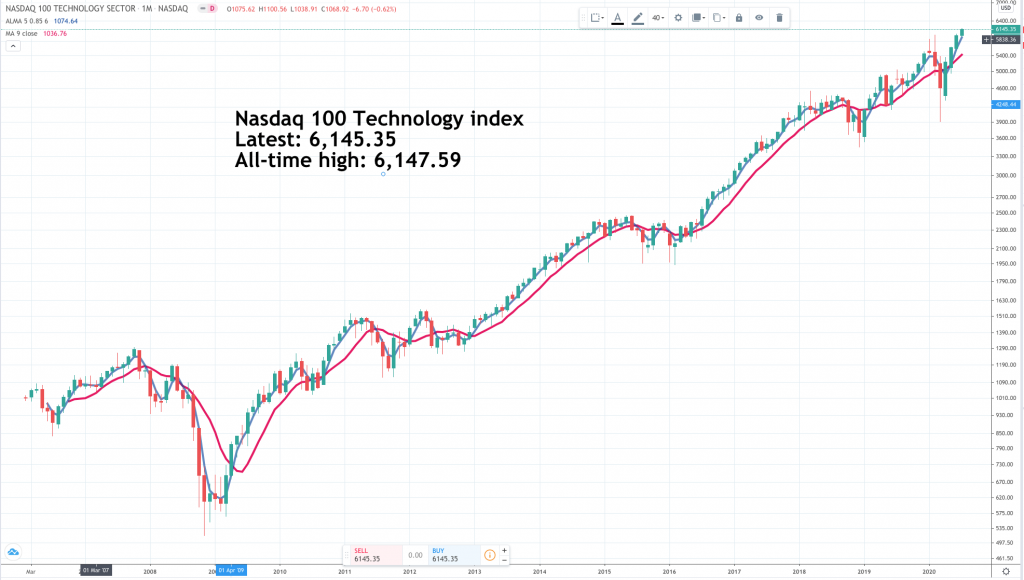 Do you see what I see when I look at this index? Not only may this be the greatest bull market of all time unfolding in front of us but it may not even be midway – it may be just beginning!
I know; that probably mean shares are going to plummet tomorrow but both charts and fundamentals (globalisation and the not just amazing but rapidly accelerating technology revolution) look super exciting.
As others have noted we are entering the era of artificial intelligence and machine learning (further enabled by the ongoing rollout of super fast 5G networks) and we are in the age of disruptors, where new technology-enabled companies are rewriting the playbook (disrupting) in every industry and sector.
These are extraordinary times, ones to which many investors are struggling to adapt. Well, here at Quentinvest I believe we have adapted and it is producing amazing results.
Below I write about two shares, which are already in the portfolio, which have scary valuations but look incredibly exciting.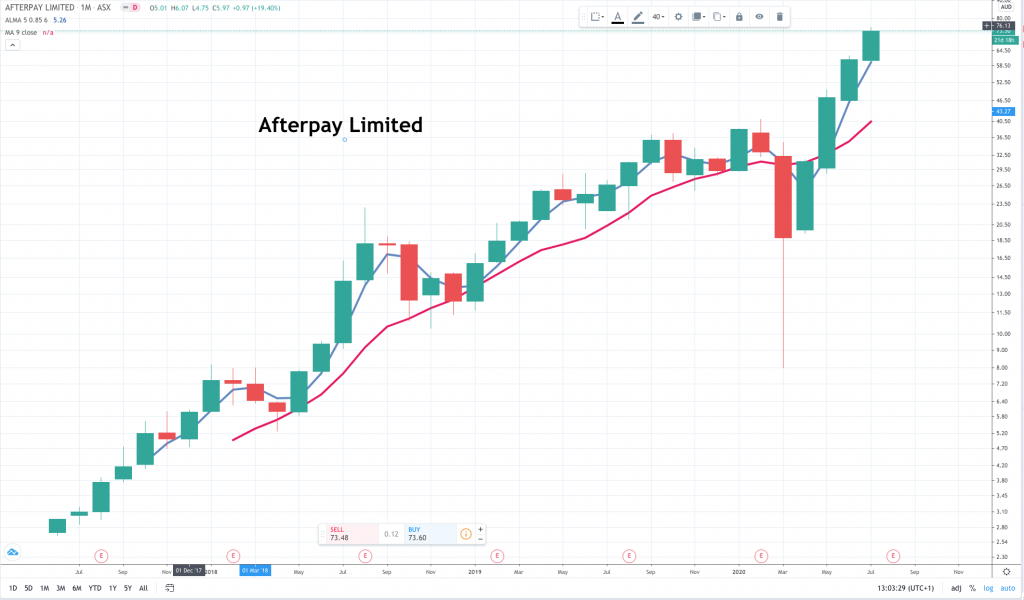 Afterpay Limited/ APT Buy @A$73.50 MV: A$17.7bn (£9.3bn) Fintech company offering buy now pay later services.
Shares in Australian buy now pay later business, Afterpay have been featured three times in Quentinvest since 10 June and are already showing good profits. The company is controversial in Australia but I have noticed that this is often a characteristic of high-growth businesses in the early stages. Amazon and Shopify attracted great controversy in their early days and even Microsoft was for long known as the evil empire to developers. It seems you really cannot make an omelette without breaking a few eggs.
As you can see from the chart, Afterpay shares are in an explosive growth phase. They are up from A$2.66 in just three years. This is partly because they are growing incredibly rapidly. In June 2018 they had 2m customers; the latest figure is 10m, with nearly 1m added in just the USA in the last couple of months.
The other reason is that they floated so early in the life of the company. They came into being in 2015, did one tiny fund raising and then floated. Investors really are getting in near the ground floor with this business though not as near as three years ago but I suspect time will tell that the shares are still a bargain.
Fast as they are growing they have just raised A$800m to fund even more explosive growth with openings planned in Canada and other countries. The fund raising had a floor price of A$61.75 but was actually done at A$66, which suggests strong demand.
Commentators in Australia noted that the founders, Anthony Eisen and Nick Molnar, were also selling A$250m of shares but this is hardly a dash for the exit. They retain 90pc of their stakes. Molnar in particular is an extraordinary guy. Before launching Afterpay, he created Australia's biggest online jewellery business and he is still just 30. If he can keep focused with all this happening in his life and a wife and child, he could clearly do amazing things.
Indeed, he has told us that he is going to. His ambition is to make Afterpay the most loved way to pay in the world, an ambition, which might seem ridiculous until you look at what has already been achieved.
Afterpay needs to raise funds because, like many early stage, high growth technology businesses the company eats money. It is spending a fortune on global expansion, sales and marketing, research and development, building a high level management team and last but not least because it has to fund the credit it extends to its buy now pay later customers.
The business model is that merchants offer Afterpay's service, which means customers can buy relatively inexpensive items like clothes and shoes for 25pc down and three fortnightly payments to cover the balance. They pay no interest. There are late payment fees but these are capped at A$68 (£36) so nobody can find themselves with spiralling debts from using Afterpay. The merchant is paid on purchase so Afterpay has to fund the three instalment payments. Profits come from late payment penalty charges but mainly from fees between 4-6pc paid to merchants. They sign on because they do more business at full price so it should be a win-win-win for everybody, the customers, the merchants and Afterpay.
As the business coalesces around repeat purchasers the small number of customers who don't pay drop out of the system.
There is plenty of competition, across the board but I have the feeling that Afterpay is going to emerge as top dog. They have also said that some of the funds raised may be used for acquisitions.
They have also discovered a new trick which is their shop directory. This is an app (I think, my technology knowledge is sketchy because I don't use any of this stuff myself), which tells customers, which shops offer the Afterpay facility. It is rapidly turning into a platform driving sales for merchants and Afterpay is investing heavily in this new area of opportunity.
I cannot find the article/ document where I read it but growth in the American market over the last year to the company's 30 June year end was staggering, not far short of 400pc!
The valuation is ridiculous at A$17.5bn for a loss-making company, with a five year history and 2019-20 sales of A$497m but then think of the excitement. This business is on course to grow sales from A$23m in 2016-17 to A$1.25bn plus by 2021-22. It is impossible to value such rapid growth. Like Tesla, you have to ask yourself if you are a believer. I am.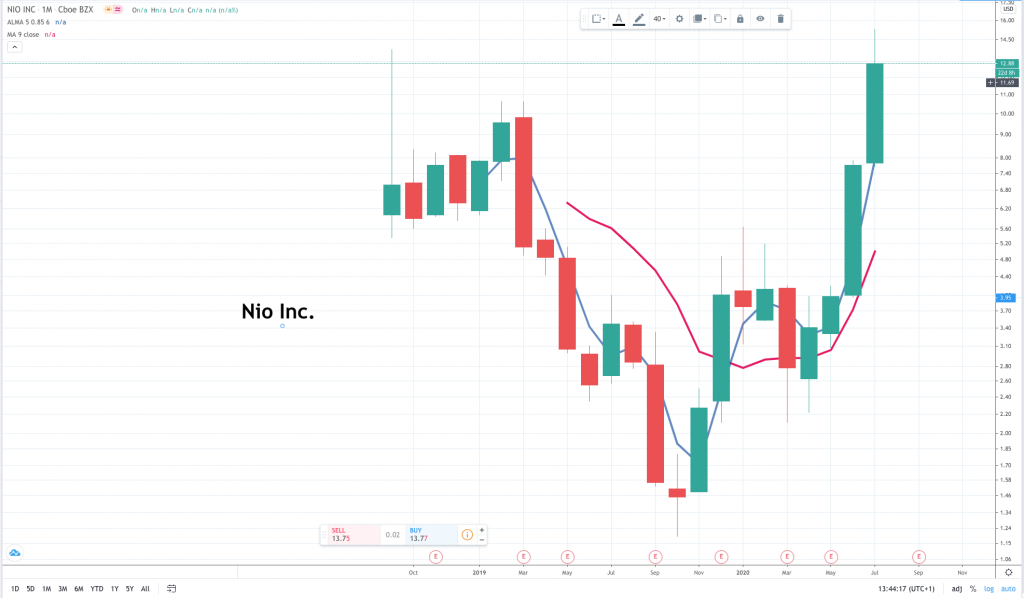 Nio Inc. NIO Buy @ US$12.88 MV: $11.6bn –
a pioneer in China's premium electric vehicle market. They design, jointly manufacture, and sell smart and connected premium electric vehicles, driving innovations in next generation technologies in connectivity, autonomous driving and artificial intelligence. Redefining user experience (their words), they provide users with comprehensive, convenient and innovative charging solutions and other user-centric service offerings.
There are several things that make Nio an exciting although again outrageously highly valued business.
They make electric vehicles, which clearly captures the zeitgeist in these post-apocalyptic days – not so post because in many countries the pandemic is still very much with us.
Secondly, growth is exploding. This is the same quote you have already seen but it bears repeating.
"NIO delivered 3,740 vehicles in June 2020, representing a strong 179.1pc growth year-over-year. The deliveries consisted of 2,476 ES6s, the company's 5-seater high-performance premium smart electric SUV, and 1,264 ES8s, the company's 7-seater high-performance premium smart electric SUV, and its 6-seater variant. NIO delivered 10,331 vehicles in the second quarter of 2020, representing an increase of 190.8pc year-over-year and an increase of 169.2pc quarter-over-quarter. As of 30 June, 2020, cumulative deliveries of the ES8 and the ES6 reached 46,082 vehicles, of which 14,169 were delivered in 2020."
What that quote tells me is not that Nio is a slam dunk as a major manufacturer of electric vehicles but it is definitely a player and really that is enough given the huge addressable markets and the fact that the world's motor industry is fast entering a hurricane of change.
The third thing that interests me is that between March and October last year the shares were in free fall. I guess they were falling for much the same reason that Tesla shares also fell heavily earlier in 2019. Investors feared these companies were going to go bankrupt and Nio might have been at risk but for a massive fund raising. In June 2020 Nio agreed to sell just under 25pc of its Chinese business for 7bn renmimbi, which is around US$1bn so valuing its business, in China, at US$4bn.
The combination of knowing the business had secure funding plus the reported strong growth in sales has put a rocket under the shares, which are up 10-fold since October 2019 and have more than trebled since 1 June 2020. There may be profit taking and I don't pretend to have done an exhaustive study of their business model or their plans to bring joy to the world but, like Afterpay, full marks for scary excitement.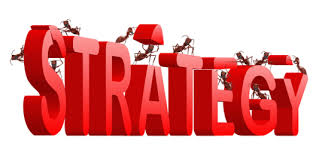 Part of what I am trying to do on Quentinvest is pick really big winners. Even one of these can transform your performance as long as you give them time to deliver.