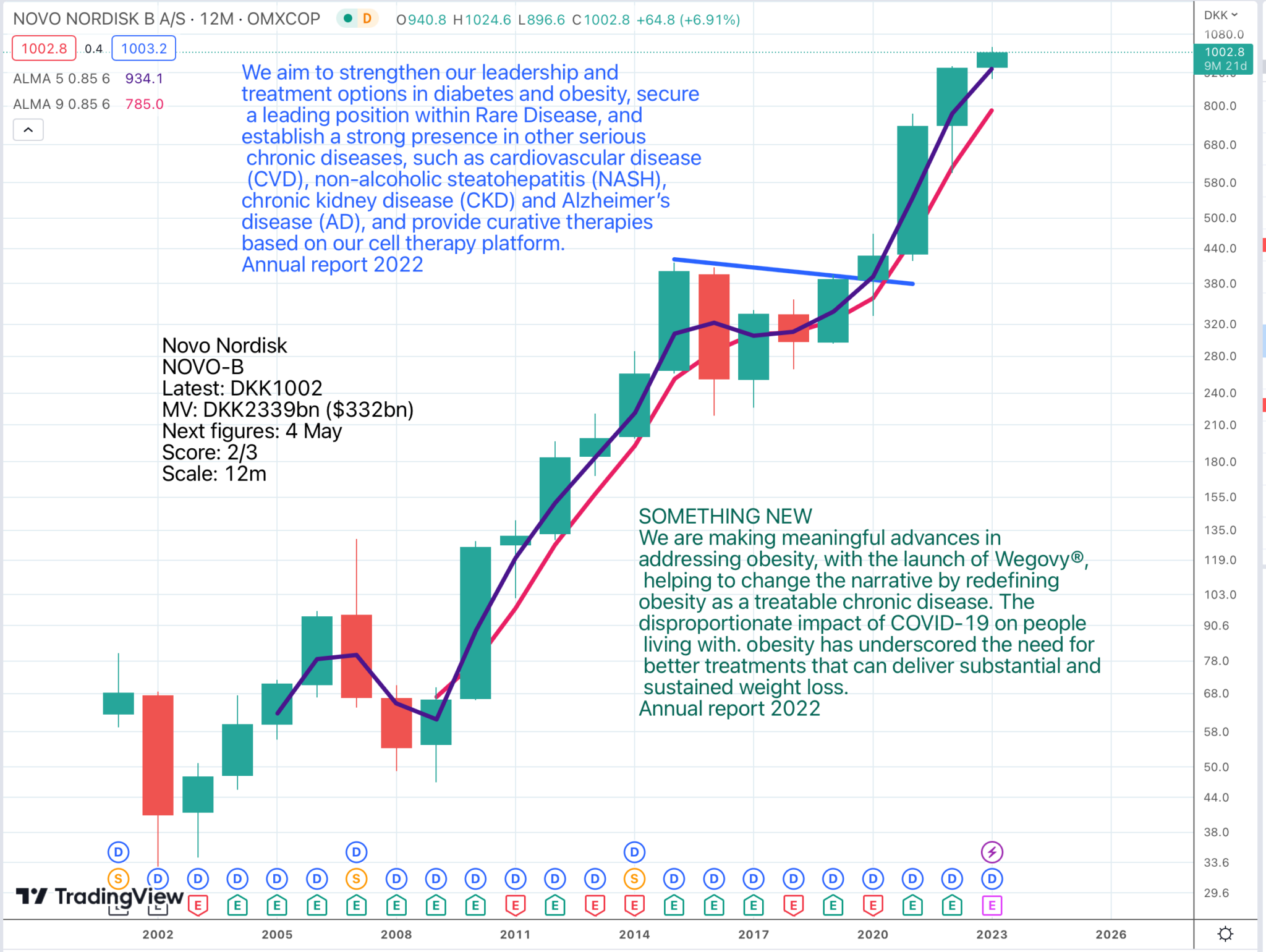 This is a great chart for a great company with an important 'something new' to drive the shares still higher. Novo Nordisk is better known for its diabetes treatments and there are many exciting innovations coming along here.
We are excited by the potential of once-weekly insulin icodec, which has successfully completed the phase 3 ONWARDS programme, demonstrating superior reductions in blood glucose levels compared to once-daily basal insulin degludec and insulin glargine in insulin naïve people with type 2 diabetes.

The launch of a 2.0 mg dose of our once-weekly GLP-1 injection Ozempic® in the US has increased options for patients, while Rybelsus® is continuing to expand choice in the oral anti-diabetic space. Looking to the future, our new CagriSema experimental therapy for type 2 diabetes – a combination of the established GLP-1 semaglutide and the long-acting amylin analogue cagrilintide – is set to enter phase 3 development in 2023 following promising phase 2 results.

Annual report 2022
More explosive growth is coming from its obesity drug Wegovy, which is the obesity bit in the graphic below.
There is also exciting innovation happening in this area.
Our pipeline contains investigational therapies that we believe may have even greater efficacy, offering even greater levels of weight loss. This includes the aforementioned combination therapy CagriSema, which has now also commenced large-scale phase 3 trials in obesity. Cagrilintide works by reducing appetite by targeting specific parts of the brain, thereby providing an additive effect to semaglutide.

Annual report 2022
The global obesity market is estimated to total 750m people and growing so presents a huge opportunity and a huge unmet need. Novo Nordisk is by far the market leader in this market as it is in diabetes.
Within this accelerating global obesity market, we are capturing the vast majority of growth and we expect to build on this significantly in 2023 as we resolve Wegovy® supply constraints. The volume growth of the global branded obesity market was 63pc. Outside the US market, our first-generation GLP-1 obesity drug Saxenda® has seen continued robust uptake and we hope to build on this in 2023 with the launch of Wegovy® in more countries across International Operations.

Annual report 2022
Novo Nordisk is also boosting shareholder returns by a significant share buyback programme.
For the next 12 months, Novo Nordisk has decided to implement a new share repurchase programme. The expected total repurchase value of B shares amounts to a cash value of up to DKK 28 billion. The total programme may be reduced in size if significant business development opportunities arise during 2023.

Annual report 2022
Novo Nordisk is not the only company out there with an anti-obesity drug but what makes them exciting is their domination of the market for diabetes treatment. If they can do it there they may well do the same with obesity and they are building factories as fast as they can to cope with strong demand. Success in this area could drive the share price for years to come.
The chart looks great, especially in the super long term (12m candlestick) format that I am increasingly favouring. We can see clearly two extended areas of consolidation and two mighty break outs/ buy signals. We don't have one of those at the moment, just a strongly rising share price but that is impressive when much of the world is battling with falling share prices.
Sea Limited pivots from growth to profits
Just looking at what Sea Limited does makes it clear why Sea Limited is such an exciting company and why investors were so excited by the potential when the shares exploded before the latest reality check.
Sea Limited is a leading global consumer internet company founded in Singapore. Our mission is to better the lives of consumers and small businesses with technology. We operate three core businesses across digital entertainment, e-commerce, as well as digital payments and financial services, known as Garena, Shopee, and SeaMoney, respectively. Garena is a leading global online games developer and publisher. Shopee is the largest pan-regional e-commerce platform in Southeast Asia and Taiwan. SeaMoney is a leading digital payments and financial services provider in Southeast Asia.

Web site
The new focus on profits is already showing results.
"We are starting 2023 on a much stronger footing," said Forrest Li, Sea's Chairman and Group Chief Executive Officer. "Our decisive pivot to focus on efficiency and profitability since late last year is already driving meaningful bottom line improvements. We delivered positive total net income in the fourth quarter, demonstrating the strength and resilience of our underlying business model and the execution capabilities of our teams. As we continue this transition and maintain our focus on sustainable growth, our approach is to do less but do it better as we serve our users across our digital ecosystem."

Q4 2022, 7 March 2023
Two standouts from Q$ were a dramatic swing from losses to profits and the continuing strength of the balance sheet.
Total adjusted EBITDA1 turned positive to US$495.7m, as compared to a loss of US$492.1m for the fourth quarter of 2021. Total adjusted EBITDA was also positively impacted by approximately US$130m of accruals reversal as mentioned above.

As of December 31, 2022, cash, cash equivalents and short-term investments were US$6.9bn, representing a net change of minus US$401.6m from September 30, 2022. Excluding cash consideration used to repurchase our outstanding convertible bonds with a gain as discussed below, cash, cash equivalents and short- term investments would have increased by US$209.8m from September 30, 2022.

Q4 2022, 7 March 2023
The company remains cautious given the global environment but also confident.
Given the macro uncertainty and our recent strong pivot, we continue to closely monitor the market environment, and fine-tune our operations accordingly. As a result, there may be near term fluctuations in our results and performance. However, we remain confident in the long-term growth potential of our markets and focused on capturing this opportunity.

Although we expect macro uncertainty to continue to cloud the horizon in the near-term, the long-term potential of our businesses and markets remains vast. We plan to capture these opportunities while delivering strong and sustained shareholder returns over time.

Q4 2022, 7 March 2023
As subscribers have probably realised I am more enthusiastic about shares that are genuinely strong like Novo Nordisk than about early stage recovery shares like Sea Limited but no question Sea is an exciting business with huge potential run by some talented people. It is doing something new, targeting profits growth and free cash flow rather than growth at all costs. And the chart shows a potential turning point with a classic Coppock buy signal.
Most likely the shares will faff around for a while, especially if US interest rates have not yet finished climbing but almost certainly we have seen the low and the shares are ripe for accumulation.
I had a look at some ETFs which have significant holdings in Sea Limited. Other holdings would typically be shares like Alibaba and the three I looked at were bombed out but trying to build some sort of base. One I looked at called ProShares Online Retail (ONLN) had a significant base pattern in formation and a Coppock buy signal from a negative level so could be promising.
Strategy
The change in valuation of Sea Limited during the bear phase has been staggering. In 2020 the enterprise value (market value less net cash on the balance sheet) divided by sales was 23.3 times and probably went even higher in 2021 as the shares continued to climb. This multiple is presently 2.35 times.
The problem with making a pivot to making profits is that investors may start to value the company based on profits. The projected PE ratio for calendar 2023 is 586 falling to 102 for 2024, which is great progress but not cheap by most people's standards.
Nevertheless Sea has all the credentials to be a hot stock and the sell-off between 2021 and 2022, $380 down to $40, must surely have cleared the decks of any loose holders.
Novo Nordisk is different. It's just a wonderful long term growth stock that looks as full of running as ever and with a powerful new growth driver in its obesity business.
PGIM Dennison Focused Growth ETF (PJFG) looks interesting
When I checked on ETFs that have significant holdings in Novo Nordisk I found PJFG which has a high quality portfolio and a promising chart. It is presently too small to be available on the IG trading platform.
These are all shares which I like long-term. Every single one is in the Quentinvest benchmarks list. The ETF is relatively newly launched but has a promising chart.