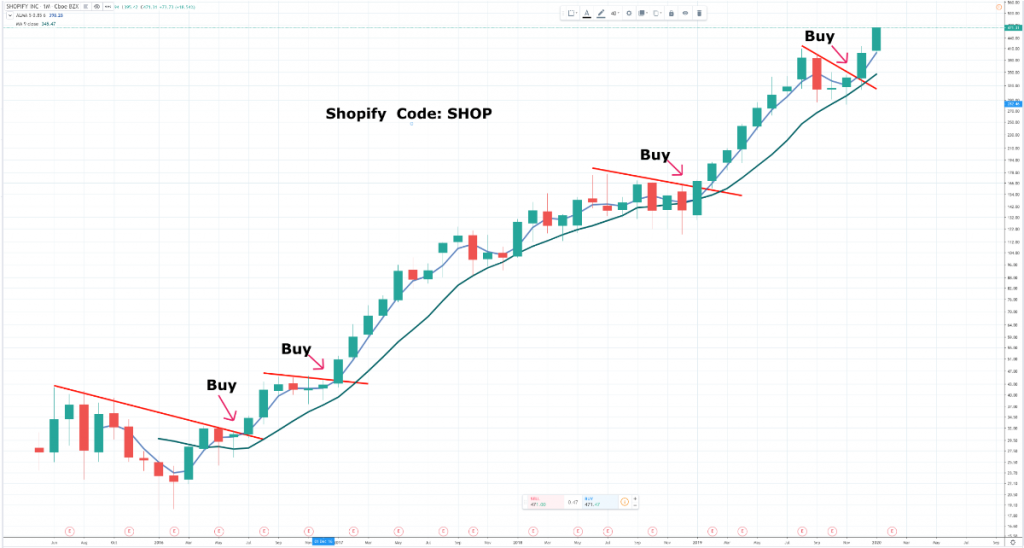 Shopify. SHOP . Latest $464.50 . MV: $54bn . Employees: 4,000 Next figures due: 12 February.
Shopify has been a stunning selection for Quentinvest. Out of nine alerts seven are showing triple figure gains with the first alert up 270pc. I am a great believer not just in running winners and cutting losers but in really going for broke on my winners so here goes with my 10th alert for Shopify.
First off Shopify has an astoundingly talented management team led by 39 year-old co-founder, Toby Lutke, who is CEO and the fabulously articulate, Harley Finkelstein, who is chief operating office. Finkelstein founded his first company at 17 and joined Shopify in 2009. Lutke is articulate but still has a marked German accent, having been born in Koblenz, Germany so keeps a lower profile at analyst presentations. Like Bill Gates he had barely mastered walking, when he was given his first computer and was 11 or 12 when he began coding. Specs, bald; he looks what he is, unbelievably bright. There are some 4,000 employees and you can imagine that in North America landing a job with Shopify is like being paid to go to Oxford or Harvard.
Second off is the business. Shopify was famously founded when Lutke tried to set up a business selling surfing gear online and couldn't find any decent software to help him do it. He wrote the software and realised almost immediately that selling that to all the other people wanting to start businesses in the Internet era was a far bigger opportunity than selling surfboards. Amazon subsequently also saw this as a big opportunity, set up in competition, quickly realised that Shopify was doing it better, backed off and recommended Shopify as the way to go.
Third has been the growth. The table below gives the flavour of what is going on. Sales are forecast to rise from $389m for calendar 2016 to $2.86bn for calendar 2021. Traditionalists moan about the lack of profits but that's how you get the growth; you really go for it and that means pouring money into sales and marketing, research and development and now the potentially costly business of helping customers with their fulfilment. For companies like Shopify and other exciting businesses in a similar position the lack of profits is a positive, not a negative because it testifies to the scale of the opportunity. When my own business was growing fast in the late 1990s I didn't make much profit because of the marketing costs but boy did I grow. An aparatchnik from the FSA paid a visit and commiserated with me on my situation; he had no idea!
Part of the way in which Shopify grows is by adding to the range of services. You can use the platform to sell stuff, take payment, receive working capital, ship your stuff and more and more other things. Th comparison I make is with Amazon and its Kindle Direct Publishing operation. If you want to publish a book Amazon will do everything for you except write it. Shopify wants to do the same for entrepreneurs. You have your business idea, you focus on that and they do all the rest.
As they put it:
"At Shopify, we build products that make it easier for anyone to become an entrepreneur. And then we level the playing field so that they can grow and succeed. As our merchants scale, and face new challenges, and new levels of complexity, Shopify is designed to grow with them revealing new capabilities as merchants require them. With this formula, we can not only help mint the next million merchants, but we can arm them with everything they need to thrive." They talk about the next million because they already have 1m merchants on the platform.
The latest move is into helping companies with fulfilment. The group is working with warehouse partners but has also said it may invest in building its own fulfilment centres if that is necessary to complete the network. It has also made its largest acquisition to date of 6 River Systems, a warehouse management and automation business, so it is now involved in taking fulfilment technology into the next generation of solutions.
As Shopify expanded a possibly unexpected development gave a big kicker to growth as it turned out that it was not just small companies and start-ups, who needed Shopify's technology. Not only did the original customers have different requirements as they grew but in meeting those Shopify began to appeal to much larger businesses and Shopify Plus was born.
Here is what Harley Finkelstein says about Shopify Plus.
"Shopify Plus continued to solidify its position as the preferred commerce platform for high volume merchants. Some of the brands that launched this quarter include footwear brands, aerosols, Harry's of London, The Frye Boot Company and Nicholas Kirkwood from luxury brand LVMH.
The shop for the iconic British broadcaster the BBC, and the space exploration disruptor, SpaceX, sports drinks behemoth Gatorade, Australian electronics giant JB Hi-Fi, appliance brand Bissell, additional iconic toy brands, such as GUND, more brands for some of the world's largest influencers like Kim Kardashian's new shapewear line called skims and Victoria Beckham's makeup line, Victoria Beckham beauty.
And finally more launches from the world's largest consumer packaged good companies that have been leveraging our platform for some time, including Heineken and Unilever. Shopify Plus is becoming the most relevant platform globally for both iconic as well as the fastest growing modern retail brands.
As a quick anecdote, I recently spoke with an executive at one of the largest food and beverage conglomerates on the planet after they went live on Plus. He said, that this was the most successful product launch, probably in the history of the company, and the best part is that I hear stories like this all the time from Fortune 500 to SMBs (small and medium-sized businesses)."
Another key feature of Shopify is the way it generates revenue. Those 1m-plus businesses using the platform pay fees for the platform and also pay a merchant fee, which is a tiny proportion of revenue. They also pay for any of the add-on solutions they use. Lastly, when partners develop apps for use on the platform a percentage of that revenue goes to Shopify and the partner ecosystem is growing fast. You can get the picture from the following quote:
"Revenue in our third quarter was up 45pc year-over-year to $390.6m. Subscription Solutions revenue increased 37pc to $165.6m primarily due to strong merchant adds as well as level setting subscription pricing for legacy plans, growing monthly recurring revenue to $50.7m which is up 34pc over the same period last year, and the same pace as last quarter.
Shopify Plus continued to increase its contribution to MRR (monthly recurring revenue) accounting for $13.5m or 27pc compared with 24pc of MRR in Q3, 2018. Subscription Solutions revenue grew faster than MRR in the quarter primarily due to strong growth in apps revenue, as well as from Shopify Plus platform fee revenue.
Merchant Solutions revenue grew 50pc over the same period in 2018 to $225m. This growth was driven by GMV (gross merchandise value) Expansion up 48pc year-over-year to $14.8bn with international being the fastest growing contributor. Both international and Plus continue to grow their share of GMV mix, while POS (point of sale) Channel GMV growth gained momentum, accelerating for the second quarter in a row."
International is growing faster than North America now which tells you where this business is going.
In summary, the scale of what Shopify is doing is breathtaking.
"Finally, our cash, cash equivalents and marketable securities balance was approximately $2.7bn, which increased around $700m largely due to proceeds from a share offering we completed in September. As Harley said, we're building a global commerce operating system that helps solve problems at critical points along the merchant journey. We have thoughtfully developed and implemented a portfolio of investments that addresses many of these pain points and fuelled our growth to date. These include multi-channel integrations, enhancements to marketing functionality for merchants, expansion of Shopify payments and related services, further development of Shopify Plus capabilities, Shopify Shipping functionality and expanding the availability of Shopify Capital to more merchants among others."
Think about that; Shopify is building a global commerce operating system. They are going to become huge.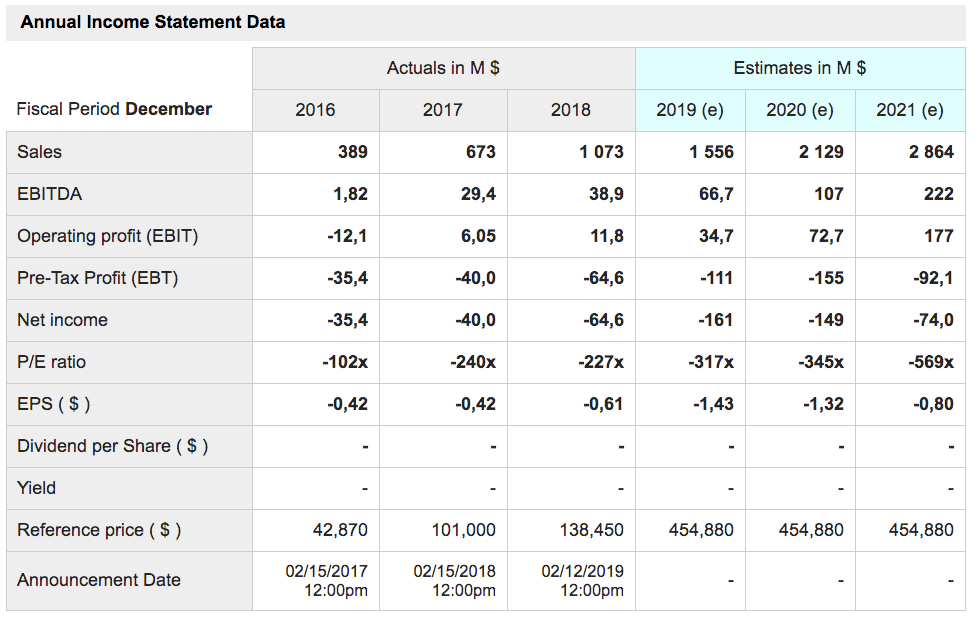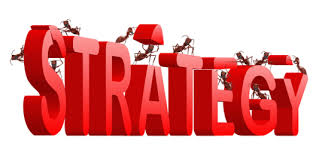 The perennial problem with an investment in Shopify is that it is a fabulous business at a fabulous price. It's making losses, calendar 2019 sales, due to be reported on 12 February are forecast at $1.56bn but the business is valued at $54bn! It's a leap of faith to buy the shares but so it always has been. My impression is that Shopify is up there with the most exciting businesses on the planet and is going to become one of the world's great companies and a household name.