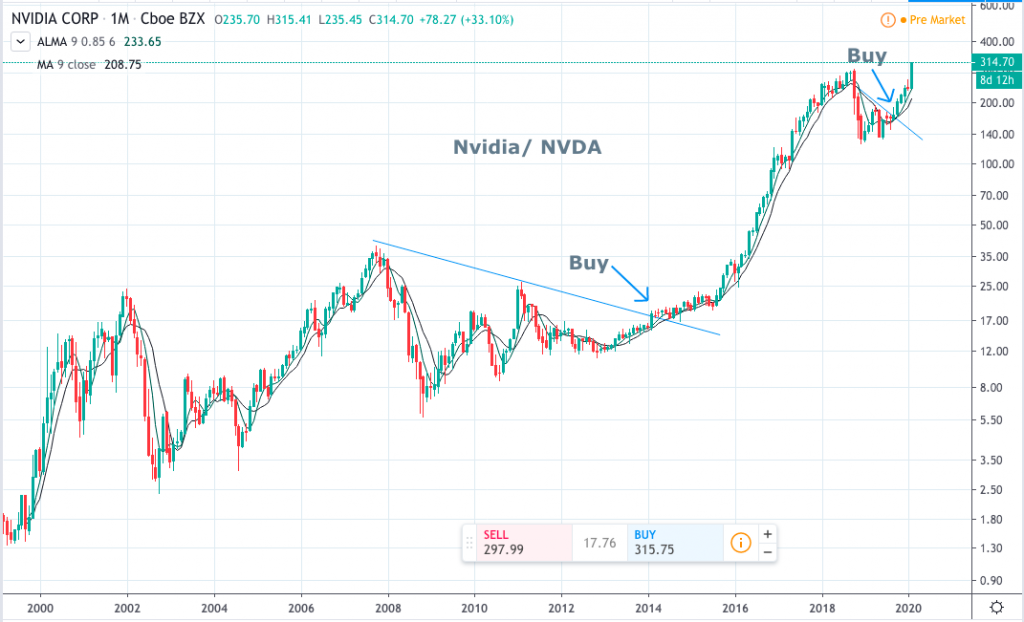 Nvidia .  NVDA . Latest: $312 . MV: $192bn . Employees: n/a  Next figures due: 13 May
Nvidia summarises what it does as follows: "We specialise in products and platforms for the large, growing markets of gaming, professional visualisation, data centre, and automotive. Our creations are loved by the most demanding computer users in the world – gamers, designers, and scientists." Given that the world is in the grip of a technological revolution at least as seismic in its effects as the industrial revolution of the 19th and 20th centuries that already sounds exciting.
A quick look back at where Nvidia came from tells you more about the central role it is playing in driving forward the changes transforming life in the 21st century. "In the early 1990s, the three co-founders hypothesised that the proper direction for the next wave of computing would be accelerated or graphics based. They believed that this model of computing could solve problems that general-purpose computing fundamentally couldn't. They also observed that video games were some of the most computationally challenging problems but would have incredibly high sales volume. With a capital of $40,000, the company was born. The company initially had no name and the co-founders named all their files NV, as in "next version". The need to incorporate the company prompted the co-founders to review all words with those two letters, leading them to "invidia", the Latin word for "envy". The company went public on January 22, 1999″
All great companies need great leaders and Nvidia has one in CEO, Jensen Huang, one of the co-founders of the business and a visionary in the larger-than-life mould of Apple co-founder, Steve Jobs and Marc Benioff at Salesforce.com. But he has been around from the beginning. Something else has happened more recently to put a rocket under the share price. The clue is that since 2014 the company has been broadening the markets to which it addresses its technology to include some of the world's most exciting areas of development.
"Since 2014 Nvidia has diversified its business focusing on four markets: gaming, professional visualisation, data centres, and auto. Nvidia is also now focused on artificial intelligence. In addition to GPU manufacturing, Nvidia provides parallel processing capabilities to researchers and scientists that allow them to efficiently run high-performance applications. They are deployed in supercomputing sites around the world. More recently, it has moved into the mobile computing market, where it produces Tegra mobile processors for smartphones and tablets as well as vehicle navigation and entertainment systems."
The semiconductor industry is a bit like farming, endlessly putting in capacity (planting crops) to deal with the anticipated growth in demand. This ceaseless expansion makes it vulnerable if for any reason demand fails to grow as forecast, as happens periodically. For various reasons demand faltered in 2019 and that hit Nvidia, which saw sales and profits both fall in the year to 31 January 2020. Because Nvidia was on such an exciting roll in the preceding years the shares were extended and took a severe hit. The shares more than halved in the brutal final quarter, for shares generally, of 2018. since described as the worst quarter for US shares since the 1930s.
Analysts were already anticipating an industry-wide recovery from 2020 onwards so when Nvidia reported full year sales and earnings down for the full year to 31 January 2020 but a significantly better than expected Q4 result the shares surged higher to reach a new all-time high.
The recovery is good news but it could even be better that simple recovery. There is a growing feeling in the industry that the underlying growth trends are so strong and the sources of demand so diverse that future cyclicality may be less and that a period of sustained growth lies ahead.
One quote tells you why the market reacted so enthusiastically to the Q4 results. "
NVIDIA today reported revenue for the fourth quarter ended 26 January, 2020, of $3.11bn, up 41pc from $2.21bn a year earlier, and up three percent from $3.01bn in the previous quarter. GAAP earnings per diluted share for the quarter were $1.53, up 66pc from $0.92 a year ago, and up six percent from $1.45 in the previous quarter. Non-GAAP earnings per diluted share were $1.89, up 136 pc from $0.80 a year earlier, and up six percent from $1.78 in the previous quarter."
Wall Street is obsessed with quarterly figures and shares often react violently up and down to any given set of figures. I try to look through to the big picture. Is the company on track or losing its way? There has never been any sign that Nvidia was losing its way or the semiconductor industry as a whole ceasing to be an exciting place for investors. On the contrary, with cloud computing becoming ever more centre stage, the gaming industry going from strength to strength, self-driving cars coming closer to reality, the growing importance of artificial intelligence and the way that technology is permeating every aspect of modern life, the demands on the semiconductor industry seem likely to go from strength to strength.
It is not just Nvidia, the whole sector is on fire.
The most exciting thing about Nvidia is that it is such a hot bed of innovation.
"Adoption of NVIDIA accelerated computing drove excellent results, with record data centre revenue. Our initiatives are achieving great success. NVIDIA RTX ray tracing is reinventing computer graphics, driving powerful adoption across gaming, VR and design markets, while opening new opportunities in rendering and cloud gaming. NVIDIA AI is enabling breakthroughs in language understanding, conversational AI and recommendation engines ― the core algorithms that power the internet today. And new NVIDIA computing applications in 5G, genomics, robotics and autonomous vehicles enable us to continue important work that has great impact. We are well positioned for the greatest technology trends of our time."
My take is that Nvidia is one of the must-own stocks of the technology revolution, playing a critical role in making it happen. Is it a trillion dollar stock of the future – very possibly?
CFO, Collette Kress, further elaborated on how good were the Q4 figures. "We recovered from the excess channel inventory in gaming and an earlier pause in hyperscale spending and exited the year with great momentum."
I had a look at ray tracing, the technology, which Nvidia is bringing to the global gaming industry in an affordable way. It enables a much more realistic picture, which is why it has become what Nvidia calls the 'sweet spot, in the gaming industry,' which is itself going from strength to strength.
Reading the Nvidia earnings report is all about innovation, new developments that are going to make significant differences in multiple areas of technology and the way the company is working closely with so many other technology movers and shakers in the US, China and across the world. It is amazing what they are doing and it is easy to see how this is going to lead to continuing strong growth in sales, profits, earnings, dividends and share buybacks, which all point to a share price climbing steadily higher over coming years.
This is what anther analyst is saying about Nvidia, one, who I am sure understands the technology better than I do.
"Nvidia's GPUs began as image rendering chips, with technology that was praised by PC gamers across the world. Today Nvidia's chips have inherited capabilities way beyond local PC images. These hyper-fast GPUs are becoming essential components in data centres and the development of AI. Nvidia is just scratching the surface of their chips' abilities. Analysts have recognised this and continue to price more into this stock.
Nvidia is also leveraging 5G with its anticipated cloud gaming platform. Like cloud computing is the future of business data and analytics, cloud gaming is the future of gaming. Nvidia is making a big bet in this field with its cloud platform, GeForce NOW. This platform allows gamers to use their Macs or PCs for gaming anywhere with the high-speed, low-latency technology of Nvidia's GPUs without needing Nvidia's hardware locally."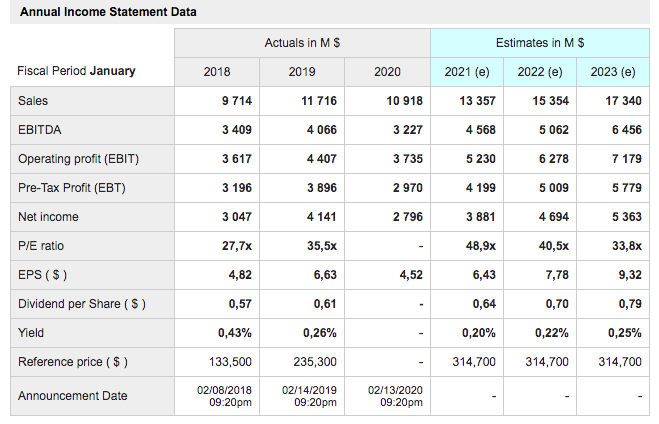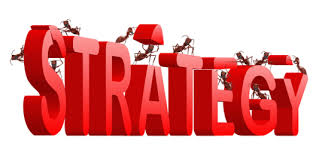 I am writing this alert in my daughter's apartment in Madrid, where, for technical reasons, I don't have access to the QV table so I can't refer to the many earlier alerts for Nvidia except to say that this alert is at a new record price level. The buy signal marked on the chart came at a lower price. I didn't recommend the shares then because I like to wait until the price is higher than my previous highest recommendation price. I am beginning to think maybe this approach is too cautious and I should advise about new buy signals as they occur. We shall see; part of my thinking is that subscribers may already have the shares and with so many buy signals being triggered in current buoyant markets I don't want to overload readers with too much information and too many alerts.
As a broad point on the strength of markets I think the key driver may be the technology revolution, which itself may even be accelerating given the huge r&d budgets in the USA and increasingly in other centres like China. My hunch is that when we or our descendants look back from a perspective well into the future it will be obvious why this bull market just kept on running. We are talking about a string of companies, most but not all based in the US, often in California, which are changing the the world and become much bigger businesses through doing this. Of course, they are great investments; how could they not be!
Coronavirus worries seem to be easing with new case numbers falling in China. Nvidia anticipates a $100m hit to sales which is hardly a game changer tor a business with quarterly sales exceeding $3bn.