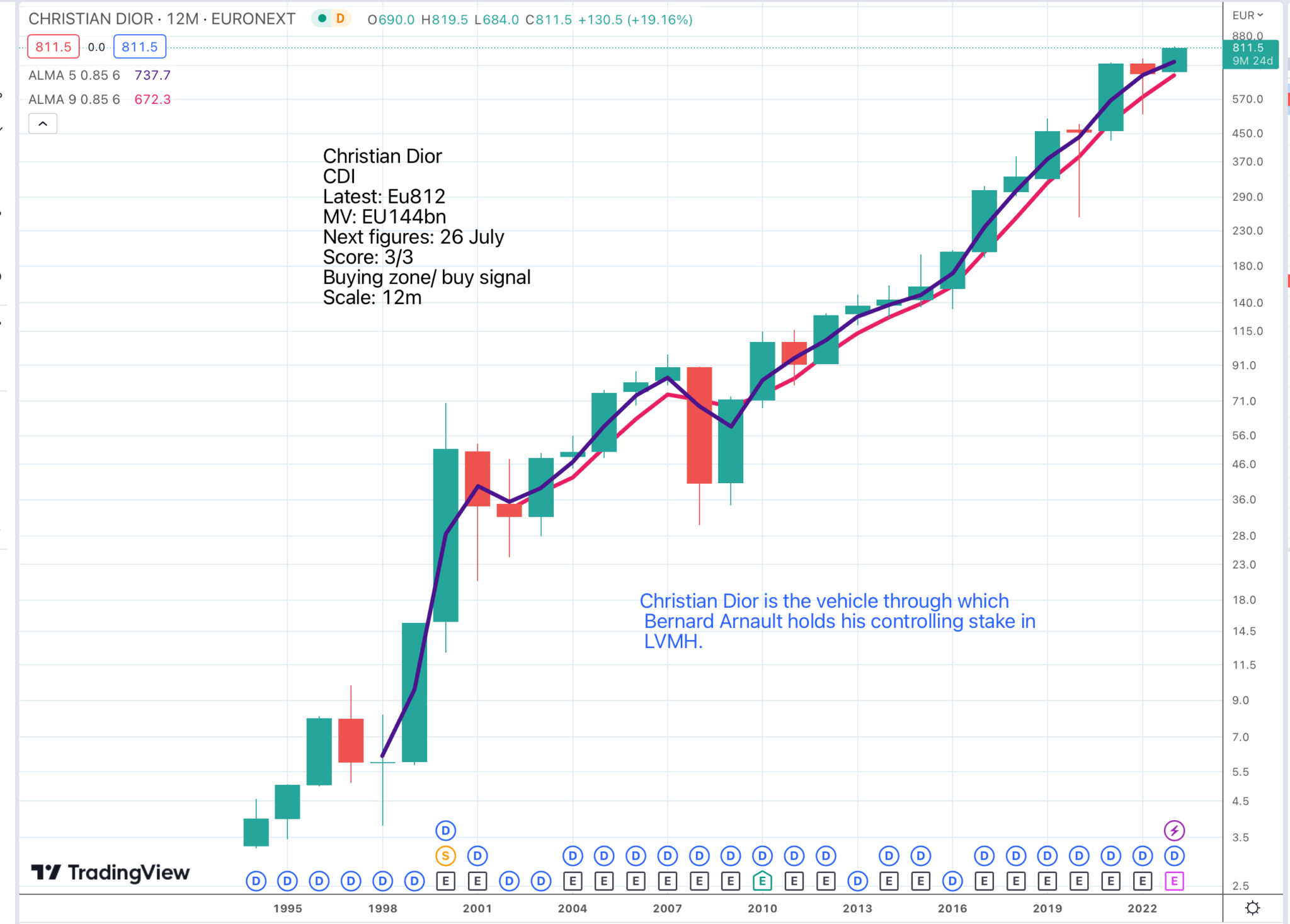 The truth is that buying shares in Christian Dior is almost identical to buying shares in LVMH. They even stand at very similar prices. I suppose there is a possibility of corporate action at some unknown future date LVMH might buy up Christian Dior in a share swap to leave Arnault holding his stake in the latter directly.. For sure, nobody is going to be able to take control of LVMH away from Arnault unless he wants that to happen. The same applies to many of the quoted luxury goods groups like Hermes, were Arnault tried and failed in the face of family opposition, and Brunello Cucinelli, which is controlled by the eponymous founder and long may that continue.
A luxury goods titan emerges in India
The Titan Company, controlled by Tata, has been an extraordinary long-term growth story. The company specialises in jewellery sales in India with fledgling businesses in watches, eye care, digital wearables, saris and other ethnic clothing and a small but growing international presence. The company certainly talks the talk with its references to a visceral sense of destiny. Way to go, guys.
The long-term chart looks amazing but is becalmed in the shorter term with a score of 0/3 so not one to buy just now but definitely want to watch. The shares are listed in rupees on the New York Stock Exchange.
There are zillions of companies called Tata in India though I could not find Tata Group. The founder of the original Tata is known as the founder of Indian industry though the famiy now has only a small stake in Tata companies.
The shares are going to look super-strong when they finally break higher from the current consolidation but should not be bought until then unless you shares the company's view about its destiny.
Luxury car companies look interesting
This has got the makings of a fantastic chart and there is exciting stuff going on at Mercedes-Benz, which owns a brand to die for.
February 22, 2023 – Mercedes-Benz and Google announced today a long-term strategic partnership to further accelerate auto innovation and create the industry's next-generation digital luxury car experience. With this partnership, Mercedes-Benz will be the first automaker to build its own branded navigation experience based on new in-car data and navigation capabilities from Google Maps Platform.

20 February 2023
My impression is that companies like Mercedes-Benz and BMW may have decided to leave the mass market for electric cars to Tesla and concentrate on the luxury end. When I bought my BMW i3 I asked the guy if values might collapse since BMW was no longer making them. He said he thought not because the cheapest BMW is now over £50,000 and may well stay that way.
If you want a cheaper 'BMW' you need to buy a Mini and at the top end is Rolls-Royce which is becoming an increasingly common vehicle in Kensington and no doubt elsewhere, though perhaps not yet across the country.
It seems that there is a major 'something new' happening at Mercedes-Benz.
In its first year after the Daimler Truck spin-off, Mercedes-Benz Group continued its transformation amid geopolitical and macroeconomic challenges. Strong results underline the improved profitability, even as the COVID-19 pandemic and semiconductor supply-chain bottlenecks and the fallout from Russia's war against Ukraine continued to affect the business.

Mercedes-Benz Group AG's sharpened focus on high-end passenger cars and premium vans, combined with tight cost control, helped to lift Earnings Before Interest and Taxes (EBIT) by 28pc to €20.5bn (2021: €16.0bn) last year, outpacing a 12pc rise in revenue to €150.0bn (2021: €133.9bn) during the same period.

FY 2022, 17 February 2023
What is striking is the latest earnings per share of Eu13.5 (up from Eu10 the previous year) against a share price of EU75.50. This gives a PE ratio of 5.6, which looks incredibly cheap. The dividend yield on a dividend of Eu5.20 is 6.9pc, which also looks sensational value.
And with so much going on.
Mercedes-Benz expanded its offering of battery electric vehicles to 9 cars and 4 vans, including the new EQS SUV and EQE SUV and most recently unveiled a new eSprinter. To scale manufacturing of zero-emission vehicles, the Mercedes-Benz cars and vans production network was retooled, and new deals with suppliers were struck. Mercedes-Benz will source battery cells from a new factory built by Contemporary Amperex Technology Co., Ltd (CATL) in Debrecen, Hungary. An annual supply agreement for an average 10,000 tonnes of lithium hydroxide from Canadian-German start-up Rock Tech Lithium Inc. was signed. In addition, Mercedes-Benz announced plans to launch a global high-power charging network across North America, Europe, China and other key markets.

FY 2022, 17 February 2023
In the circumstances it is not surprising that the group has launched a share buyback programme.
To optimise the company's capital structure and to create value for shareholders, Mercedes-Benz announced a share buyback to repurchase own shares worth up to € 4 billion (not including incidental costs) on the stock exchange over a period of up to two years. The repurchased shares shall subsequently be cancelled. On the back of strong operating performance and continued strong cash generation the programme is scheduled to start in March 2023. The buyback will be funded by Mercedes-Benz's expected future excess free cash flow and is fully compatible with the company's strategic priorities and its dividend policy. Mercedes-Benz remains committed to a strong investment grade credit rating and targets an A rating by the major agencies. Further details on the share buyback programme will be announced separately prior to the start of the programme.

FY 2022, 17 February 2023
In October 2021 the company offered the following rationale for splitting the group into two companies.
Ola Källenius, chairman of the Board of Management of Daimler and Mercedes-Benz, said: "Mercedes-Benz Cars & Vans and Daimler Trucks & Buses are different businesses with specific customer groups, technology paths and capital needs. Mercedes-Benz is the world's most valuable luxury car brand, offering the most desirable cars to discerning customers. Daimler Truck supplies industry-leading transportation solutions and services to customers. Both companies operate in industries that are facing major technological and structural changes. Given this context, we believe they will be able to operate most effectively as independent entities, equipped with strong net liquidity and free from the constraints of a conglomerate structure."

October 2021
These shares look very tempting backed by a rising Coppock, with the potential for a monster chart breakout and the ongoing transformation of the company. As it happens Daimler Truck Holdings is also developing a promising chart pattern so I will be keeping an eye on that one too.
BMW embraces electrification
As noted before I adore my little electric BMW and the company is embracing electrification with gusto.
Despite the highly challenging business environment, the BMW Group can look back on a successful third quarter 2022, partially reflecting the increased scale of electrification throughout the Group's product portfolio. The contribution from all-electric models during the nine-month period was particularly strong, with deliveries of BMW and MINI brand models up by 114.8pc year on year to 128,195 I units, more than doubling the previous year's figure of 59,688 I units. The share of all-electric vehicles in total deliveries therefore rose to 7.3pc (2021: 3.1pc; +135.5pc). Total deliveries of BEV and PHEV models by the BMW Group were also significantly higher, climbing to 283,284 1 units for the nine-month period (2021: 231,575 1 units; +22.3 pc). The share of electrified vehicles in total deliveries during this period rose to 16.2pc (2021: 12.0pc; +35.0pc).

Q3 2022
The outlook statement from BMW for the rest of 2022 was cautious because of high inflation, rising interest rates and the war in Ukraine, which is hardly surprising but maybe not very relevant to the share price outlook. The chart again looks promising.
Prospects for the group look exciting.
The third phase of the transformation will begin in 2025 with our global fully electric product line-up, the Neue Klasse. Production of vehicles for the Neue Klasse will get underway at the newly constructed BMW Group Plant Debrecen and then expanded to BMW Group Plant Munich from 2026 onwards. The Neue Klasse sets the standard for digitalisation, electrification and sustainability. It will be characterised by a New Cluster Architecture (NCAR) geared exclusively towards battery electric vehicles (BEVs), a completely redefined tech stack for autonomous driving and a newly developed high-performance electric drivetrain generation. The Neue Klasse also makes a significant contribution to sustainability, by relying on the concept of circularity.

Annual report 2021
The eps figures are not the easiest to make sense of but however you slice it the shares are modestly valued on a PE ratio in mid single figures and a dividend yield around five per cent. The charts seem to be suggesting that the shift to a world of electric mobility is going to be good for these German car companies, at least the ones in the premium segment with widely respected and much loved brands.
I think shares in BMW are an immediate buy on chart and fundamental grounds.
Strategy
I am intrigued by what may be happening at these premium German car brands. Over recent years investors have become aware of the threat posed to the fossil fuel car industry by the emergence of Tesla. I don't have the latest calculations but it was not long ago that Tesla alone was valued at more than all of the rest of the world's car companies put together.
But here's a thought. Suppose that the first effect of the move to electric cars was a massive shock for M-B, BMW, Toyota and company which negatively affected valuations but has led to a complete revamp of their operations with exciting implications for the future.
Titan is an amazing long-term performer giving exposure to the Indian economy as it starts to develop serious domestic discretionary spending power. The chart looks neutral short-term but would be super-exciting if the shares break higher from the latest consolidation.
Christian Dior is a proxy for global luxury goods super stock, LVMH, but has arguably performed even better over the years.
Share recommendations
Christian Dior. DIOR. Buy @ Eu809
The Titan Company TITAN Buy @ IR2403.50/ US$29.30 (watch for chart breakout from consolidation)
Mercedes-Benz. MBG. Buy @ EU75.64 (waiting for a chart breakout but initial purchase justified by Coppock buy signal)
BMW BMW. Buy @ EU101