Making your numbers – how Zoominfo is growing explosively by providing the data that oils the wheels of corporate sales teams
September 15, 2021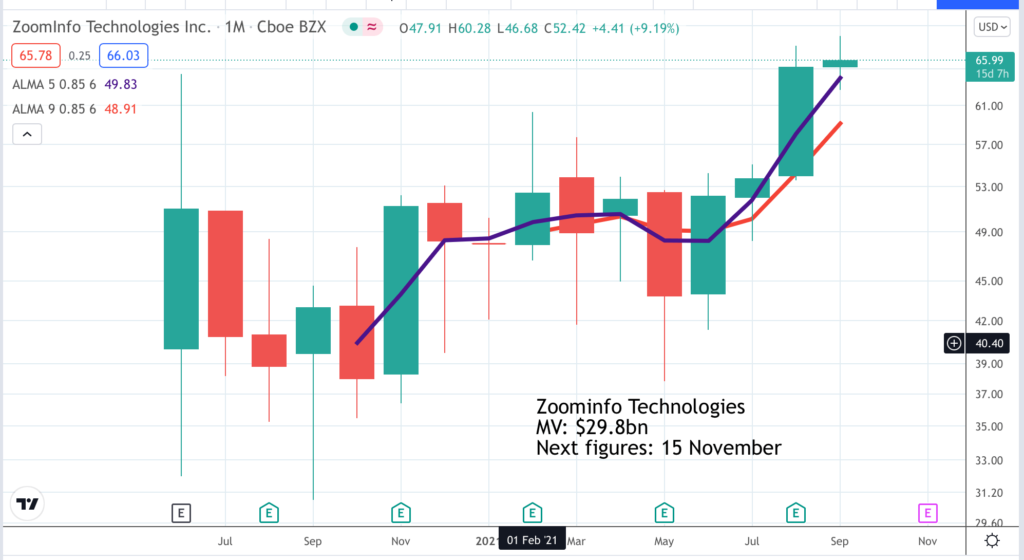 Zoominfo Technologies. ZI. Buy @ $66.50. Times recommended: 5 First recommended: $49.97 Last recommended: $64
Zoominfo think they have a huge opportunity. They are addressing a $70bn market but their latest annualised sales were $696m based on Q2 2021 sales. Most business to business (B2B) enterprise software companies start by doing one thing exceptionally well and then expand to increase the range of services they offer. The thing that Zoominfo was founded to do very well is to provide up to date data to sales and marketing professionals so they don't have to spend most of their time identifying targets but can concentrate on making their pitch and achieving a sale – making their numbers as CEO and co-founder, Henry Schuck puts it.
Schuck is another of these amazing inspirational CEOs who graduated summa cum laude from university and founded the business in 2007 using $25,000 on his credit card when he was just 23 years old.
In one way what the company offers is a very simple proposition for customers and investors.
"Since its founding in 2007, ZoomInfo has been focused on helping salespeople succeed and hit their number. The way people sell products and services to businesses is in the early stages of a massive shift, and the pandemic has accelerated this transformation. Sales success has been increasingly democratized in this socially distant world. The salesperson of today doesn't need a big rolodex or box seats at a baseball game to close deals. But they do need data-driven intelligence in order to know their potential customer better than anyone else. ZoomInfo's platform puts sellers in front of the right buyers — with the right solutions — at the right time.
Our mission is to provide every company with a 360-degree view of their ideal customer, empowering each phase of their go-to-market strategy. We see a future where our software and intelligence power a closed-loop go-to-market cycle from data to decision to action. We envision a time when our customers are less reliant on heroic outlier performances — and more grounded in a scalable, predictable approach fueled by data-driven orchestration and execution.
In our first year as a publicly-traded company, we helped over 20,000 customers and delivered revenue of $476m , representing year-over-year growth of 62pc. We achieved this high level of growth while simultaneously delivering strong free cash flow and ending the year with strong fourth quarter profitability. I am confident in our ability to drive sustained growth and profitability for many years to come as we capitalize on the large and growing addressable market in front of us."
It seems to me there is a possibility that the group could be at a tipping point.
"As we continue to see an opportunity to drive best-in-class growth rates, we expect to invest in building out the worldwide team to capitalize on our total addressable market that we estimate has grown from $24bn a year ago, to over $70bn today [thanks to key acquisitions]. In our conversations with customers, we find companies are still in the early stages of modernizing how they go to market.
They're just beginning to use data and insights instead of intuition and automated workflows instead of inconsistent one-off sales motion. This is a secular shift that we believe will accelerate. We estimate that today, the market is only penetrated in the single digit and Gartner has indicated that by 2025, 60pc of B2B sales organizations will transition from experience and intuition based selling to data-driven selling, merging their sales processes, sales applications, sales data, and sales analytics into a single operational practice. To meet this trajectory, we've invested deeply in growing our product and engineering teams, adding senior-level talent across the board."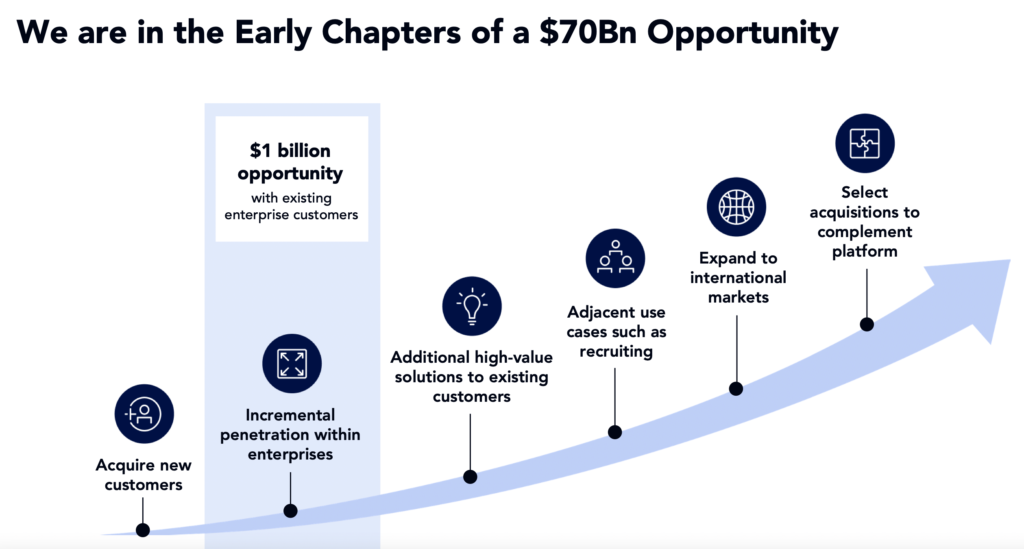 The share price chart looks very good with the shares punching higher from 14 months of consolidation. It would not be surprising if this proved to be an early stage in a prolonged uptrend.
The growth is also super strong. In 2018 Zoominfo had sales of $144.3m. This figure is projected to grow to $1.2bn by 2023 and the latest figures for Q2 2021 came in ahead of expectations. The company is also projected to be profitable so growth and even acquisitions may well be financed from internal cash flow.
Acquisitions are an important part of the story. This is what Schuck says about their latest deal.
"In addition to the rapid pace of organic development, last month, we announced the acquisition of Chorus.ai, a leader in conversation intelligence. I want to reiterate why this is a transformational acquisition for us and share some of the early feedback from our customers."
He explains it as follows.
"Universally, every single sales team is doing two things. They might be doing more, but at a minimum, they are seeking out prospects and looking for ways to find new business; and two, onboarding and coaching sales reps to improve their performance. ZoomInfo had already helped hundreds of thousands of sales and marketing professionals find new business at the top of the funnel. With the addition of Chorus, we can now help onboard, coach, and uplevel their sales teams.
Chorus simplifies the process of onboarding and training new reps by highlighting best sales practice, automatically recommending top-scoring calls, curating a library of calls on similar topics, benchmarking metrics such as talk to listen ratios or filler words, and surfacing new objections. This allows sales leadership to onboard new reps faster, increase productivity, and drive continuous improvement. Chorus also accelerates our move into the engagement application layer, where sales and marketing teams are leveraging our world-class intelligence to connect with buyers via phone, email, chat, and video meetings in a more automated and efficient way. We know that when we integrate it into our modern go-to-market platform, our customers find increased value in our company, contact, and intent data."
The deals keep coming. "Zoominfo, a global leader in modern go-to-market software, data, and intelligence, today announced it has acquired, RingLead an industry leader in data orchestration and revenue operations automation. ZoomInfo and RingLead will enable companies to streamline and execute data-driven go-to-market motions at scale based on high-quality, actionable data.
RingLead is a comprehensive data quality management tool that automates sales, marketing, and revenue operations throughout the entire customer lifecycle. Companies that subscribe to RingLead's software-as-a-service benefit from a user-friendly, intuitive, and codeless interface that enables them to acquire and merge data from multiple third-party providers in order to enrich and standardize prospect and customer data assets. It enables companies to manage incomplete, inaccurate and inconsistent customer data that is siloed in disconnected systems to enable real-time, automated and accurate lead routing."
Each deal adds additional functionality to Zoominfo's offering. "The acquisition of RingLead tightens the connection between the intelligence layer and engagement layer within the ZoomInfo platform, empowering customers to seamlessly manage their data across systems and revenue teams. This allows them to convert additional leads into revenue more efficiently."
Zoominfo is seeing impressive growth with its larger customers. "As of 30 June, we have more than 1,100 customers with $100,000 or more in annualised revenue, up from more than 950 last quarter and compared to 850 the quarter before that."
CEO, Schuck, also says:- "International is taking off." As he says:- "With the continuing acceleration of our international business, we've made meaningful investments behind both data quality and data coverage, both internationally and especially in Europe. In the last 12 months, we've increased company coverage business professionals and contact data in Europe, all by more than 60pc." This is producing results. "We're also seeing our investment in international payoff with more reps focused on the opportunity, we drove year-over-year international revenue growth greater than 75pc, with international now representing 11pc of our overall business." This is up from 10pc the previous quarter. The change is not that great because the US business is also growing fast.
As you would expect there is much more going on at Zoominfo than I can realistically cover here. Their software helps their customers improve productivity across their sales and marketing teams and is adding ever more automation to their operations. It is also bringing artificial intelligence and machine learning to a key part of their operations.
In this respect it reminds me off Upstart Holdings, which is using AI and machine learning to disrupt credit markets.The leaders at Zoominfo think they have an exciting opportunity, their performance supports their belief and it is obvious to me that this is a business which could continue to grow dramatically, potentially for many years to come.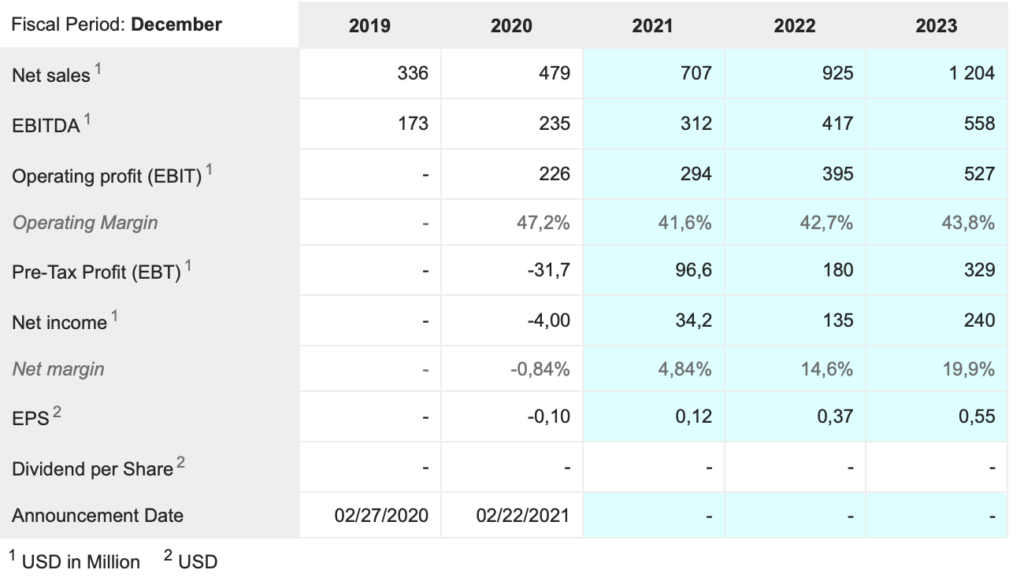 ---

The performance of the US stock market is one of the wonders of the world. Since 2009 the Nasdaq 100 index is up around 15 times. Since launch in 1986 it is up around 140 times! This is a totally incredible performance but when you read the quarterly reports of so many US companies, businesses like Zoominfo Technologies, you can see why. They are bursting with positivity about what they can do and the opportunities they have. You see the same thing with some European and UK companies but in the US it sometimes feels as though all of them are like this. They know they are changing the world and they are incredibly excited about doing it. They are like the corporate equivalent of Emma Raducanu, the British teenager who came from nowhere to win the US tennis Open and it is wonderful to see.
---