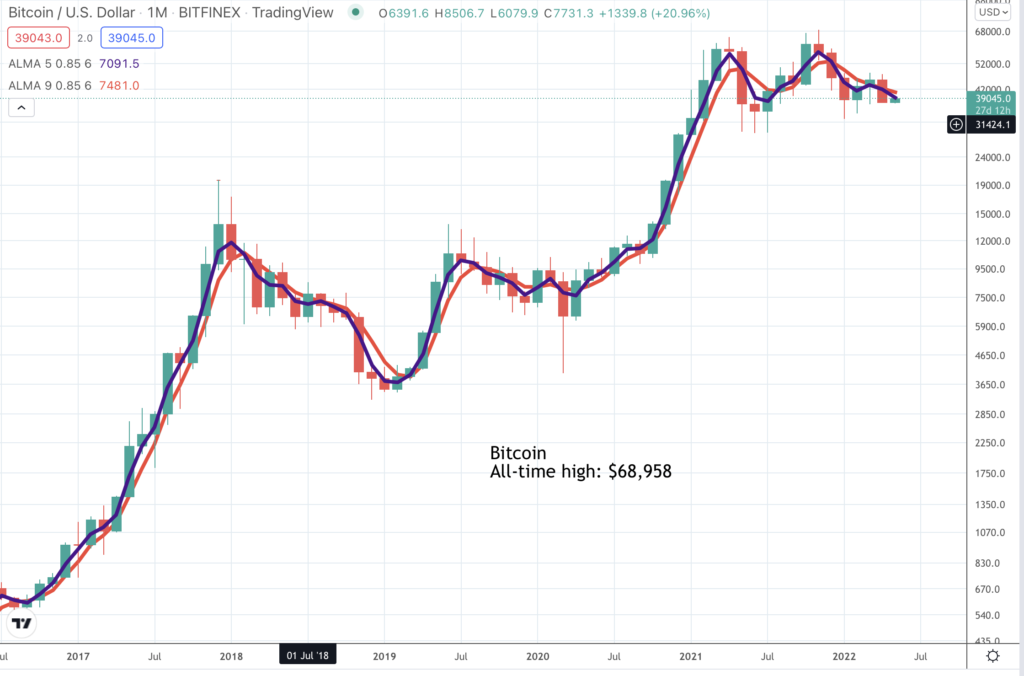 Bitcoin tried to rally recently but is still heading down. The Coppock indicator for bitcoin is falling but not yet negative. I'm showing this chart because of what happened between 2016 and 2019. As we know bitcoin is hard to value so the price is determined by supply and demand – relatively fixed supply and potentially open-ended demand.
Between August 2015 and December 2017 there was a spectacular bull market. The price rose from $160 to $19,300. It then boiled over and the price fell to $3,196, a fall of 83pc. Was it game over for bitcoin? Not at all. The price has since peaked at $68,958 and is currently trading around $39,000.
Just sticking with Bitcoin for the moment. So far in the short history of cryptocurrencies every single Coppock buy signal has been on the money and important. The next buy signal will be interesting. There have been four buy signals to date and the results of buying them have varied between good and fantastic.
The reason why I am looking at the bitcoin chart is because I think it may have important lessons for what is happening to high growth technology shares, which have been hammered in the last five months. Below is the chart of Shopify.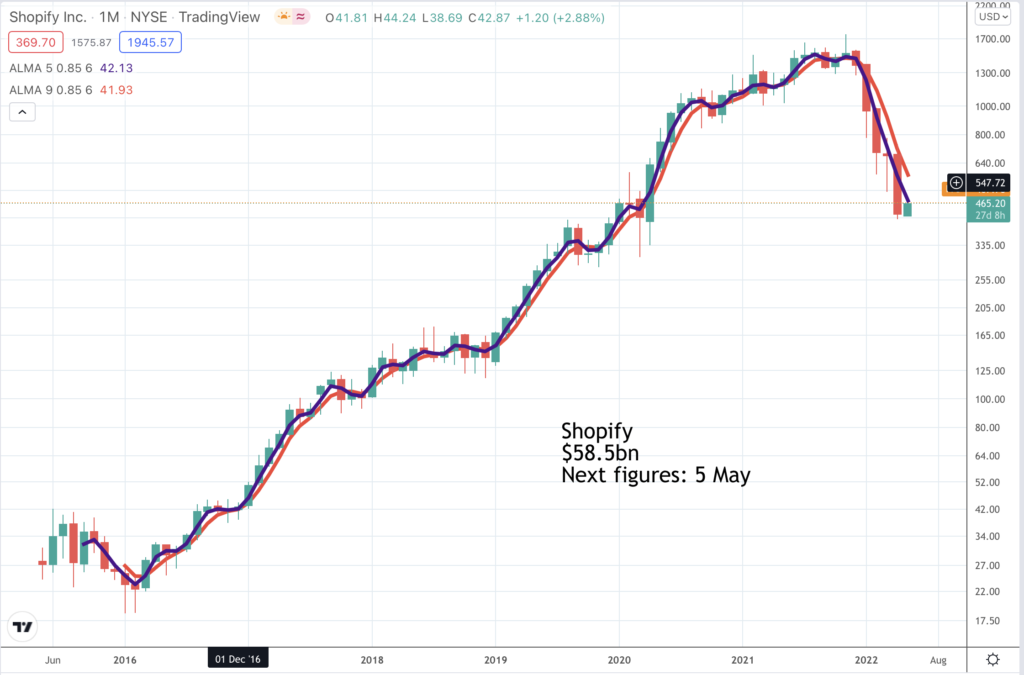 Shopify is due to report tomorrow which will provide a clue to what is happening but I am not going to recommend the shares until we start seeing technical buy signals. It's just too risky in this market. However I think there are interesting parallels between what is happening to Shopify and what happened between 2016 and 2019 to bitcoin. High growth, high momentum, loss making companies like Shopify are almost as hard to value as bitcoin. This leaves the price to be determined by the interplay between relatively fixed supply (of shares) and potentially open-ended demand.
Between February 2016 and November 2021 the shares enjoyed an extraordinary bull market. The price rose from $18 to $1760. It was able to do this partly because nobody knew how to value the shares though, with the benefit of hindsight, we can see that they rose too high in 2021. Just as with bitcoin now the bears and the profit-takers are in charge and the price has dropped 77pc to the recent low point.
Shopify is still an impressive business, the world's best platform for people starting new businesses. I am sure it has an exciting future which means the next buy signal will be one to follow. We can even look at a Coppock indicator for Shopify. Since February 2021 the reading has dropped from positive 414 to negative 57. The next Coppock buy signal could be a classic. So far there has been one Coppock buy signal for Shopify. This was in February 2019 when the price was $185. Since then the price has been as high as $1760.
What is extraordinary about the current situation in stock markets, especially for high growth, high-momentum, technology shares, the ones I love, is how negative the current situation is; all the indicators I look at are falling. This is depressing for anybody wanting to buy shares right now but suggests that there could be some incredible opportunities ahead when my indicators finally start flashing green again, which they will.
---

I don't feel like recommending anything at the moment. At some point this market will bottom out. Maybe that has already happened. There are some signs that shares are trying to build a base but I need more than that to make me take the risk. It is so easy to lose money in a falling market. There are loads of exciting companies around. Innovation in technology is proceeding faster than ever. Investors may be more cautious about valuations in future but there is no reason to suppose that when this bear market ends and the next bull market begins it won't be as exciting as the last one.
The leveraged ETFs that I love are being slammed. QQQ3 (roughly tracks the Nasdaq 100) is down 58.5pc from the January 2022 peak. The Coppock indicator for QQQ3 peaked at 338 in August 2021 and is currently 65, well on the way to becoming negative. This is another one which is going to look very exciting on the next buy signal.
Also Coppock indicators are a bit like Alexandre Dumas's Three Musketeers – all for one and one for all. When the Coppock indicators start turning higher for instruments like QQ3 it will be time to start turning bullish across the board. I don't know when that is is going to happen; it hasn't happened yet; and bear markets can be most treacherous in their later stages.
---