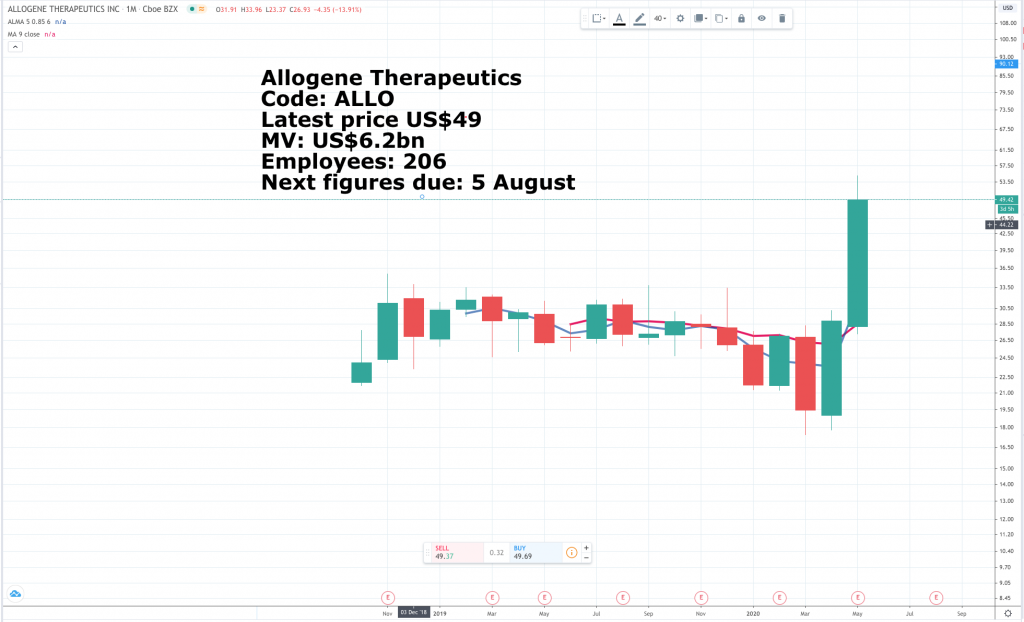 Allogene Therapeutics describes what it is doing as "The next revolution in cell therapy." In more detail they describe themselves as "a clinical stage biotechnology company leading the development of allogeneic chimeric antigen receptor T cell (AlloCAR T™) therapies for cancer."
Below are quotes from a recent market report describing a sharp jump in the Allogene share price.
"Shares of Allogene Therapeutics gained over 33pc in early trading Thursday after the company reported preliminary data from a phase 1 clinical trial. The results will be featured in an abstract to be presented at the American Society of Clinical Oncology (ASCO) meeting at the end of May. The phase 1 trial is evaluating a combination of cell therapy drug candidate ALLO-501 and monoclonal antibody drug candidate ALLO-647 to treat advanced non-Hodgkin lymphoma (NHL). Investors are excited by preliminary results suggesting the drug combo could become a powerful treatment option.
Allogene Therapeutics is developing a pipeline of allogeneic CAR-T cell therapies to treat cancer. Unlike first-generation cell CAR-T therapies, allogeneic cell therapies are derived from donors or cell lines, which allows them to be manufactured at significantly lower cost and larger scale. For the phase 1 study in the news today, ALLO-501 is an allogeneic cell therapy designed to target blood cancer cells, while ALLO-647 is a monoclonal antibody that depletes lymphocytes to prepare a patient's body for CAR-T treatment. The ASCO abstract from Allogene Therapeutics showcases results from a dose escalation study, which means researchers are administering the experimental combination therapy at different doses to determine the optimal balance of safety and efficacy. The results were generated from just nine patients treated at the lower dose of ALLO-647. Of those patients, three achieved a complete response (CR), meaning they had no evidence of disease. The results could suggest that a low dose of ALLO-647 is all that's needed, which could make the combination safer and lead to more robust recoveries in white blood cell counts following treatment. It also supports the broad use of ALLO-647 as a next-generation lymphodepletion agent, which is required for many types of cancer therapies.
Allogene Therapeutics is now valued at $5bn [$6.2bn currently]. Perhaps investors are increasingly considering the potential for a buyout from a larger pharmaceutical company, but the valuation does appear to price in a lot of future success. After all, the cell therapy developer is only now beginning the first phase 2 trial for its pipeline, and there are dozens of allogeneic cell therapies in development across the industry. Nonetheless, today's news is encouraging for existing shareholders. Additional results are expected to be reported at the virtual ASCO meeting at the end of May."
This is what Allogene's CEO, David Chang, said about what was happening at the company on their 6 May earnings call with analysts.
"We remain on track to achieve our five key milestones for 2020. Number one, reporting initial ALLO-501 Phase 1 clinical data; number two, initiating our ALLO-501A Phase 1 trial, both this quarter; number three, initiating our ALLO-715 combination trial with a gamma secretase inhibitor, nirogacestat in the second half; number four, reporting our initial ALLO-715 Phase 1 data in the fourth quarter; and number five, submitting our anti-CD70 AlloCAR T candidate, ALLO-316 IND by year-end. This is not to say that it has been business as usual, our partner, Servier, suspended recruitment in the UCART19 studies due to the exceptional circumstances related to COVID-19 in March. And we are working diligently to maintain much of the momentum in our trials of ALLO-501 in relapsed/refractory non-Hodgkin's lymphoma and ALLO-715 in relapsed/refractory multiple myeloma.
The current ALPHA study, including the ongoing work to optimise the dose of ALLO-647 and ALLO-501 has informed the design of the ALPHA2 Phase 1 study as we seek to confirm the safety and efficacy of ALLO-501A, ahead of launching the potentially pivotal Phase 2 portion of the ALPHA2 trial. As we look at the differences between autologous CAR-T therapy and AlloCAR T, the foundational questions must be addressed. First, can we effectively manufacture genetically edited products from normal donors and safely administer allogeneic cell therapy without causing graft versus host disease? Second, can we safely utilise ALLO-647 to create a period of lymphodepletion and prevent early CAR-T cell rejection? We are making progress on these two critical questions, which allows us as an industry to focus on optimal cell dose and optimal length and depth of lymphodepletion as we work toward the goal of demonstrating durable responses.
We continue to believe our lymphodepletion strategy based on the use of ALLO-647 allows us to explore and determine the optimal window for AlloCAR T cell expansion and persistence in a variety of clinical settings. Last week, we announced that our initial ALLO-501 data had been selected for an oral presentation at the Virtual American Society of Clinical Oncology meeting later this month. Our ALPHA Phase 1 trial began with a three plus three dose escalation, designed to evaluate the safety and efficacy of a range of cell doses, as well as different lymphodepletion regimens that vary the dose of ALLO-647."
A magazine article explains why lymphodepletion is important. :"In this issue of Blood, Hirayama and colleagues report that a favourable cytokine profile induced by lymphodepletion is associated with durable remissions in patients with aggressive non-Hodgkin lymphoma treated with anti-CD19 chimeric antigen receptor (CAR) T-cell therapy."
Back to Allogene, Chang concluded: "The virtual presentation, which will be released on 29 May during ASCO, will include additional patients including those treated with a higher dose of ALLO-647. On that day, we will host a conference call to review the data with you. We see this initial data as an important step toward realising the potential of allogeneic CAR-T therapy. Exactly two years ago this week, Allogene launched operations. From the beginning, we have been consistent in our goal to have allogeneic cell therapy follow the success of autologous CAR-T therapy, while providing major benefits in time, convenience, reliability and scale [An autologous transplant uses a person's own stem cells. An allogeneic transplant uses stem cells from a donor whose human leukocyte antigens (HLA) are acceptable matches to the patient's.]"
Above are some descriptions of what Allogene Therapeutics does by people who actually know what they are talking about. Below is my take on it all.
Allogene was formed by a group of people including current CEO, David Chang, who had previously been involved with a group called Kite Pharma, which was sold to Gilead Sciences for $11.9bn in 2012. Kite Pharma was doing something very similar to what Allogene does now. :"Kite Pharma, a subsidiary of Gilead sciences, develops cancer immunotherapy products with a primary focus on genetically engineered autologous T cell therapy with chimeric antigen receptors, (CAR-T). The Santa Monica, California-based company was founded in 2009 by Arie Belldegrun M.D., FACS, an Israeli-American oncologist, who served as the company's chairman, president and chief executive officer. Belldegrun had a co-founder in Joshua Kazam, who took on the role of director. On 28 August, 2017, Gilead Sciences announced that it would acquire Kite Pharma for $11.9bn in an all-cash deal, equating to $180 cash per share. The deal will add the promising Car T candidate to Gilead's existing portfolio. The acquisition was completed in October 2017. In October 2017, Kite Pharma's therapy, Yescarta target="_blank">(axicabtagene ciloleucel) became the first CAR-T therapy approved by the FDA for the treatment of adult patients with relapsed or refractory large B-cell lymphoma after two or more lines of systemic therapy."
With Kite Pharma sold, Belldegrun, Kazam and Chang then teamed up with Pfizer to take over some of the latter's operations to form a new business, Allogene Therapeutics. Pfizer has a 25pc stake in Allogene.
As I understand it what Allogene is trying to do is develop a scaleable way of using donor T-cells in a process called CAR-T cell therapy to treat patients with blood cancers. who have not responded to chemotherapy. They also have hopes that their targeted therapies will work with solid tumours. Hence their claim that they have a deep AlloCAR pipeline targeting a vast array of tumour types and also their claim in the heading to this piece that they are leading the next revolution in cell therapy.
The problem with cancer is that it comes from inside the body. Our immune systems are designed to deal with invasions from outside by foreign bodies like bacterial infections and viruses (and as we know it cannot always handle those). Because cancers come from inside they are often not recognised by the immune system and can grow unimpeded.
One opportunity is that they grow faster than normal cells and this led to chemotherapy (literally therapy by chemicals). You poison the body with something like mustard gas and the hope is that this will kill cancer cells faster than healthy cells so eliminating the cancer before the patient dies. It is obviously a far from ideal solution so doctors have long been searching for targeted therapies, which kill the cancer cells with out damaging the patient.
One strategy that has been having considerable success in the new millennium is to take the key elements of the immune system, T-cells and B-cells, from the patient's body and repurpose them as synthetic cells that recognise and attack the cancer cells. One limitation was that after chemotherapy many patients have such weakened immune systems that their T-cells cannot be turbocharged in this way. What were needed were healthy cells from a donor but they were rejected often with devastating consequences.
Another issue has been cost, with treatment for a single patient costing $1m or more. So Allogene is working on developing CAR-T therapies using cells from healthy donors, which are not rejected by the patient's immune system thanks to strategies like lymphodepletion and which can be manufactured at scale to bring down costs. If they are successful they would indeed be leading a revolution in cancer treatment.
Obviously they are not alone in what they are doing to put it mildly and it is not easy to put a sensible valuation on such a business but they insist that they are making exciting progress and it could be that the battle against the Covid-19 virus, which also attacks and interacts with patients' immune systems may be stimulating progress across the board.
We will learn more on 29 May about the progress being made by Allogene. Meanwhile I have the impression that the whole biopharma sector is reaching some sort of tipping point and that an era of rapid progress lies ahead.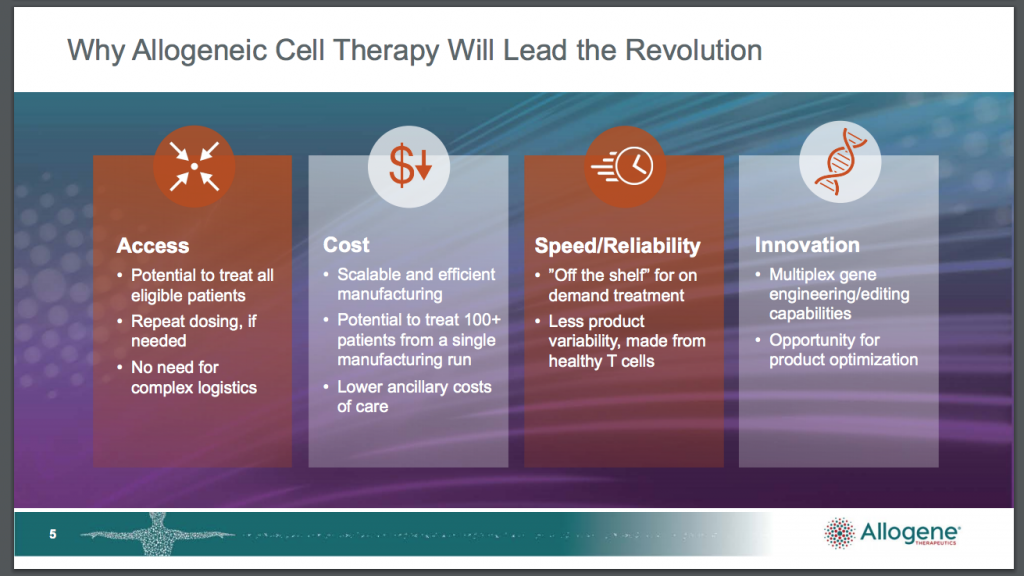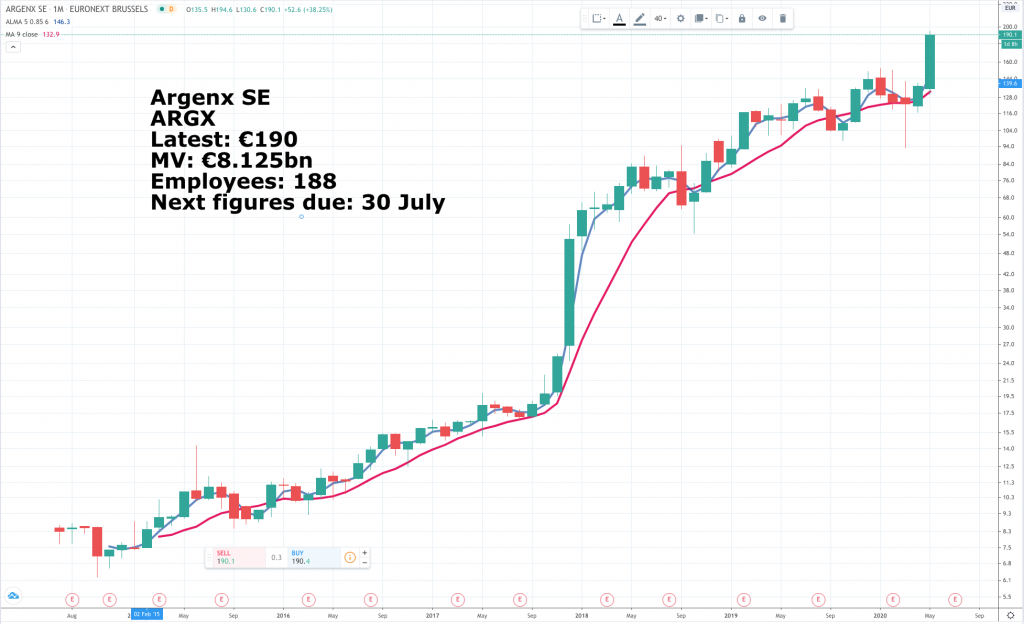 Argenx SE is a biopharma company based in Belgium. It is quoted on both the Euronext and Nasdaq but IG only offers the European quoted shares priced in euros so those are the ones I am recommending.
The group is in the throes of a fund raising at €186.50 in Europe and US$205 on Wall Street. Total gross proceeds are US$750m but could be more if a 30 day option to buy 549,000 more shares at the same price is exercised by the underwriters. This would raise a further US$112.5m.
The fund raising follows hard on the heels of a dramatic share price jump following encouraging results from the latest clinical trial for the group's lead drug candidate, efgartigimod. The share price jumped 37.9pc on the news. An impressive 67.7pc of those treated with efgartigimod achieved improvements on their myasthenia gravis activities of daily living (MG-ADL) scores of at least two points. Myasthenia gravis is a relatively rare immune disorder that weakens patients by jamming up the transmission of signals between their brains and their muscle fibres. If approved, annual sales of efgartigimod could reach $1bn as a high-priced gMG treatment before the end of 2025.
Argenx is the type of research-oriented biopharma stock that could easily continue to capture the imagination of investors if the group continues to deliver positive results and the feeling spreads that we are in an era of exciting medical breakthroughs, which is very much what I think may be happening.
"argenx [they use the lower case] is a global immunology company developing antibody-based medicines for patients suffering from severe autoimmune diseases and cancer. By translating immunology breakthroughs into innovative drug candidates, argenx is building a world-class portfolio of first-in-class antibodies in both early and late clinical-stages of development. argenx is evaluating its lead candidate, efgartigimod, in multiple serious autoimmune indications and cusatuzumab in hematological malignancies in collaboration with Janssen, along with advancing earlier stage assets within its therapeutic franchises."
The company had €1.3bn in cash at the end of 2019, which was before the latest fund raising so it may end up with over €2bn. This is important for these early stage biopharma stocks because it means they are able to strike rbetter deals with partners to take drugs through the expensive phase three trials and keep more of the value created for their own shareholders.
Argenx has a strong pipeline and has a target of launching five new drugs over the next five years. If we take a ball park figure that a new drug should generate annual sales of US$1bn plus that would drive spectacular growth over a five year time horizon. In its 2020 view of its drug pipeline the company talks of having five phase 3 trials under way so there is a great deal going on.
Efgartigimod is being prepared for a global launch in the USA, Europe and Japan and Argenx has a huge roster of global partners to help with this.
I am not a doctor and I am on a steep learning curve with these early stage biopharma stocks but if, as I suspect, they are beginning to capture the imagination of investors, there could be fireworks ahead. Not least of the attractions is that they are so hard to value so valuations can soar with the imagination. Argenx has already made great progress but is still relatively tiny by the standards of the industry. Pfizer and Merck are valued at nearly US$200bn apiece.
I am also impressed by Argenx's beachhead strategy illustrated below. Success with efgartigimod as a treatment for a neuromuscular condition could be just the first step in a long journey as the group finds more applications for its therapies and develops more therapies. It's a bit like the land and expand strategies (win a new client and then sell them more products) that works so well for enterprises software companies.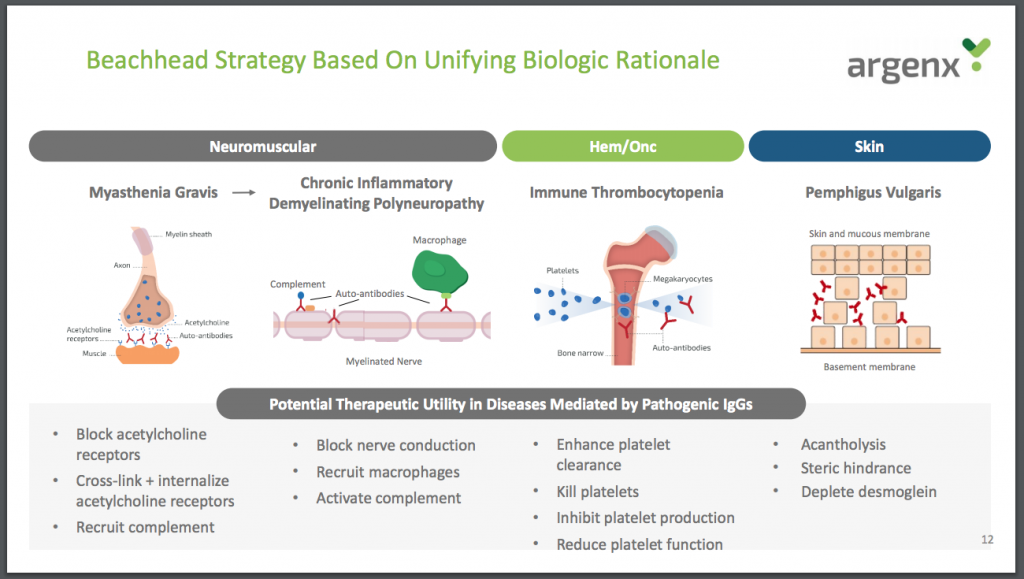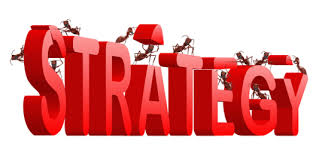 Early stage biopharma stocks are speculative investments. They are driven by news flow so good results from the endless trials in which they are engaged make share prices soar. Disappointing results can see them plummet so they only make sense as part of a larger portfolio. It is also the case that for much of the time most investors are not paying much attention so nothing much may happen at all and the companies strive to attract an audience.
It is rather like cloud computing companies before 2017, when nobody was paying much attention. Now we know that we are in the cloud computing era, companies are growing dramatically and pouring money into new and exciting innovations and investors are very interested.
I think something similar may be starting to happen with biopharmas. As Allogene says – the world is in the next revolution in cell therapy. Doctors are becoming very excited as immunotherapy is starting to deliver dramatic benefits for patients who previously had exhausted all treatment options. Covid-19, which is also currently untreatable, may be spurring innovation across the industry, which would be a an unexpected beneficial result from a scary pandemic.
I am not a doctor so I cannot pretend to a professional assessment of what is going on and early stage biopharmas are always hungry for money so they need to paint a positive picture. Nevertheless I have a growing feeling that exciting things are happening and it is a good time to gain some exposure to the sector.