This is a chart of my beloved Nvidia. At the top there are some tiny green candlesticks. Within that the move peak to trough is nearly 20pc. It feels tough at the time but in the context of the bigger picture is nothing at all. By any standards Nvidia has a great chart and we know it has staggering fundamentals.
So why did the shares fall so sharply in a matter of days. They were overbought, the market breadth is terrible as in the number of stocks falling versus those rising and US bond yields have climbed to their highest since 2007 and we know what happened then.
The fact is that the overall stock market is struggling but there are some superstars that seem to be Kryptonite-proof.
There was an article in the Wall Street Journal recently headlined 'How Nvidia Got Huge And Almost Invincible'. Below is a quote from that article.
Nvidia's most recent quarterly report showed that the company's data-center revenue more than doubled in just three months despite severe supply shortages that kept shipments well below demand. Analysts expect its data-center revenue to top $60bn next fiscal year — more than four times last year's level. Which brings us to why Nvidia has such a strong lead….

The secret sauce: software

Hardware can't work without software. While chip companies typically don't produce user-facing software like the apps on PCs and smartphones, they are typically responsible for providing the software tools that enable developers to write applications that can run on their chips.

On that front, Nvidia put its AI stakes in the ground very early. In 2006, the company announced Compute Unified Device Architecture, or CUDA — a programming language that allows developers to write applications for GPUs. This turned out to be a key building block for the company's AI business. It allowed engineers and scientists to program GPUs "to solve mathematically-intensive problems that were previously cost prohibitive," the company said in its annual regulatory filing in early 2007.

Over time, CUDA has grown to encompass 250 software libraries used by AI developers. That breadth effectively makes Nvidia the go-to platform for AI developers; Credit Suisse analysts said those libraries "provide a starting point for AI projects that aren't available on non-NVDA systems, " in a report earlier this year. During a speech at the Computex conference in May, Nvidia's Huang said CUDA was downloaded 25m times over the last year, which was more than double the software's life-to-date downloads prior to that.

Dow Jones NewsWires, 6 October 2023
Great chart, great fundamentals – what is not to like. Everybody and his dog is coming after Nvidia. In the US they are nothing if not competitive but Nvidia is a battle-hardened business which knows how to compete.
Another stock with a great chart and great fundamentals is ServiceNow. Like Tesla the chart above looks increasingly like a diamond and diamonds often turn out to be powerful continuation patterns. At the same time the fundamentals are outstanding.
As referenced in a recent alert ServiceNow has an important partnership with Nvidia. Enterprises all over the globe are going to need to implement AI in their businesses and they will need help to do that which ServiceNow is ideally placed to provide.
Today, by some estimates, generative AI could boost global GDP by almost $7 trillion. We see unprecedented parallel adoption across consumer and the enterprise. Our platform experts who have worked for the greatest brands and technology believe this moment is as transformative, if not even more so than the Internet or even the iPhone.

But they're careful to remind me, it's all about delivering enterprise-grade, domain-specific large language models, which is the core of ServiceNow's AI strategy. These models will improve the accuracy results, leveraging a customer's enterprise data in alignment with their business rules while maintaining the highest ethical standards for data privacy. As you saw at our Financial Analyst Day, ServiceNow is infusing generative AI into all of our workflow offerings. We have since announced NowAssist for virtual agent, which maximizes productivity by eliminating time spent searching for information.

Another example is ServiceNow generative AI controller. It allows organizations to connect ServiceNow instances to Bolt, Microsoft Azure OpenAI service, and OpenAI API large language models. We're going even further by expanding our generative AI capabilities with case summarization and text-to-code, text-to-flow, and text-to-new-application-development. Our customers are so excited for greater ROI and customer service, better employee self-service experiences, and a substantial boost in developer productivity.

They are ready to invest to drive these outcomes. And based on the immense value our customers will realize from our generative AI innovation, we have a clear strategy for monetization. First, our existing Pro offerings had a record quarter in Q2 based on the hyperautomation technologies we already engineered into those products. For all new generative AI capabilities beginning with our Vancouver release, we will introduce a new set of premium-plus SKU offerings across ITSM, CSM, and HR SV.

Bill McDermott, CEO, ServiceNow, Q2 2023, 26 July 2023
When Macro factors dominate investor thinking as discussed in the previous alert investors stopped attending to the microeconomic factors that make shares exciting but that will not last for ever and when they start paying attention again buyers will come storming for ServiceNow.
I have just started reading Walter Isaacson's biography of Elon Musk. This guy pocketed $22bn from selling his first business at the age of 27. At that age I was coming back from Australia with £2,000 in my bank account. In its way I was just getting started but so was Musk and this guy is a PHENOMENON!!!
I have a rule for short sellers everywhere. Warren Buffet's rule is never bet against America. My rule is never bet against Elon Musk. There is so much in the pipeline at Tesla that worrying about price cuts and slight shortfalls on deliveries are akin to fiddling while Rome burns if that could be put in a positive rather than a negative way.
Tesla is stacking a massive supply of Cybertruck castings at Gigafactory Texas, hinting the production is near, which means deliveries aren't far behind either.

Tesla Cybertruck production has been nearing for months as the company has shown early-stage validation, public road testing, crash assessments, and some of the best-built Cybertruck units, all within the past few months.

Production is obviously getting close, especially when we base this thought on the fact that public-road testing of RC-labeled, or release candidate, Cybertrucks have been spotted throughout the country over the past month and a half.

Teslarati, 6 October 2023
I just have a feeling that the Tesla Cybertruck is going to be a game changer and demand is going to be insane. At last we will have a battery powered vehicle that looks as though the future has arrived.
And this is just part of what is coming.
As Tesla continues to push forward its mission of carbon neutrality and zero emissions, its plans for the future are becoming clearer. Despite factors like costliness routinely explored, lofty aspirations committed to reduced environmental harm see renewed focus here, indicating favorable aspects growing increasingly reliant upon trusted energy resources. Following the Investor Day presentation in March, Tesla revealed its master plan part 3, which outlined ambitious ideas about its long-term battery strategy, including three new electric vehicles (EVs). These EVs include a compact passenger car packed with lithium iron phosphate (LFP) chemistry, a commercial/passenger van segment entry, and a bus. Its commitment to staying ahead of the game sets Tesla apart from other automakers. It comes in the form of Tesla researching cutting-edge battery technology for their vehicles, ensuring happy customers by making sure they are always supplied with reliable, long-life, and powerful batteries.

TopSpeed, 28 April 2023
Elon Musk has created in Tesla and all his other businesses innovation machines. It is incredibly hard for the old fossil fuel car companies to compete because they just don't have the mindset. In 2010 Daimler AG bought 10pc of Tesla. How they must wish they still had it but they just couldn't cope with the speed at which innovation happened at the American company. It literally freaked them out of their investment which they sold.
There is also the Tesla semi in the pipeline. It has been there for so long that it is becoming hard to believe that it will ever happen but it will. Musk loves setting impossible goals but he gets there eventually.
Microsoft is another great tech stock with a promising chart. That is what shares in great companies do. They rise strongly, $25 to a peak $355 in this case, then they consolidate, for two years so far in the case of Microsoft and then at last it is off to the races again. Chartists describe these consolidations as accumulation if they break to the upside and distribution if they break to the downside.
We can look to the fundamentals to give us a clue to the likely direction of the breakout. Microsoft has a huge footprint on the global economy. It is one of those companies where if they suddenly were not there the impact on life would be shattering. Anyone who uses a computer almost certainly is engaging with Microsoft in multiple ways.
And looking forward there is Microsoft and Generative AI, a hugely exciting and even somewhat terrifying, breakthrough, which like the Internet is going to change our lives in multiple ways in the future. Already Generative AI is like Alexa with Einstein's brain and it is just getting started.
The numbers for Microsoft are becoming staggering.
And the average annualized value for our large long-term Azure contracts was the highest it's ever been, driven by customer demand for our innovative cloud solutions today, as well as interest in AI opportunities ahead. Commercial remaining performance obligation increased 19pc and 18pc in constant currency to $224bn. Roughly 45pc will be recognized in revenue in the next 12 months, up 13pc year over year. The remaining portion, which we recognized beyond the next 12 months increased 22pc.

Amy Hood, CFO, Microsoft, Q4 2023, 25 July 2023
Just at random I looked up the GDP of New Zealand which is around $250bn. Microsoft is forecast to have sales of $252bn in the year to 30 June 2025 (one year out) and is growing much faster than New Zealand. No wonder if Satya Nadella (CEO of Microsoft) were to go to New Zealand he would be greeted like a head of state.
Microsoft is going all in on Generative AI.
We'll continue to invest in our cloud and AI infrastructure while scaling with growing demand so we can lead the AI platform wave. And finally, we'll align our costs with growth as we are committed to driving operating leverage.

Amy Hood, CFO, Microsoft, Q4 2023, 25 July 2023
Microsoft spends $25bn plus annually on research and development and that is in a year when it is trying hard to bear down on costs. I have no idea how much New Zealand spends on r&d but it is unlikely to be anywhere near $25bn.
Big as it is though Microsoft is still tiny (about 0.25pc) in relation to a global economy with an estimated GDP of $105 trillion in 2023 so it is easy to see why rapid growth could continue for the foreseeable future for such a well-placed business.
What a business! In less than 20 years the shares are up from $2.50 (adjusted for share splits) to $137.50 and have been higher. Like its fellow mega caps Alphabet is going all out on Generative AI and has the funds and global footprint to do it at scale.
To take advantage of the AI opportunities ahead, we've been sharpening our focus as a company, investing responsibly with great discipline and finding areas where we can operate more cost-effectively.

We've made good progress in data centre machine efficiency, which will pay dividends as we continue to invest in AI. We continue to slow our expense growth and pace of hiring and ensure our teams are aligned to our highest priorities. This quarter, we reallocated a number of teams, including aligning Waze's ad sales with our existing business organization. We are combining various engineering efforts across core infrastructure and cloud.

Products like Bard and SGE are being built by small, fast-moving teams that have been reallocated to these high-priority efforts. Overall, we are actively moving people to higher-priority activities within the company, and we continue to optimize our real estate footprint for current and future needs. Next, Google Cloud. We see continued growth with Q2 revenue of $8bn, up 28pc, and operating profit of $395m.

Our AI-optimized infrastructure is a leading platform for training and serving generative AI models. More than 70pc of gen AI unicorns are Google Cloud customers, including Cohere, Jasper, Typeface, and many more. We provide the widest choice of AI supercomputer options with Google TPUs and advanced NVIDIA GPUs, and recently launched new A3 AI supercomputers powered by NVIDIA's H100. This enables customers like AppLovin to achieve nearly two times better price performance than industry alternatives.

Our new generative AI offerings are expanding our total addressable market and winning new customers. We are seeing strong demand for the more than 80 models, including third-party and popular open source in our Vertex, search, and conversational AI platforms, with the number of customers growing more than 15x from April to June. Among them, Priceline is improving trip-planning capabilities, Carrefour is creating full marketing campaigns in a matter of minutes, and Capgemini is building hundreds of use cases to streamline time-consuming business processes. Our new anti-money laundering AI helps banks like HSBC identify financial crime risk, and our new AI-powered Target and Lead Identification Suite is being applied at Cerevel to help enable drug discovery.

Our generative AI capabilities also give us an opportunity to win new customers and upsell into our install base of 9 million paying Google Workspace customers. I mentioned Duet AI earlier. Instacart is using it to improve customer service workflows. And companies like Xtend are scaling sales outreach and optimizing customer service.

Sundar Pichai, CEO, Alphabet, Q2 2023, 25 July 2023
Not the least amazing thing about the technology revolution is that until several months ago most of us had never heard of Generative AI, which we are now told is the greatest thing since sliced bread times 1,000. It is like we live in the world of the great conjuror, endlessly pulling bigger rabbits out of the hat.
I have to tell you that if there is a great conjuror he is undoubtedly American.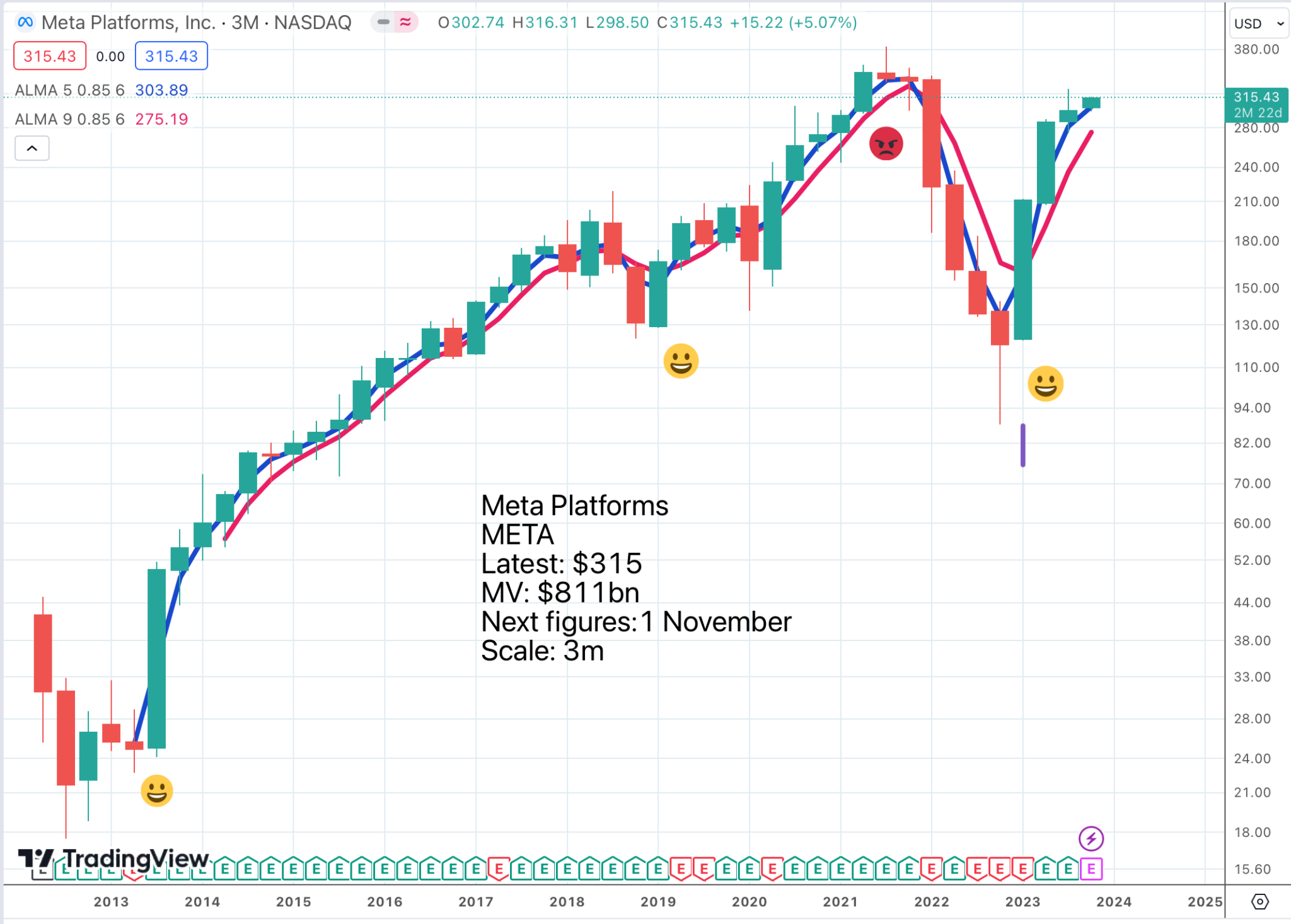 Meta Platforms is the ultimate in big footprints with over 3.8bn people using at least one of their apps every month.
We're seeing strong engagement trends across our apps. There are now more than 3.8 billion people who use at least one of our apps every month. Facebook now has more than 3 billion monthly actives — with daily actives continuing to grow around the world, including in the US and Canada.

Mark Zuckerberg, CEO, Meta Platforms, Q2 2023, 26 July 2023
Zuckerberg is unreal. He started Facebook when he was 20 and is still not 40.
There is something almost English about Zuckerberg with his quiet understatement.
I'm quite optimistic about the road ahead and grateful to you all for being on this journey with us.

Mark Zuckerberg, CEO, Meta Platforms, Q2 2023, 26 July 2023
The business is awash with money.
Free cash flow was $11.0bn, significantly benefitting from a deferral of income taxes that we expect will be paid in the fourth quarter. We repurchased $793m of our Class A common stock in the second quarter and ended the quarter with $53.4bn in cash and marketable securities.

Mark Zuckerberg, CEO, Meta Platforms, Q2 2023, 26 July 2023
There is tons of AI stuff going on.
Meta AI is a new assistant you can interact with like a person, available on WhatsApp, Messenger, Instagram, and coming soon to Ray-Ban Meta smart glasses and Quest 3. It's powered by a custom model that leverages technology from Llama 2 and our latest large language model (LLM) research. In text-based chats, Meta AI has access to real-time information through our search partnership with Bing and offers a tool for image generation.

Meta, 27 September 2023
Strategy – Dealing with a Mostly Bearish Market
As noted with the previous alert presently most shares look bearish and market breadth (advances v declines) does not look while US bond yields trend higher. But there are some good shares and they pack a lot of punch .
There have been some complaints that recent alerts have been repetitive but that is a function of the stock market. The leadership of shares going higher is very narrow, not just in US terms but on a global scale. When things become more interesting that will be reflected in QV.
There are shares I like. Some are featured above with more to come, including some new names.
Share Recommendations
Nvidia. NVDA. Buy @ $458
ServiceNow. NOW. Buy @ $558
Tesla. TSLA. Buy @ $263.50
Microsoft. MSFT. Buy @ $328
Alphabet. GOOGL. Buy @ $138
Meta Platforms. META. Buy @ $321.50