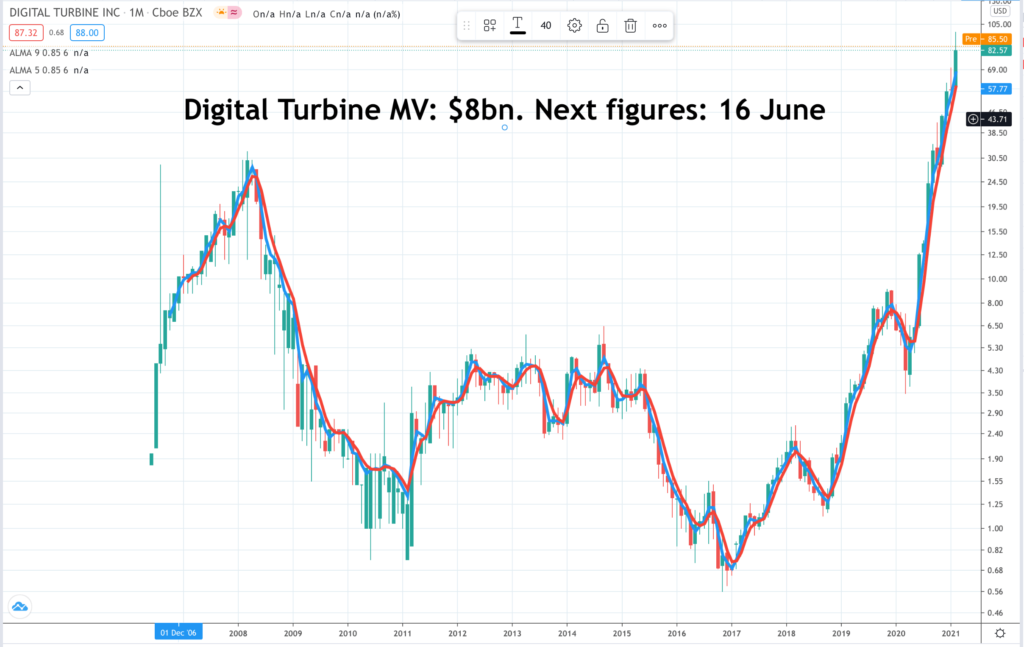 Digital Turbine. APPS. Buy @ $92 Times recommended: 1. First recommended: $90
Digital Turbine was recently featured in QV for Shares at a higher price but two things have happened since then. First the whole market has suffered a correction of around 7.5pc. Secondly, the group has announced a significant acquisition. You could add, thirdly, that I understand the business a little better now and the more I learn about the company the more enthusiastic I become about its prospects. Fourthly, the price has risen sharply while I have been writing this.
Digital Turbine is all about apps on mobile phones, hence the ticker, albeit that it sees opportunities in other devices like TV and wearables. It acts as an interface between consumers and the supply side – service providers and devices manufacturers and between consumers and the demand side, advertisers.
As an example Verizon, what used to be the US arm of Vodafone, is an important customer. When new customers sign up to Verizon they complete an agreement, which, if they agree, and many do will see Digital Turbine's Ignite Dynamic Install as the start up page on their phone and this will introduce various apps, ideally ones in which they have already indicated some interest.
If they download the app this triggers a payment. Roughly two thirds goes to Verizon as a licence fee and the balance stays with Digital Turbine as the platform provider.
Until recently the vast bulk of DT's income came from dynamic installs and Verizon alone accounted for some 56pc of turnover. However since then the group has been signing up new customers all over the world and this has (a) fuelled a dramatic increase in income and (b) shrunk Verizon's share of turnover. The graphic below shows the customer base as at November 2020 and helps explain why revenue is growing at a triple figure pace.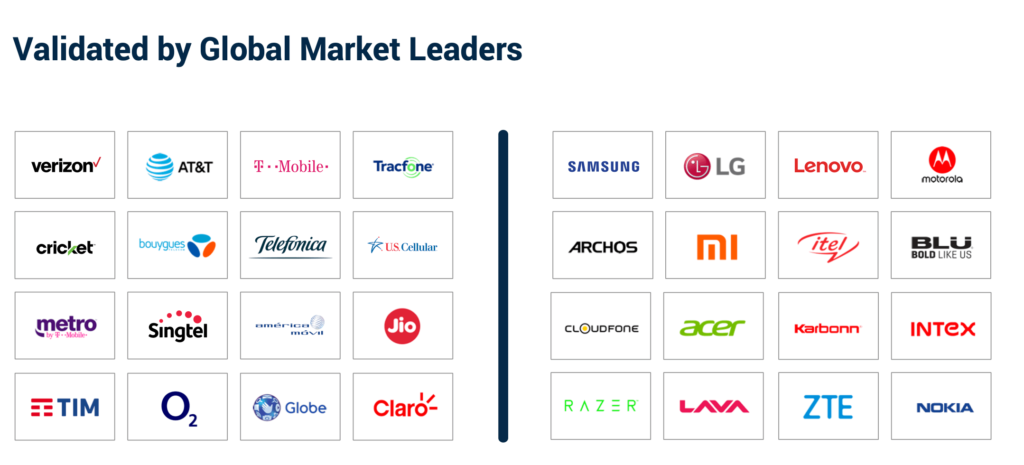 However, arguably an even more exciting part of the business is the use of the platform to connect consumers to content and related advertising. This business took off in February 2020 after Digital Turbine made an extraordinary acquisition. They bought a company called Mobile Posse for an estimated $66m, broken down as $41.5m in cash upfront and an estimated earn-out of $24.5m.
This is what Mobile Posse (MP) is all about. "Founded in 2005, Mobile Posse has ~65 highly talented employees with their HQ in Alexandria, VA. An established content discovery platform provides valuable media and advertising solutions for operator & OEM [original equipment manufacturing] partners, while delivering richer, more relevant content to end users. The business achieved 2019 revenue of $59.1m and adjusted EBITDA of $12.8m; it also achieved rapid revenue and profitability growth over the past 5+ years. It has a highly profitable, recurring business model with gross margins approaching 50pc and EBITDA margins in excess of 20pc."
It always looked like a good deal. It has turned out to be a sensational deal. This is partly because of timing. DT bought MP in February 2020, just before people realised how serious Covid-19 was and before the wave of global lockdowns, which triggered an explosive increase in online activity.
Since the acquisition Digital Turbine has begun to report sales in two segments, apps and content. In Q3 2021, the three months to 31 December 2020, content revenue reached $31.7m. The group noted that this revenue was primarily Mobile Posse. It is clear that Mobile Posse is doing very well because in Q2 and Q3 additional earnout consideration of a combined $15.5m has been provided for in the accounts. Instead of costing an estimated $66m, MP has already cost $81.5m.
It turns out that Mobile Posse is trading way better than expected. My rough guess is that in fiscal 2021 (ending 31 March 2021) the acquisition is going to deliver revenues approaching or even exceeding $100m. Ebitda (earnings before interest, tax, depreciation and amortisation) are over 20pc so that means that a business bought for $80m plus is going to deliver ebitda of around $20m.
And look at the content providers/ advertisers that are using the Digital Turbine platform. You could hardy ask for a better list of partners.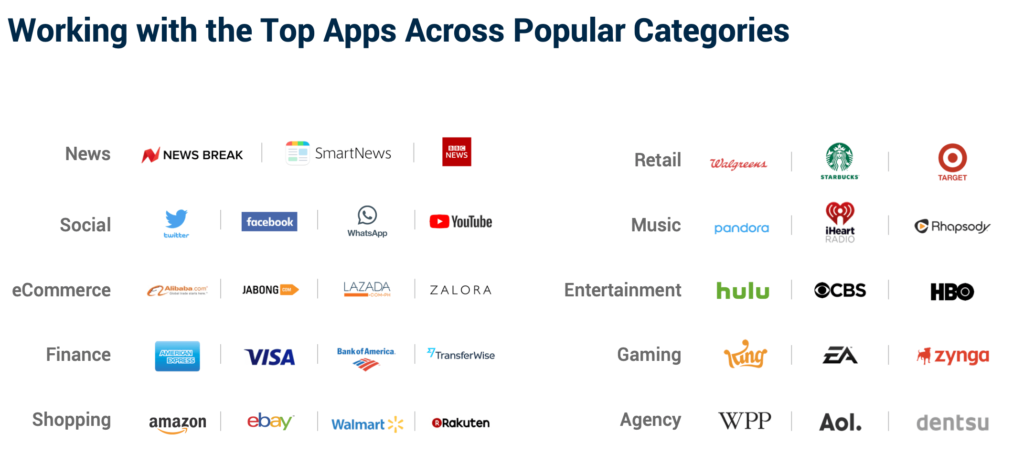 Revenue at Digital Turbine is driven principally by the number of devices on which the software is installed and this has been on a spectacular growth path since 2017.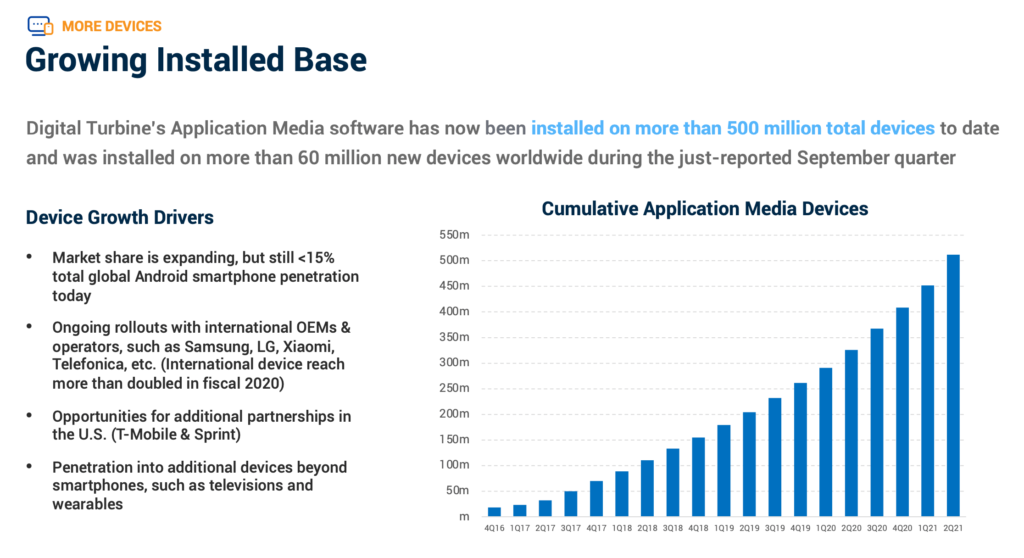 The other powerful revenue driver which has also been growing strongly is a number called RPD, revenue per device. The chart below gives a flavour of what has been happening here and also how the group has been lessening its dependence on dynamic installations. CEO, Bill Stone, also referenced it in the latest results. "Revenue per device or RPD is a core operational health metric of our business. And in the US strong media demand resulted in 25pc growth of RPDs and we saw nearly 70pc growth in international RPDs."
Put all this together, more devices on which the group's Ignite software is installed, rapidly rising revenue per device, more service providers and device manufacturers installing the system and rapid growth in the number of content providers and advertisers using Ignite to reach consumers on mobile phones and the end product is soaring sales and profits.
Just in the latest quarter, Q3 to end December, the group delivered sales rising nearly 150pc to $88,6m and ebitda up more than four times on the level a year earlier. The shares have rocketed but this is substantially underpinned by explosive growth in sales and profits. Sales for full year 2016 were $22m; for 2020 they were $138.7m and they are expected to top $300m for the year to 31 March 2021.
And now we have the latest AdColony acquisition, expected to complete in the quarter ending this March, about which DT is so confident that it is taking on significant debt to fund the purchase. "We executed a new credit facility led by Bank of America, which provides for a revolving line of credit of $100m with an accordion feature enabling upsizing to $200m with favorable terms and lower interest rates than our prior facility given the current attractive debt markets."
Incidentally, this facility indicates considerable confidence by the bank in what Digital Turbine is doing.
The AdColony deal is in another league from Mobile Posse. The estimated consideration is $350m to $375m, payable in instalments and including an earnout expected to be in the range $150m to $175m although the vendor, Otello Corporation, a Norwegian company, seems to expect it to be higher since their press release talks about a $400m sale price. My guess is that they will be proved right.
"AdColony is a leading mobile advertising platform servicing advertisers and publishers with a reach of more than 1.5bn monthly global users. The company's proprietary video technologies and rich media formats are widely viewed as best-in-class technology delivering industry-leading third-party verified viewability rates for well-known global brands, such as Disney, Amazon and BMW."
There are no figures for AdColony sales or profits so we have to take it on trust that this is a good deal. We will learn more once the deal has closed but the company does say:- "Considering the current run-rate of recurring business at AdColony, along with expected realized synergies and the terms of consideration, we anticipate that the AdColony transaction will be substantially accretive to our expected profitability in the first full year following the transaction."
One of the attractive features of the content/advertising side of the business is that much of the revenue is recurring so that the recurring element in the group's total revenue is rising rapidly, from less than 10pc not long ago to approaching 50pc currently.
The extraordinary growth being achieved byDigital Turbine, which is up there with the fastest growing businesses in the world, owes much to having the right product at the right time but it is also clear that Digital Turbine has a visionary leader in CEO, Bill Stone. He joined the group in 2012, became CEO in 2014 and then expressed his confidence in what was coming by buying nearly 1m shares at low prices between 2015 and 2018.
I have been listening to his presentations and he is not only a very able individual but has built a talented team around him. What was apparent in the early days, pre-2016, was that a seemingly rubbish business had a high powered management team and board of directors. Now we can see why and what they are delivering.
Four years ago Digital Turbine was a minnow with sales of $22m making significant losses and heavily dependent on one customer. My guess is that in the coming financial year, to 31 March 2022, (and this is very much my guess) sales could reach $500m and I have pencilled in $750m for the year to 31 March 2023. This implies EBITDA reaching $100m and then $150m and a PE ratio, which could be approaching 50 for a rapidly growing business positioned in an incredible sweet spot between consumers on the one hand and service providers, device manufacturers, content providers and advertisers on mobile phones.
For years the story about mobile phones was that they could be fabulous money spinners with all those eyeballs but nobody knew how to make it happen. Digital Turbine seems to have found the key.
The group is only active in the android phones market, not on Apple devices but that is still a big chunk of 3bn phones worldwide so a massive market and in some ways Digital Turbine is just getting started.
"In our content business, revenues in the December quarter pro forma increased by over 100pc year-over-year. This result was driven by our new content platform being fully deployed and our legacy platform being sunset and improved advertising rates all driving better operating results. And this $31.7m in content revenues was achieved against over 10m daily active users or DAUs. It includes just over 100,000 DAUs coming from revenue synergies on our existing addressable market distribution footprint, which is many hundreds of millions of devices with our current software. Thus the opportunity for growth is enormous."
There are so many things going on at Digital Turbine the mind boggles. Overseas growth is explosive. "
Combined with the strong device growth, our international supply revenues increased by nearly 200pc year-over-year and for the first time, we also had more international demand revenues in our app media business come from outside the United States. More specifically on devices for our application media business, we also added approximately 65m devices in the quarter, which represents over 50pc growth year-over-year. This growth was achieved despite an overall decrease for Android devices in the macro global market. In other words, we're still a penetration story against the larger opportunity."
There are also exciting new products coming through like SingleTap, where consumers can download an app with a single tap which increases sign up rates by between 100pc and 200pc. "We continue to capture the recent momentum in our SingleTap business and other emerging products such as Notifications are ramping even faster. Our recurring revenues are now nearly 50pc compared to just over 10pc a year ago. I also want to specifically call out our progress on SingleTap. Not including our social media integration with our large carrier partner, a few quarters ago we talked about SingleTap being on a seven-figure run rate. Last quarter we talked about it being a seven-figure quarterly business for us. And today, I'm happy to say it's now a seven-figure monthly business. The growth is becoming more material and we expect SingleTap to be a growth driver for the business in 2021 and beyond."
Bill Stone is so confident about Single Tap that in answer to one analyst's question he talked about adding zeros to the run rate.,
The group is also looking at installing its software on other devices like TVs. "Expanding devices beyond smartphones is an exciting opportunity for us and a natural extension of our offerings. We continue to make progress on our TV offerings as we discussed on our last earnings calls and look forward to those launches occurring later this year."
I am not the only observer to be excited about the potential at Digital Turbine and the shares are wildly overbought. In the last year they are up from $3.60 to a peak close to $100. Not surprisingly this has made for volatility but my view is that we are still in the foothills with this phenomenally exciting business. I would not wait for a significant correction, which may never happen.

My favourite kind of share is one in a company which is growing explosively but has a massive open-ended opportunity. Throw in recurring revenue and networks effects and you have a possible multi bagger in the making. I think that Digital Turbine is just such a share and although the shares have already risen substantially I think this company is still under the radar and is going to attract a great deal of attention.