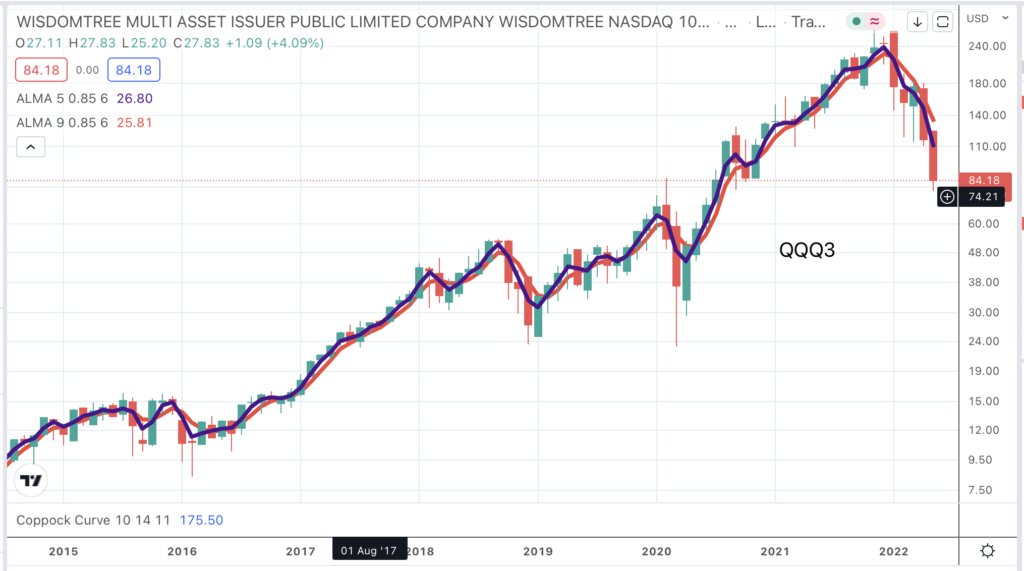 QQQ3 (tracks Nasdaq 100 x 3) @ $84.65
SOXL (tracks semiconductor shares x 3) @ $20.51
SPXL (tracks S&P 500 x3) @ $73.71
TECL (tracks Nasdaq technology sector shares x 3) @ $31.85
Just to keep subscribers posted on what I am doing. I have decided to average down on my investments in leveraged ETFs. These are held in a share account because IG, understandably, does not want you to pile leverage on top of leverage.
I hold three leveraged ETFs, QQQ3, SOXL and TECL. They have all declined dramatically since I bought them along with the stock market. There is no sign of any buy signals but I have decided to act precisely because they have dropped so much. I bought QQQ3 when the price was around $220 so close to the top. I have been able to average down by buying at $84 and because they are so much lower the effect of pound cost averaging is that I have quadrupled my holding and brought my average entry price down to $111. When Wall Street starts trading I shall do the same thing with my holdings in SOXL and TECL.
My next purchases will either be when they do finally give buy signals or, if they plummet again, at a much lower price, so that my average entry price tracks down not too far from the price. My expectation is that at some point they will turn higher and I will make loads of money. I have a hunch that I am betting on a sure thing but we shall see.
I may also open a position in SPXL, a leveraged ETF which tracks the S&P 500, and thereafter follow the same strategy.
Something interesting happened with yesterday's trading. All the Wall Street indices fell except for the Nasdaq Technology Sector 100 index which rose strongly. Could this be a straw in the wind that technology shares, which have taken a tremendous buffeting, are trying to bottom out? Here's hoping.
---

The interesting thing about my ETF strategy is that it needs only one thing to be successful and that is that stock markets don't fall for ever. If they stop falling and start climbing my strategy will start making money. If I look at a long term chart of any Wall Street index I can't help feeling that time is on my side.
And this is a very simple strategy.
---