When I tell people I write about the stock market and recommend shares to buy they look at me as though I am some kind of mystic dealing in the secrets of the universe. But really the stock market is not such a mysterious place. Rules that work in other aspects of life, like common sense, work well in the stock market too.
All I am trying to do is buy shares in good companies at a sensible time. Warren Buffett said something very similar about his approach to investing. Try to buy shares in companies that you expect to be meaningfully larger in 10 years time; don't pay a ridiculous price and hold them until they are meaningfully larger. It's not rocket science but it is easy to allow emotions to cloud your judgement which is why I find charts so useful.
Don't be emotional; follow the chart.
Table of Contents
This is a chart of the Nasdaq 100 Technology Sector. Unlike the Nasdaq 100 index it is equally weighted so less influenced by the outperforming mega caps. What it tells us is that technology shares in general have resumed the secular uptrend that has been in force for 15 years on this chart and for at least 35 years if we go back to the early years of Microsoft and Intel, even longer if we bring IBM into the picture.
My contention, not just mine of course, is that an accelerating technology revolution is going exponential with the advent of generative (natural language) AI. The world is entering a wondrous period when the genie of technology, for good or ill, has really been let out of the bottle.
I believe this is going to have a seismic impact on the stock market, especially the US, where the great technology companies of the 21st century are mostly located. It is an obvious strategy for people living in the rest of the world to put their savings to work in this incredible market which is a treasure house of great growth shares, many in technology but others too.
I am going to look at a few below.
Apple has a strong chart and the market value has just surpassed $3 trillion for the first time, a first for any company. In 2004 the shares burst higher from 24 years of consolidation. This followed the return of Steve Jobs as CEO in 1997 when the shares, adjusted for subsequent share splits, were 10 cents. He worked his magic, tragically died before his time but handed on the baton to another outstanding leader, Tim Cook.
Apple Tops 2bn Devices Worldwide
The company has created an ecosystem of fabulous smart devices from desktop computers to Airpods, which it sells at premium prices to a huge fanbase (like me and my family) for whom it has to be Apple. It is then using this massive penumbra of devices, over 2bn worldwide according to the company in its latest quarterly report, to sell them a growing range of highly profitable services.
It is a powerful driver of sales, profits and free cash flow which is then being invested in further innovation, dividends and share buybacks. This makes for a formidable wealth creation machine and no surprise to find that Warren Buffett's Berkshire Hathaway, is one of the largest shareholders with nearly six per cent of the company.
Tesla is Apple for Cars
Increasingly I see Tesla as Apple for cars. Currently it is building a global footprint of devices, cars, vans and trucks (and solar panels) on which, like Apple, it will superimpose a growing and highly profitable services business. One exciting service may be TaaS (transport as a service) if instead of owning cars we start to use robotaxis, owned and operated by Tesla, a future which many expect.
Tesla is an innovative business led by an extraordinary individual, when he is not cage fighting with Mark Zuckerberg, and has already flagged plans to create robots as well as autonomous vehicles and is clearly going to be a major player in the world of generative AI.
There is still a tendency to think of Tesla as an expensive car company when it may really be an inexpensive technology business. This makes for considerable share price volatility but mostly in an upwards direction.
Netflix Benefits From Faster Internet, Cinema Quality TVs
Netflix is another amazing US growth share. It all started when Reed Hastings was annoyed by the late return fees on a DVD he took back to Blockbuster. First he launched DVD rentals online with notate return fees and then he changed the world with streaming and Netflix became one of the world's great content creators.
There is no reason to suppose that this process has finished. Netflix is amazing, especially as Internet speeds improve and more people have cinematic screen and sound experiences at home.
Most recently the company has launched a major 'something new' with an ad-funded service which will most likely become very large too and maybe the entry level experience before people decide that the content is great and for a modest sum they can avoid the ads.
Again the chart shows a recent double whammy buy signal.
The chart looks good and the business is in great shape as the company noted when reporting recently.
Lululemon Plans to Quadruple Business Outside North America by 2026
Lululemon results are on a roll with no ed in sight as the company spreads its woes beyond yoga.
In Quarter 1, as I mentioned, the business delivered strength across both the top and bottom line. Revenue increased 24pc versus last year, balanced across category, channel, and region.

Women's was up 22pc, men's was up 17pc, and accessories was up 67pc. Comparable sales grew 16pc in stores and 18pc in our e-commerce business. And by region, North America grew 17pc and international increased 60pc. Within international, we saw a meaningful acceleration in the Greater China business with revenue increasing 79pc.

EPS was strong as well, increasing 54pc versus last year to $2.28. This strength was driven by revenue, gross margin, and SG&A [cost of sales, general and administration], all coming in better than our guidance.

Most recently, May has been a big month for activations. We went live with our new Lululemon Studio digital app earlier this week. The app, which will help us broaden our TAM [total addressable market], offers guests in the U.S. access to our industry-leading content for only $12.99 per month without needing to purchase hardware.

We're continuing to build out our golf and tennis collections with versatile styles that can be worn both on and off the course and court. The second installment of our Get Into It campaign launched two weeks ago and featured both technical shorts and new on-the-move styles for both him and her.

We have a target to quadruple our business outside North America between 2021 and 2026. This will be driven predominantly by our existing markets, but we'll be entering some exciting new markets as well. In 2022, international represented only 16pc of our revenue, and I remain optimistic about our runway of global growth. As I stated earlier, our business remained strong in North America and across our international regions.

Calvin McDonald, CEO, Lululemon Athletica, Q1 2023, 1 June 2023
So there are many exciting things happening to drive growth at Lululemon Athletica.
Another great chart but if Deckers Outdoor didn't have a great chart I would not be writing about it. The performance of this business since 2003 has been staggering after a high-powered breakout from a big pattern.
The fundamentals are sensational.
For fiscal year 2023, our brands achieved revenue growth of 15pc on a reported basis versus the prior year to more than $3.6bn, which is 42pc and $1.1bn above revenue of 2 years ago. Operating margin was in line with the high-end of our guidance range at 18pc, which is top tier in our industry and a more than $3 increase in earnings per share, representing a 19pc increase versus last year.

Specifically, our progress in fiscal year 2023 includes HOKA driving global revenue growth of 58pc versus last year to eclipse $1.4bn. UGG revenue holding steady in constant currency, with the brand increasing its mix of both direct-to-consumer and international business; global portfolio DTC [direct to consumer] adding more than $0.25bn of incremental revenue, growing at nearly twice the rate of wholesale; and our international markets increasing 20pc versus the prior year on a reported basis, which when accounting for an approximate $100m headwind from currency fluctuations, increased 30pc in constant currency.

Reflecting on the past few years, our company's performance is remarkable, particularly given the consumer climate and speed with which we have had to build our infrastructure to support this incredible growth. We still have much more work ahead to build upon the foundation for long-term sustainable growth, but I am truly proud of how far we have come.

Dave Powers, CEO, Deckers Outdoor, Q4 2023, 25 May 2023
The big success story is HOKA.
Born on mountain trails, Hoka have come to conquer more than just climbs with innovative neutral and stability running shoes alongside those trail icons. With a pair of Hoka shoes, it really is time to fly.

They've created trail running heroes like the Speedgoat, the super cushioned road running Clifton and carbon-plated innovator the Carbon X and show no signs of slowing down. Whether you're a trail runner, road runner or somewhere in between, there are Hoka running shoes with your name on them.

Runners Need
HOKA is a Phenomenon for Deckers Outdoor
Global HOKA revenue for fiscal year 2023 increased 58pc versus the prior year to $1.4bn. This is the fourth consecutive year HOKA has delivered revenue growth above 50pc.

For the year, HOKA growth was driven by a more than 30pc increase in global brand awareness in fall 2022; an acceleration of DTC, which grew 85pc versus the prior year; broader category adoption; market share growth with existing points of wholesale distribution; and additional access points with our strategic partners, which was complemented by increased availability of product inventory and an improved supply chain environment.

In June of 2022, HOKA launched Fly Human Fly, its first-ever globally integrated marketing campaign. The campaign was designed to build awareness and elevate the HOKA brand in the minds of global consumers through rich storytelling and targeted activations in key cities. The HOKA team utilized connected TV and digital and out-of-home channels to reach a broader audience with creative that combined emotionally connected brand and product messaging.

As a result of the investments behind this campaign, HOKA awareness increased across a broad spectrum of key markets, such as the U.S., France, the UK, China and Germany, with three of those countries increasing awareness more than 40pc compared to fall 2021. Given the success the brand has experienced, we continue to see a significant opportunity for growth in each of our markets over the long-term.

Momentum with younger consumers in the U.S. helped drive these increases as HOKA more than doubled the number of purchasers aged 18 to 34 years old. As HOKA continues to expand, we are encouraged by the broader product adoption from consumers beyond the brand's heritage running styles. We have seen this trend among DTC consumers and continue to gain category shelf space with wholesalers.

Dave Powers, CEO, Deckers Outdoor, Q4 2023, 25 May 2023
In 2013, when DECK bought HOKA it had sales of just $3m!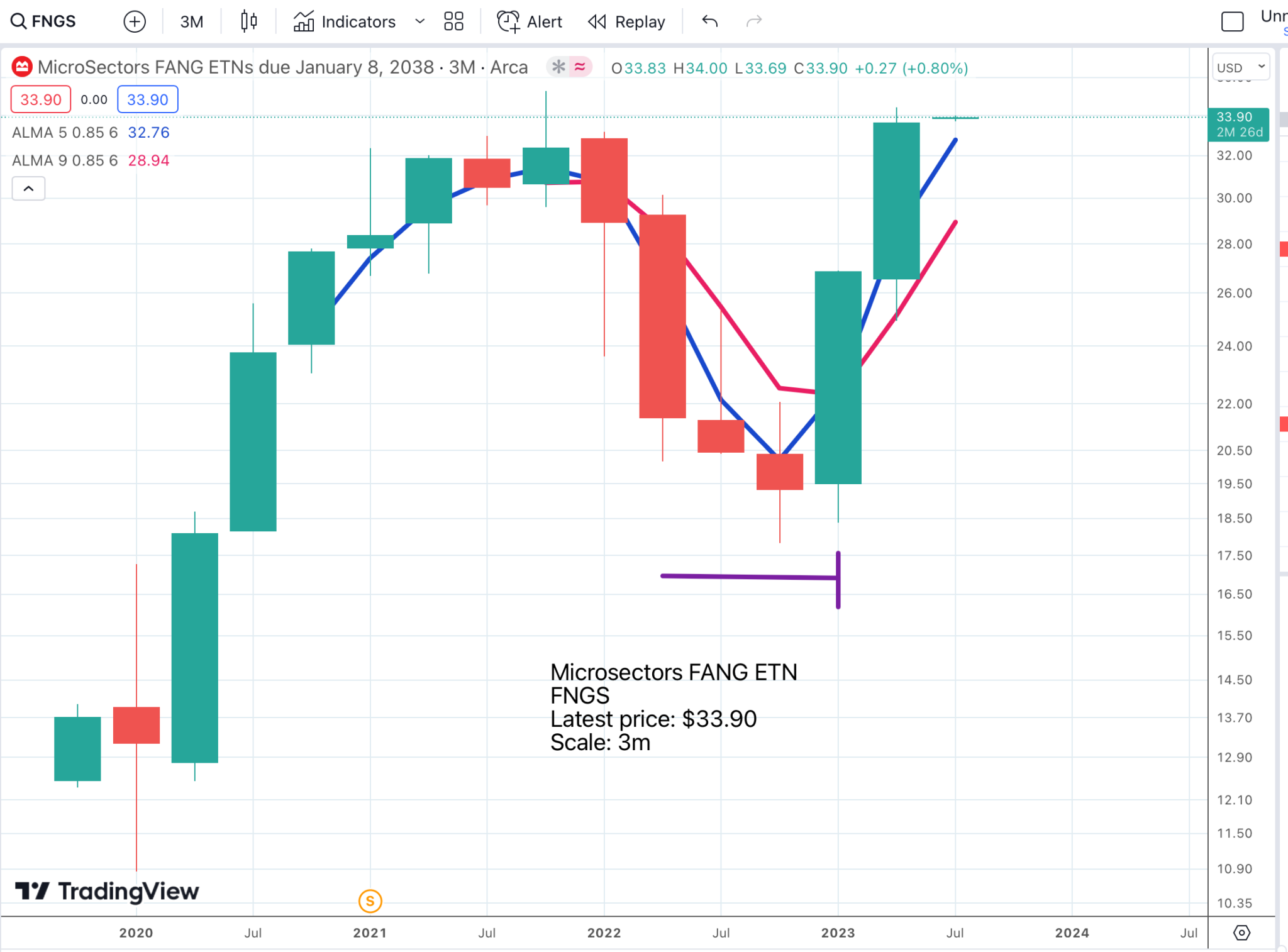 FNGS Close to All-Time Peak
FNGS has a great chart and a sensational portfolio of cutting edge US technology names. It is no wonder the price has almost doubled this year.
FNGU More Than Quintuples in Less Than a Year!
There is an even more electrifying version of FNGS, which is three times daily leveraged FNGU. What a beast! The shares are up this year from $37 to $192, which must make them one of the best performing shares in the world. You cannot buy them on IG or I would have bought some. Damn the regulations.
If this chart is anything to go by it is still not too late to buy them. IG won't let you buy them but I believe you can with a big US brokerage called Interactive Brokers. Or maybe not. I just rang Interactive Brokers and they have the same problem. It is still worth my while to recommend them because I have subscribers in North America but for the poor saps in the UK the all-wise, all-seeing regulatory authorities say it is not safe for us simple folk.
Strategy – Make Sure the Chart Supports the Fundamentals
This is a core tenet of Quentinvest. If the chart does not back the fundamentals you need very strong belief to buy and hold. It can work, of course. It certainly does with my much favoured QQQ3 as long as you have the funds and the nerve to keep buying into any decline. You will win in the end and most likely win big but generally I prefer to combine strong fundamentals with a strong chart and, ideally, a recent buy signal.
Share Recommendations
Apple AAPL Buy @ $191
Tesla. TSLA. Buy @ $277.5
Netflix. NFLX. Buy @ $441
Lululemon Athletica. LULU. Buy @ $377
Deckers Outdoor. DECK. Buy @ $531
Microsectors Fang ETN. FNGS. Buy @ $33.90
Microsectors Fang 3x Leveraged. FNGU. Buy @ $188