Cambridge-based video games developer, Frontier Developments, aims to become one of the most respected entertainment companies in the world
December 20, 2020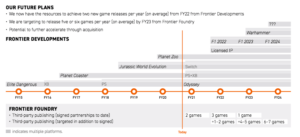 Frontier Developments  FDEV  Buy @ 3150p  MV: £1.22bn  Next figures due: 5 February 2021  Times recommended: 11  First recommended: 615p  Last recommended: 2550p
I love in when I see companies which combine great ambition with great performance; that's when I start to believe that miracles can happen. Frontier Developments, a Cambridge-based developer of video games, has a huge ambition. "If you look back ten years and imagine listing what you thought the top dozen most respected entertainment companies would be in 2020, it is likely even those in the industry would only get about half of them right (failing for example to include companies like Amazon, Netflix and Tencent). The industry now is pretty well unrecognisable from what it was then. Similarly in ten years' time the entertainment industry will again be unrecognisable from where it is now, as will Frontier, but our goal is to be on that list." Talk is cheap but Frontier has a case to be taken seriously because they are delivering great performance. A company which developed its first proprietary video game in 2014, previously it was a gun for hire, developing video games for other people, launched its fourth game last year and has built capacity to the point where it expects to be able to develop two new major titles every year from 2022. This is partly its own games like Planet Coaster, Elite Dangerous and Planet Zoo but also games using other people's powerful intellectual property like Jurassic Park Evolution, launched in 2018.
It has also launched a publishing arm, Frontier Foundry, which use the group's resources and footprint in the industry, to publish games developed by third party developers. It already has six titles signed up and expects to add five or six titles a year to make this new venture a material contributor to future sales and profits.
Video game developers' revenue stream depends on new game releases. In the past, when FDEV was developing a new game every two years this made the performance lumpy. In future, the combination of two major releases a year, a steady stream of additional paid for content to refresh and diversify existing titles and revenues from the recently launched publishing arm should make for strong growth and a steadier performance. This is helped by the nature of the games. "Frontier's games take a long time to fully master, so yield longevity and great value for players. This longevity and loyalty of our great communities should help further build our revenue pipeline over the long term."
There is also a cumulative element to a business like FDEV as it builds scale. "Over 10m base game units sold across our four titles as of 31 May 2020 (Elite Dangerous 3.5m, Planet Coaster 2.5m, Jurassic World Evolution 3.0m and Planet Zoo 1.0m) with performance influenced by the date at which titles were launched. What is impressive is how successful all the games are, which is encouraging for future partnerships, where there have been some exciting developments. The group has signed up to develop four titles at annual intervals for Formula One, which draws on the huge visibility and excitement around Formula One racing and the success of drivers like Lewis Hamilton. Another partnership is with Games Workshop to develop a game based on the latter's Warhammer Age of Sigmar brand. For all its great success Games Workshop has never had a video game developed with really high cinematic quality production values. This will change with the FDEV partnership. There is also a wild card. "In March 2019 we announced an as yet unrevealed major global IP for a game launch in FY22."
Frontier Developments doesn't do mobile games. All its games are developed for computers and consoles, which lend themselves to high quality, demanding games for which customers are prepared to pay. The average engagement with a game on a computer or console is 30 minutes v five minutes on a mobile phone. This may change in the future and other delivery methods such as streaming may also become important. If they do FDEV will adapt accordingly.
I don't play video games but I can see from looking at the pictures in the annual report and from the sales how good are these games and with 560 staff (up 55pc over the last three years with 120 added in full year 2020) there are many developers to keep the ideas and the quality coming. Led by CEO and founder, David Braben, Frontier Developments is a very special resource, pretty much pure IP, so when they develop a game they capture a huge chunk of the  value being created. They also point out that they are operating in a huge market. Video games are now the largest part of the $300bn and climbing global entertainment business. There are already some very large and fast growing businesses in this sector and FDEV has a great opportunity to keep growing and start to play with the big boys, which is why it is so exciting to see that that is exactly what they want to do.
I would also add that the 2020 report and accounts in itself represents a major statement of intent by the group. It reads like an expert dissertation on the global video games industry, FDEV's place within it and why the company is becoming such a force. I am sure potential partners and customers, who read the report, will come away as impressed as I am. Another feature of the group, which is exciting for investors, is the news flow. In December alone there have been five press releases relating to exciting developments for existing games. As the company says "Our particular focus on 'launch and nurture', which is effectively a 'games as a service' model, is working very well, producing four successful titles so far, but we will continue to monitor and consider different delivery model options as the industry continues to evolve." Every new game is a work in progress, which is great for players but also good for business.
Also important for FDEV are the new consoles being launched, which will match exciting new hardware to the group's great software. "Neither of the new console designs was greeted sans mockery, which is funny given that they're polar opposites: the Sony PS5 is predominantly white, slender and curvy, and Microsoft's Xbox Series X is a boxy black tower. Both platforms have made a big leap in power over their predecessors. They're based around roughly similar AMD [Advanced Micro Devices] Zen 2-architecture processors plus AMD Radeon Navi-generation graphics processors with 16GB of memory. They both support ray-tracing, decompression acceleration, whizzy new proprietary SSD [solid state drive] implementations and a whole lot more."
My impression with Frontier Developments is that all the work to date has been about creating the launchpad for the exciting progress to come. There is a powerful virtuous circle in action at Frontier Developments. The more successful the business is the greater its ability to attract talented employees, powerful partners with exciting IP to share and third party developers with their own great IP. It is also building a rapidly growing customer base of people who like their games and the way in which they develop them. These are powerful assets and would make the company an electrifying takeover target if there was the slightest hint, which there isn't, that the business was up for sale.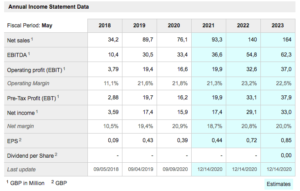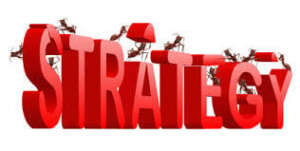 Frontier Developments has already been a huge success for QV for Shares (up 412.2pc on the original recommendation and with five alerts showing three figure gains) but I think there is plenty more to come. The video games industry is going through a period of strong growth and exciting technological progress and FDEV is playing a key role at the heart of what is happening. They have done the hard bit, which is to win their spurs as a developer and marketer of exciting proprietary games. The new titles they are working on have world beating potential. They have a wonderful opportunity to achieve something amazing and 2022 is shaping up as a banner year for the business.