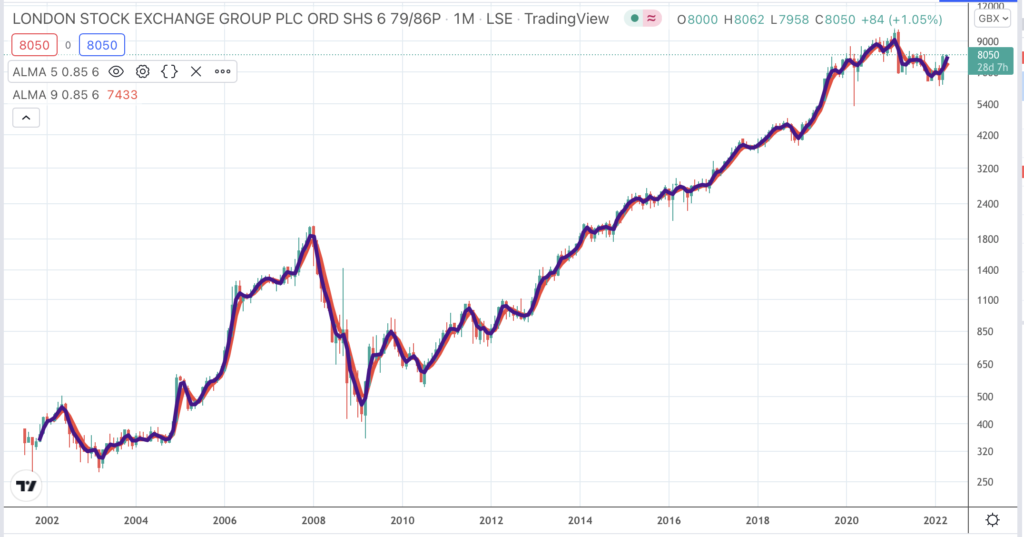 London Stock Exchange Group LSEG. Buy @ 8058p. Times recommended: 12. First recommended: 4350p. Last recommended: 8050p. Highest recommended: 9664p
One of the things about my approach on Quentinvest is that I am not afraid of the obvious. London Stock Exchange with its history of running the London Stock Exchange, at the heart of one of the world's great financial centres, is an obvious candidate for being a great stock. The chart shows that the shares spend most of the time rising. They fell after the acquisition of a US business called Refinitiv because an unexpectedly big increase in costs temporarily depressed profits. But Refinitiv takes the group deeper into the world of data and analytics which is exactly where you want to be in 2022. Most recently we have a buy signal for the shares.
Put all that together. Great business, shares temporarily depressed by what is like to prove a value enhancing acquisition in the long term, chart buy signal. Shares look hot to buy. The whole sector is strong. If you look at related shares like MSCI, Morningstar, Nasdaq Inc and S&P Global Inc., which are all in the QV for Shares portfolio they are all in long term uptrends even if they may have experienced some weakness recently. This whole sector is a great place to be invested.
This is what LSEG said about the Rifinitiv acquisition in the 2021 annual report.
"Our acquisition of Refinitiv created a business that, unlike any other, brings together index, analytics and data solutions with unrivalled multi-asset class capital markets and post-trade capabilities. This combination, which is unparalleled in the global financial markets, enables us to deliver enhanced value to our customers across the trade lifecycle."
You would expect them to be positive about the deal but common sense suggests that it is a good one. I come across Refinitiv the whole time when I am looking at US shares as a source of key data about them. Data has to come from somewhere and is playing an increasingly vital role in all activities in the 21st century which is why people speak of data as the new oil powering modern economic activity.
Finance also plays an important role so a business which combines enabling all types of financial activity with data and analytics stands at the heart of the modern world. Being based in London, one of the world's great financial centres (the Europeans are playing catch up from miles behind) is icing on the cake, especially as the heavy hand of Chinese totalitarianism threatens to crush the life out of Hong Kong.
The group describes the benefits of the LSEG acquisition as follows.
"The natural linkages across our businesses are driving multiple opportunities. Our data and execution businesses are mutually reinforcing. To describe this, I often use the phrase "liquidity begets liquidity, data begets data" as trading generates more data, and data leads to more execution. Through new products and services, we are beginning to realise revenue synergies. Our pricing and reference data is used in the construction of FTSE Russell's fixed income indices and, in response to demand from our customers, we are selling both the index and corresponding reference data to them. Our world-class fixed income analytics in Yield Book are available to thousands more customers through Refinitiv's distribution. And we have substantially improved the data and analytics we make available to issuers on the London Stock Exchange."
I found a graphic in the 2021 accounts (see below) which illustrates the scale of the group's businesses. They should be able to do well. Companies need to raise money and investors want to invest. LSEG's operations are central to this process and increasingly it takes place in a handful of key global centres which have the expertise and the deep pools of liquidity. London, New York, Hong Kong are the places where this stuff happens, which is why the dog in a manger Europeans are or were always try to slap transactional taxes on what we do so well in London.
They are also fully engaged in the new emphasis on sustainability in investment and capital markets. Reducing carbon emissions is becoming a mantra for everybody.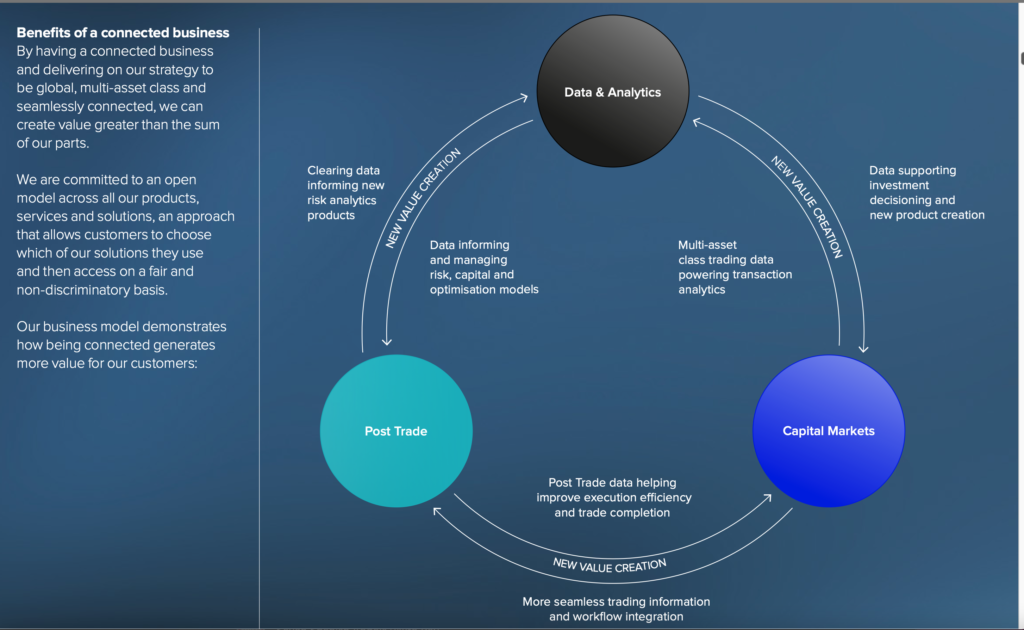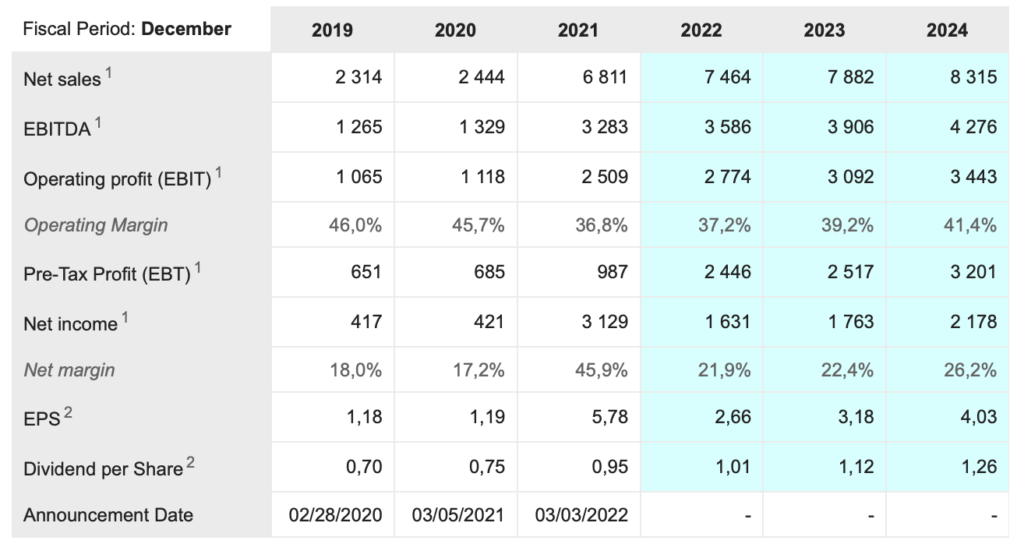 There are two aspects to why I think we have a buy signal for LSEG. Warren Buffett loves to buy great growth shares when the price is temporarily depressed by an adverse development. In the case of LSEG the adverse development was the realisation by investors that the Refinitiv acquisition, once financially completed, was going to have a negative impact on performance. In Buffett's book this generates a buying opportunity for what is clearly a great long term business.
There are also the technical factors. The downtrend has been broken and the moving averages I use are now climbing after a golden cross buy signal. There are no guarantees but in the past this has led to significant rises in the price.
A new factor is Coppock. The creator of Coppock never used his indicator for individual shares but then, back in the 1930s nobody was talking about long-term growth shares which are so much part of 21st century investing. Once you have a share which spends most of its time in a long-term uptrend it is possible to see that Coppock could be relevant and it just so happens that Coppock has given a perfect buy signal for LSEG shares.
---