BOTB (formerly Best of the Best) delivers a stunning 393pc increase in interim profits
January 15, 2021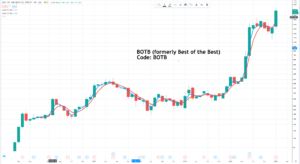 BOTB  BOTB Buy @ 2260p  MV: £216m  Employees: 21  Next figures: June 2021  Times recommended: 4 First recommended: 1480p  Last recommended: 1730p
Most of the shares I feature in Quentinvest are actively traded. You could invest £1m without disturbing the price. This is emphatically not the case with BOTB. The other day, when I wanted to buy 250 shares, I had to buy them in two tranches. Marketability is a joke, reflecting the fact that management and two institutions hold 7.85m shares (83.7pc) and they are not sellers, unless somebody bids for the whole company. I think the other reason why marketability is so poor is because nobody wants to sell at the current price, which is too low.
Best of the Best raffles cars. They used to do this at airports but now the whole business has moved online. This has had two effects. First ,they have fewer employees, which has helped keep overheads low. Secondly, they have been able to dramatically increase marketing spend, which is driving sales strongly higher. This is happening against a background of slowly rising costs so profits are exploding. Latest interim profits rose nearly five times!
They key to further growth is that the cost of acquiring customers should be less than their life time value. They don't give us any figures but this condition has obviously been met, probably by a handsome margin. Below are the latest interim numbers. Cost of sales is the cost of the cars and other prizes. It has risen sharply because they are raffling many more cars, partly because of the mid week competition but also because many of the cars now come with £50,000 or £70,000 in cash. Sharply higher sales mean that gross profit has roughly tripled. Administrative expenses have more than doubled, rising by approaching £4m. I would guess the vast bulk of this has been spent on marketing although no doubt r&d spend is climbing too.
Let's say, pulling a figure somewhat out of a hat, that they spent £5m on sales and marketing in the period. Against that sales have risen by £14.4m. Not only is that a sensational result but I would conclude that with those returns these guys should be spending more on marketing, maybe much more. Evidently they are aware of this and are working on it.
"We continued to invest confidently to attract new customers to our increased range of competitions and content, through a wide array of digital marketing channels, as well as TV, Radio, Print and PR.  Encouraging revenue growth has been delivered by an enlarged in-house marketing team, deploying constantly updated, dynamic and creative content at a granular level across all channels.  This has also delivered increasingly efficient customer acquisition metrics. Social media continues to be a core marketing and community channel, driving both customer acquisition and contributing to brand awareness. We now have a Facebook following of over 350,000 alongside 240,000 Instagram users, actively engaged with our unique content.  Traditional media is also used to maximise the company's exposure to a wide range of demographics, including our 'traditional' airport customer. Investment in print and PR continues to secure frequent coverage of weekly winners and is working well to positively strengthen and promote the BOTB brand. All investment in this area is carefully analysed on the cost per acquisition of a new customer, versus their lifetime value. This metric, which is tracked in considerable detail across the various channels, is critical in our decision making on where and how we continue to grow our marketing budget in the year ahead."
Also interesting is that ticket prices across the board have been reduced. "Both our 'Dream Car' and 'Lifestyle' competitions delivered encouraging results and during the period we have added a new Midweek Car Competition, offering a more focused selection of the most popular lower-priced prizes. More recently, the ticket prices in our car competitions have been materially reduced and all cars in the Dream Car Competition are now awarded together with £50,000 in cash as standard." This means that customer numbers are increasing even faster than sales, which is a great lead indicator for strong growth going forward.
This is a wonderful business with a huge opportunity to scale and dramatic operating leverage so that higher sales drive explosive jumps in profits. On top of that the company doesn't need money because it only invests in marketing which is seemingly instantly profitable so it can be very generous in returning cash to shareholders, who are mainly management. Last year the company had earnings per share of 37.5p and returned 37p to shareholders in dividends and special dividends. So far this year the group has reported interim earnings of 59.5p and has declared a special dividend of 40p a share. The shares trade ex dividend on 21 January and the payment will be made on 5 February. My guess is that full year earnings per share are going to top 100p a share so there is ample room for more generosity at the year end.
Trading has remained strong into the second half such that the company says it "expects full year profits to materially exceed expectations". We don't know what those expectations were that are going to be beaten. At one stage the brokers were forecasting 2021 earnings per share of 70p. That forecast has been removed but looks way too low given that earnings reached almost 60p for the first half. The good news is that, in my view, these shares are insanely cheap. The bad news is that they are very hard to buy but at least you know what I think. If you can buy some anywhere short of £30 a share I think you will be in profit once the full year figures have been reported in June.
Meanwhile the mysterious negotiations with unnamed potential bidders continue. I don't know why management wants to sell or if they do but the shares are a steal at anything below £50.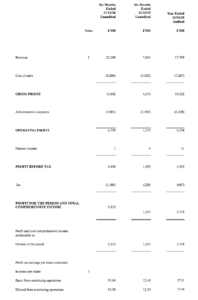 In general, I don't like writing about thinly traded shares. I am nervous that too many buyers will create a short-lived spike in the share price and I don't want the brokers tracking me down and asking me what is going on. So please, if you do want to buy some, proceed with care and use a limit. On IG the other day there was a £3 spread between bid and offer prices so the minute you buy you have lost 300p a share and the fact that I think the shares are cheap has not stopped them from falling sharply in the past. However, I do think they are both cheap and exciting. If they did pay 100p in dividends this year the yield would be approaching five per cent on a fast-growing and eminently scalable internet business. If they are not the cheapest share on the UK stock market I would like to hear about the one which is even more exciting value. I admit I have said something like this about this share in the past but since they are  up by a third or more since then maybe I am right.