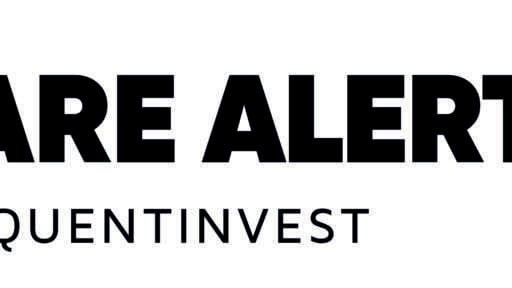 Bitcoin and ether head for test of all-time highs plus two shares that act as proxies
October 19, 2021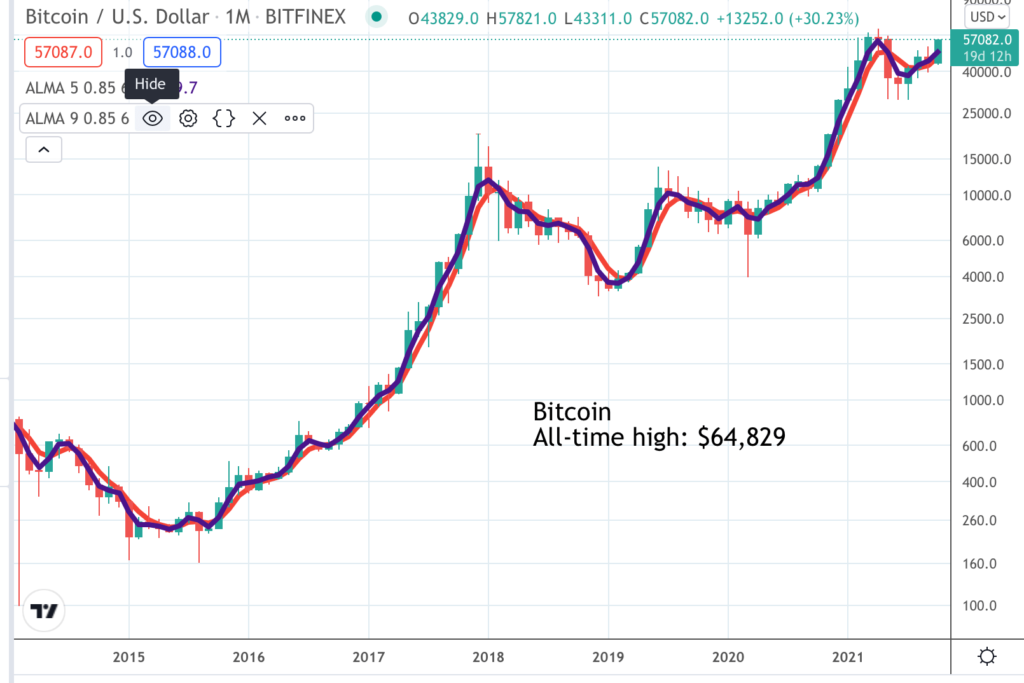 Bitcoin Buy @ $57,570. Times recommended: 16 First recommended: $3,540 Last recommended: $47,376. Highest recommended: $55,200
It is very tempting to write off bitcoin and other cryptocurrencies as wildly over-hyped speculations. Human beings often do that; it is easier than thinking. Establishment figures like the Governor of the Bank of England don't like bitcoin and so make disparaging comments but that is hardly surprising and certainly not conclusive.
What I noticed a long time ago is that bitcoin is about the most perfect speculative instrument ever devised. The supply is fixed even more rigidly than the supply of such other famous stores of value as gold while demand is arguably related to the fast-growing amount of paper money in the world. This is why one very simple target for bitcoin is the value of all the world's gold, circa $7.5 trillion, divided by the maximum potential number of bitcoins, fixed by the founder at 21m. This gives a figure of $357,000 per bitcoin.
This is an arbitrary figure but not an unreasonable one if bitcoin is taking over from gold as the world's favourite store of value and if bitcoin can reach a third of a million dollars there are going to be plenty of people targeting a million dollars to take the value of all the world's bitcoin to $21 trillion.
One of the beauties of bitcoin is that it and other cryptocurrencies have no fundamentals which can be used to say they are cheap or dear. The right price is the one determined by the interplay of buyers and sellers at any moment in time and one thing we do know is that there is huge global interest in buying bitcoin.
My simple approach to bitcoin which has guided my strategy from the beginning is (a) to assume that the price could rise much higher. If it can go from being priced in cents to over $1,000 and now to over $50,000 anything is possible. Then (b) I use chart signals to tell me when to buy. Because of the long term uptrend these have worked so well in the past that since 2015 bitcoin has been the single best performing asset on Quentinvest.
The charts are saying that bitcoin is a buy right now with a punchy breakout from a sizeable period of consolidation. It seems a reasonable bet that this breakout will take the price to a new all-time high in time.
Ether. Buy @ $3,800. Times recommended: 11. First recommended: $1,100 Last recommended: $3,547. Lowest recommended: $240
Ether doesn't have a fresh breakout but the chart, shown below, looks very promising so I am making a fresh recommendation. The fundamentals are different but similar to bitcoin making big moves possible.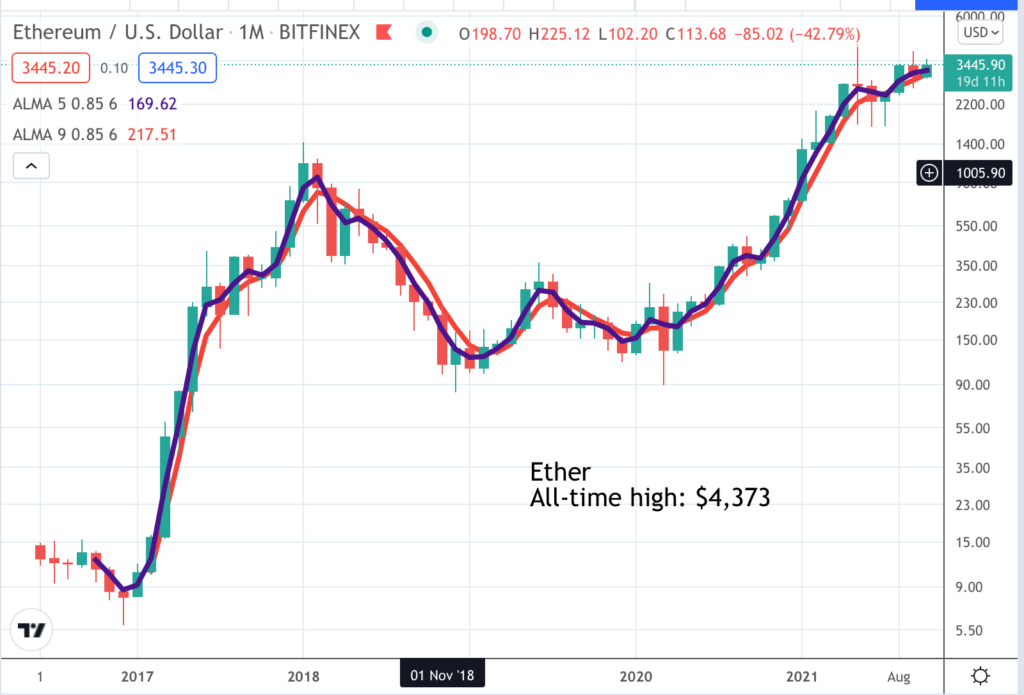 Microstrategy. MSTR. Buy @ $726. MV: $7.2bn. Next figures: 29 October. Times recommended: 2 First recommended: $720. Last recommended: $693
Microstrategy is an alternative to buying bitcoin because the CEO, Michael Saylor, has bet the whole business on holding bitcoin. He has even borrowed heavily to buy more bitcoin. At the last count the company held 105,085 bitcoins worth around $6bn.
You get more bitcoin for your money by buying bitcoin direct but if the price does soar it will take Microstrategy shares with it. The group says it has two corporate strategies.
"We pursue two corporate strategies: (1) grow our enterprise analytics software business to promote our vision of Intelligence Everywhere and (2) acquire and hold bitcoin, which we view as a dependable store of value supported by a robust, public, open-source architecture untethered to sovereign monetary policy."
Saylor is an incredible bull of bitcoin. He thinks it is at a tipping point, a paradigm shift as he calls it and is going massively higher, whereas fiat currencies are losing their value at a rapid rate. Hence his decision to move all Microstrategy's cash into bitcoin and borrow at low interest rates to buy even more.
Silvergate Capital Corporation SI. Buy @ $162. MV: $4.2bn. Next figures: 19 October. Times recommended: 7 First recommended: $126.50. Last recommended: $116.50. Highest recommended: $156
Silvergate offers another way of investing in cryptocurrencies without actually buying them. The group operates a bank which since 2013 has specialised in offering services to participants in the digital currency markets. The chart below shows how rapidly the business has been growing.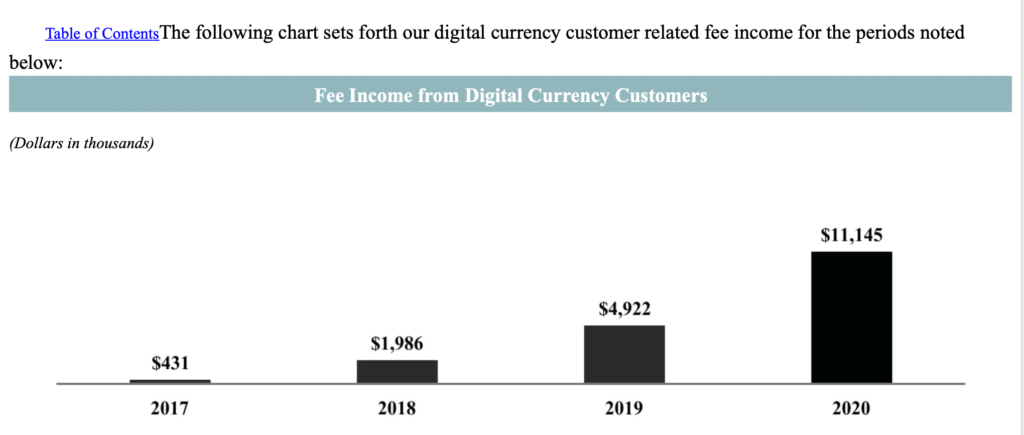 In particular Silvergate operates something called the SEN, the Silvergate Electronic Network, which enables participants in digital currency markets to make transfers to other participants who are on the platform.
Below is how Silvergate describes the function of SEN.
"We designed the SEN as a network of digital currency exchanges and digital currency investors that enables the efficient movement of U.S. dollars between SEN participants 24 hours a day, 7 days a week, 365 days a year. In this respect, the SEN is a first-of-its-kind digital currency infrastructure solution. The core function of the SEN is to allow participants to make transfers of U.S. dollars from their SEN account at the Bank to the Bank account of another SEN participant with which a counterparty relationship has been established, and to view funds transfers received from their SEN counterparties. Counterparty relationships between parties effecting digital currency transactions are established on the SEN to facilitate U.S. dollar transfers associated with those transactions. SEN transfers occur on a virtually instantaneous basis as compared to electronic funds transfers being sent outside of the Bank, such as wire transfers and ACH transactions, which can take from several hours to several days to complete. Our proprietary, cloud-based API combined with our online banking tools, allows customers to efficiently control their fiat currency, transact through the SEN and automate their interactions with our technology platform."
Growth in transactions on the SEN has been explosive. They rose from $46m for calendar 2019 to $231m for calendar 2020. Strong growth continues.
"In the second quarter [ended June 2021], the number of customers on the SEN platform expanded to 1,224 and our pipeline of potential new digital currency customers remains robust, as we continue to benefit from the powerful network effects created by the SEN. We generated more than $239bn of volume on the SEN, a new record and an increase of 44pc compared to the first quarter."
The group has also been launching new initiatives such as lending using digital currencies as collateral. As CEO, Allen Lane, says, "Turning to SEN Leverage, total approved lines of credit grew 32pc to $259m, compared to $197m at the end of the first quarter. Importantly, SEN Leverage continued to perform as designed. Despite the decline in the price of Bitcoin during the quarter, we have experienced zero losses to-date and no forced liquidations.
Lane says:- "It's no surprise that the pace of new loan commitments slowed down given the pricing dynamics at play during the quarter. As with any new product, we continue to look for opportunities to improve the design and benefits of SEN Leverage to ensure we are meeting our customer's needs. Over the long-term I remain incredibly confident in the growth of SEN Leverage.
As I discussed last quarter, we have seen an influx of deposits from our digital currency customers who require the ability to move U.S. dollars on the SEN in real time, 24 hours a day, seven days a week. In the second quarter average deposits from digital currency customers grew by $3.5bn to $9.9bn, driven by the record volume we experienced on the SEN."
There is also an important something new happening at Silvergate with huge potential for future growth. "We announced our continued development of stablecoin infrastructure, including an agreement to be the exclusive issuer of Diem USD stablecoins."
Lane had this to say about Silvergate's venture into stable coins.
"I am incredibly excited to share an update on the development of our stablecoin infrastructure initiatives. In May, we announced our partnership with Diem to become the exclusive issuer of U.S. dollar backed stablecoins known as Diem USD, designed to enable the conversion of fiat U.S. dollars to and from the stablecoin through a process known as minting and burning.
The stablecoins can then be used by virtual asset service providers or VASPs for a variety of use cases, including commerce between consumers and merchants, as well as cross border payments. Over time, we believe stablecoins have the potential to become a meaningful payment method for customers around the world. That said, it's important to keep in mind that we are still in the very early innings and that novel products like this often require regulatory dialogue.
As the use cases for U.S. dollar backed stablecoins increase, Silvergate is well-positioned to benefit from multiple levers for monetization. First, we will seek to earn transaction fees on minting and burning of the stablecoins. Second, we will earn yield on reserve deposits, while managing them in a capital efficient manner. And third, we will add a new category of customer to the SEN for whom we will provide traditional banking services. We believe Silvergate's future remains incredibly bright."
Enthusiasm for stablecoins is growing rapidly and it is easy to see how this could become a major source of growth for the already fast-growing Silvergate Capital.
Diem is a new cryptocurrency project originally founded by Facebook but now under independent control by the Diem Association. The project's objective is to enable universal access to financial services. Developed on blockchain technology, Diem is secure, scalable and reliable. It's open technology that anyone can build on and serve billions of people. Blockchain technology is a decentralized, secure and transparent database ledger system for tracking transactions. Diem built an open-source prototype called Diem Core to foster a global collaborative effort to advance the technology. Because the cryptocurrency hasn't officially launched, the coin isn't on the market yet, so it has no market cap or price. It's not clear what Diem will be worth when it hits the market.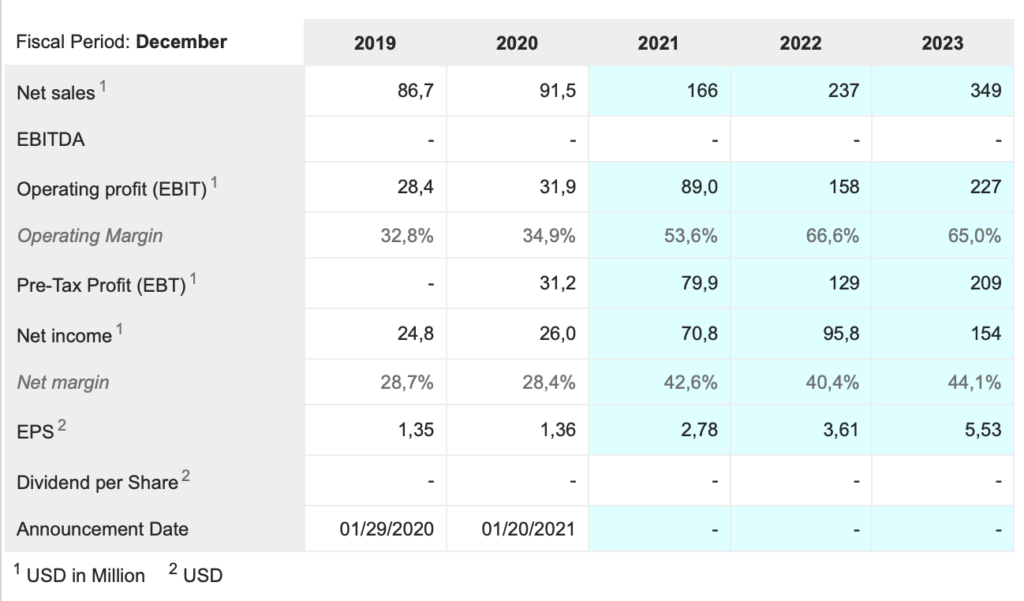 ---

One thing that has worked very well with cryptos, especially the main two, bitcoin and ether, has been to ride out volatility and never sell. The chart buy signals have also worked well but this is always the case when an asset is in a long-term secular uptrend which is why I work so hard on Quentivest to identify such assets.
Microstrategy and Silvergate Capital Corporation offer alternative ways to buy shares in companies whose fortunes are closely linked to cryptos.
---