A hint of spring in the stock market – watch the megacaps and leveraged ETFs
March 16, 2022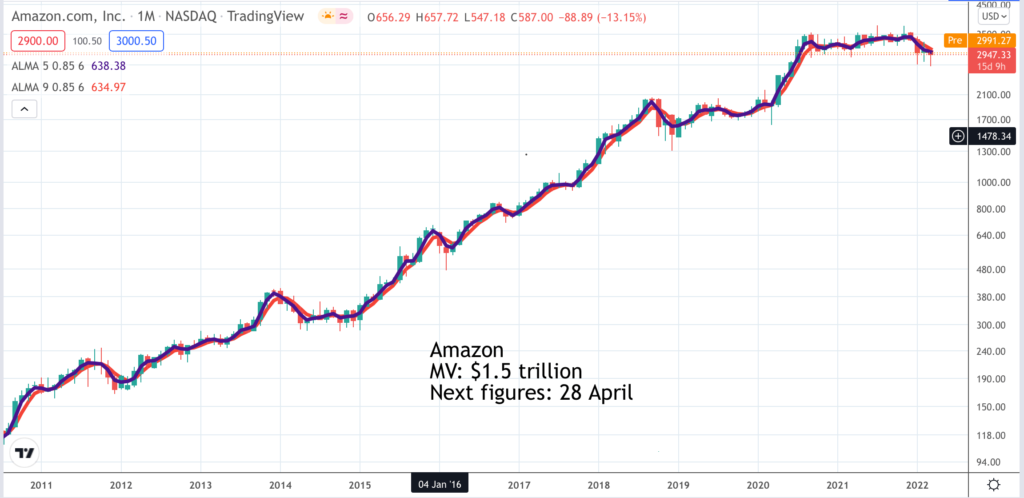 Alphabet. GOOGL. Buy @ $2,583.96. Times recommended: 26 First recommended: $985.19 Last recommended: $2,978 (20:1 share split to come)
Amazon. AMZN. Buy @ $2,947.31. Times recommended: 32 First recommended: $984 Last recommended: $3509. Highest recommended: $3,527. (20:1 share split to come)
Apple AAPl. Buy @ $155.09. Times recommended: 31. First recommended: $39.465. Last recommended: $165
Microsoft. MSFT. Buy @ $287.15 Times recommended: 30 First recommended: $75.56 Last recommended: $343
Since 2009 reactions in the US stock market have run their course, peak to trough in about three month. If we date this stock market as topping out in roughly mid-November then the reaction has been running nearly four months which already helps explain why this reaction has been particularly savage, at least for some of the shares that had been such spectacular performers in the post-2009 bull market.
I think of this bull market now like a three stage rocket. Stage one ran from 2009 to 2016. Stage two on a steeper trajectory from 2016 to 2020 and then, stage three, the steepest trajectory of all from March 2020, the trough of the Covid-19 inspired sell-off to mid-November 2021.
Since then we have been paying a price for all that excitement as global fundamentals hit some severe turbulence. Widespread shortages led to rising inflation and the threat of a sustained rise in interest rates. And then the mad Russian launched a totally unprovoked attack on a democratic neighbour triggering massive sanctions and the threatened removal from world markets of vital oil and gas supplies driving even more widespread shortages.
These things happen. Yet again it looks as though in the end the bad guys (Putin and co.) are going to lose and the world is going to get through this and may even be a better place when the dust finally settles. Against this background one thing seems certain. The biggest trend of the 21st century, the technology revolution, is going to keep rolling and probably keep accelerating.
In which case this massive stock market shake out is going to find a floor and the climb is going to resume. If this is right it may not be too early to start looking for some beneficiaries.
One group that looks unassailable to me is the mega caps, the four global technology based giants listed above and valued at over a trillion dollars, over two trillion in the case of two of them. These stocks almost are the technology revolution. If they seriously falter things would be changing but that isn't happening, which is why their shares have proved so resilient amidst the carnage.
Take Apple. The quarterly earnings reports provide a window into what is going on at these great companies. There is nothing in the latest quarterly report from Apple, released on 28 January 2022, to suggest that the creative juices at this fabulous businesses are flowing less strongly. On the contrary Apple is firing on all cylinders and is the epitome of a world beating company.
It was classic business as usual.
"Today, we are proud to announce Apple's biggest quarter ever. Through the busy holiday season, we set an all-time revenue record of nearly $124bn, up 11pc from last year and better than we had expected at the beginning of the quarter. And we are pleased to see that our active installed base of devices is now at a new record with more than 1.8bn devices."
Turnover at this fabulously profitable, cash generative business is running at half a trillion dollars a year. Talk about corporate galacticos. A market cap of $2.5 trillion is massive but for Apple it represents five times sales. No way is that expensive.
Maybe they are going to lose Russia but Russia is two per cent of the global economy and will probably come back with a bang when Novalny replaces Putin (you heard that prediction here first). and introduces desperately overdue reforms into the Russian economy and political system.
CEO, Tim Cook, referred to the spirit that makes Apple such an exciting business.
"A few weeks ago, we marked the 15th anniversary of the day Steve revealed iPhone to the world. We knew that we had the beginnings of something fundamentally transformative, though none of us could have predicted the incredible and meaningful impact it would have on all of our lives. The creative spirit that made the first iPhone possible has thrived at Apple every day since. We never stop creating. We never stop innovating."
That is what you are buying when you buy Apple shares and as long as that continues to flourish they will remain a great investment.
I was worried that Amazon was forming a huge top area though that always seemed unlikely. AWS, Amazon Web Services, the jewel in Amazon's crown, is a fantastic business. I sometimes think it is worth or soon will be the whole of Amazon. The biggest and most innovative cloud services businesses in the world. It stands at the heart of technological progress and is a ferment of innovation.
It is almost boring reading Amazon quarterly reports which read like school report cards enumerating all the achievements of little Johnny in his latest term. The achievements go on and on, page after page. I read one page, agree that Johnny's a genius and that is it for me.
And of course Amazon isn't just AWS. It is the most incredible e-commerce behemoth of all-time, helping untold millions of businesses to flourish and it has Amazon Prime which combines entertainment with retail services in a must-have package. This year we are going to get a series launching in September based on The Lord of the Rings, a trilogy of books which electrified my life when I stumbled on the first book in my father's library as a nine year old. It was a review copy. He didn't even know he had it.
Amazon Prime is amazing. "Prime members are taking advantage of program benefits in record numbers. In 2021, members in the U.S. received more than 6bn free deliveries, and over 200m Prime members worldwide streamed shows and movies." I get so many deliveries from Prime I have to open the parcels to remind myself what I have bought. It's like Santa, I open my door and find a parcel in the porch.
This is what Amazon CEO, Andy Jassy, says about what is happening.
"As expected over the holidays, we saw higher costs driven by labor supply shortages and inflationary pressures, and these issues persisted into the first quarter due to Omicron. Despite these short-term challenges, we continue to feel optimistic and excited about the business as we emerge from the pandemic. When you combine how we're staffing and scaling our fulfillment network to bring even faster delivery to more customers, the extraordinary growth of AWS with 40pc year-over-year growth (and now a $71bn revenue run rate), the addition of marquee new entertainment like The Lord of the Rings: The Rings of Power and Thursday Night Football, and a plethora of new capabilities that we're building in areas like Alexa, Ring, Grocery, Pharmacy, Amazon Care, Kuiper, and Zoox, there's a lot to look forward to in the months and years ahead." Amazon also continues to invest heavily in Prime. In the last few years, Amazon has added more product selection available with fast, free, unlimited Prime shipping; more exclusive deals and discounts; and more high-quality digital entertainment, including TV, movies, music, and books. Since 2018, Prime Video has tripled the number of Amazon Originals, rolling out new series and movies."
It's just non-stop action.
Then take Alphabet, another fabulous business – actually three fabulous businesses, Search, YouTube and Cloud Services and with the potential to grow more fabulous businesses in the future as may well happen with the other behemoths with Apple into cars, Amazon into devices, drones, robots and goodness knows what else and Microsoft not exactly inactive either.
Everywhere you look at companies like Alphabet amazing things are happening.
"It's been a very strong quarter for us. Our teams have helped millions of businesses of all sizes and launched dozens of important features to help them get the most out of their online marketing spend. These businesses are the backbone of our global economy and the heart of our community. So helping them thrive is more important than ever.
We are also seeing exciting momentum at YouTube. YouTube Shorts continues to drive significant engagement. We just hit 5 trillion all-time views and have over 15bn views each day globally. This is helping our creator community reach newer and bigger audiences.
More people are creating content on YouTube than ever before. Last year, the number of YouTube channels that made at least $10,000 revenue was up more than 40pc year over year, and we are continuing to improve support for artists and creators. More creatives than ever are earning money from our non-ads products like Super Chat and channel memberships. And the Shorts fund is now available in more than 100 countries.
Another big area for investment is combining the best of AI software and hardware to deliver helpful experiences across our family of devices. In Q4, we set an all-time quarterly sales record for Pixel. This came in spite of an extremely challenging supply chain environment. The response to Pixel 6 from our customers and carrier partners was incredibly positive."
The Cloud business is also going gangbusters.
"In Q4, Cloud revenue grew 45pc year over year to $5.5bn. Alphabet's backlog increased more than 70pc to $51bn, most of which is attributed to Google Cloud. This growth comes from many leading businesses including Albertsons and LVMH; digital natives including Box and Spotify; and public sector agencies including the Commonwealth of Massachusetts, the Defense Innovation Unit and the USDA. Our sales force, which we have more than tripled since 2019, delivered strong results across geographies, products and industries, and we continue to invest. For the full year 2021, compared with the full year 2020, we saw over 80pc growth in total deal volume for Google Cloud Platform and over 65pc growth in the number of deals over $1bn."
It takes a massively negative political and macroeconomic background to stop these shares from climbing.
Microsoft is more of the same.
"It was a record quarter, driven by continued strength of the Microsoft Cloud, which surpassed $22bn in revenue, up 32pc year over year. We are living through a generational shift in our economy and society. Digital technology is the most malleable resource at the world's disposal to overcome constraints and reimagine everyday work and life. We are innovating and expanding our entire portfolio across consumer and commercial segments to help people and organisations thrive in this new era."
Everywhere you look incredible things are happening.
"Now on to data. From best-in-class databases and analytics to AI and data governance, we have the most comprehensive data stack to help every organization turn its data into predictive and analytical power. Cosmos DB is the database of choice for cloud-native app development at any scale. Data volumes and transactions increased over 100pc year over year."
Microsoft is one of these companies which seems to have its finger in every pie.
"We are experiencing a Great Reshuffle across the labor market as more people in more places than ever rethink how, where, why they work. In this new economy, LinkedIn has become mission-critical to connect creators with their communities, job seekers with employers, learners with skills, and sellers with buyers. Last quarter, we once again saw record engagement. And LinkedIn has become one of the world's largest platforms for professional events with more than 24,000 events created and 1.5m RSVPs each week. Confirmed hires were up 110pc year over year, and we've added tools to make it easier to discover open roles that align with how and where people want to work. With entrepreneurship on the rise, our new Service Marketplace has helped nearly 3m freelancers and small businesses discover new clients. We also saw a strong growth in LinkedIn sales solutions, which surpassed $1bn in revenue over the past 12 months for the first time. Our sales, talent, marketing, and premium subscriptions lines of business have now all reached this milestone."
Another area where Microsoft is growing its footprint is games.
"Our differentiated content is driving the service's growth, and we released new AAA titles this holiday to rave reviews and record usage. Eighteen million have played Forza Horizon 5 to date, and more than 20 million have played Halo Infinite, making it the biggest Halo launch in history. And with our planned acquisition of Activision Blizzard, announced last week, we are investing to make it easier for people to play great games wherever, whenever, and however they want, and also shape what comes next for gaming as platforms like the metaverse develop. In closing, as digital technology as a percentage of global GDP continues to increase, we are innovating and investing across a diverse and growing TAMs with a common underlying technology stack and an operating model that reinforces a common strategy, culture, and sense of purpose."
The only question with all these companies is just how massive are they going to become.
---
QQQ3. (Nasdaq 100) Buy @ $133. Times recommended: 27. First recommended: $31.50. Last recommended: $231.40. Lowest recommended: $30.50
SOXL (Semiconductors) Buy @ $33.3. Times recommended: 16 First recommended: $11.33 Last recommended: $61.50. Lowest recommended: $7.86
SPXL. (S&P 500). Buy @ $104.3. Times recommended: 3 First recommended: $87 Last recommended: $99. Highest recommended: $116.50
TECL (Technology shares). Buy @ $50.50. Times recommended: 8 First recommended: $22.20. Last recommended: $79.50
Each of these four ETFs has three times leverage built in. I have been writing about them a great deal in recent issues because I think they are some of the most amazing investments in the stock market. They can go to nought but that is so unlikely failing a development so disastrous that losing money would be the last of our worries. What we do know is that with a strong following wind their performance is amazing. Few individual shares can match them for performance. At the moment they are down but not out. I think it is not a bad time to buy some bearing in mind that as and when they start making chart buy signals I will be suggesting buying more. Buy a few every time you buy and keep doing that at intervals and you will do well, very possibly very well.
---

As subscribers know I have various indicators for tracking the stock market and spotting turning points. At the moment they are not telling me that we have a turning point so this bear market could keep rolling. Brt I am feeling less bearish. I think the monster Putin has overreached himself and may end up with serious problems. The West has amazed everybody with the ferocity of their response, declaring virtual economic war on the bad guys and sending a signal to other undesirables such as China, Iran, Turkey and Saudi Arabia. Short term we are looking at some compromises even with such died-in-the-wool villains as Maduro in Venezuela which makes another huge argument for the world to wean itself off fossil fuels which seem to go hand in hand with the world's worst dictators. Who needs freedom when you have a gold mine (of black gold) in the ground?
Technological change and globalisation are not going away and that is good news for my kind of growth stocks once this great sell-off burns itself out. Margin debt in the US is high but there is $2.5 trillion of excess savings so there is plenty of money to buy stocks.
By all means wait for buy signals like the Coppock indicators to turn higher but if you are itching to buy something I think the stocks and ETFs mentioned above will be winners even if there is more turbulence to come.
---